Want to Make an Extra $100?
Earn $100+ rewards just by trying out new apps! Get money for playing games from the App Store or Google Play. Plus, make cash from surveys and special offers. Whether you're at home or on the go, turn spare moments into cash. Your rewards are waiting at KashKick!



Start Earning Cash Now
When you get your cable TV bill every month, odds are that it's over $50.00 per month. What if I told you there are alternatives to cable TV that'll save you money but still let you watch your favorite shows?
In fact, you have quite a few options if you want some cable alternatives.
19 Cost-Effective Cable Alternatives
| Service | Price |
| --- | --- |
| Apple TV+ | $4.99 per month |
| Sling TV | $35–50 per month |
| Disney+ | $5.99 per month |
| discovery+ | $4.99-6.99 per month |
| Peacock | free-$10 per month |
| Paramount+ | $5.99-$9.99 per month |
| HBO Max | $14.99 per month |
| Hulu | $5.99–13.99 per month |
| Hulu Live | $64.99 per month |
| Netflix | $8.99–15.99 per month |
| Amazon Prime Video | $8.99 per month |
| Philo | $20 per month |
| FuboTV | $64.99–79.99 per month |
| YouTube TV | $65 per month |
| YouTube | Free |
| Pluto TV | Free |
| Cable Network Channels Online | Free |
| HDTV Antenna | Prices Vary |
| Library | Free |
1. Apple TV+ ($4.99 per month)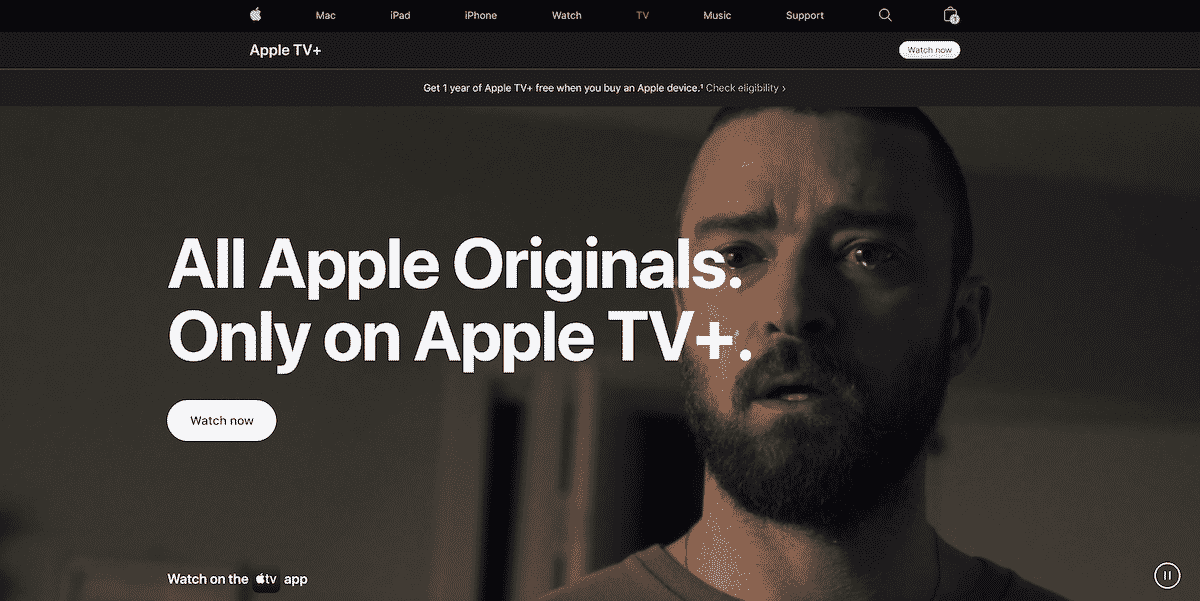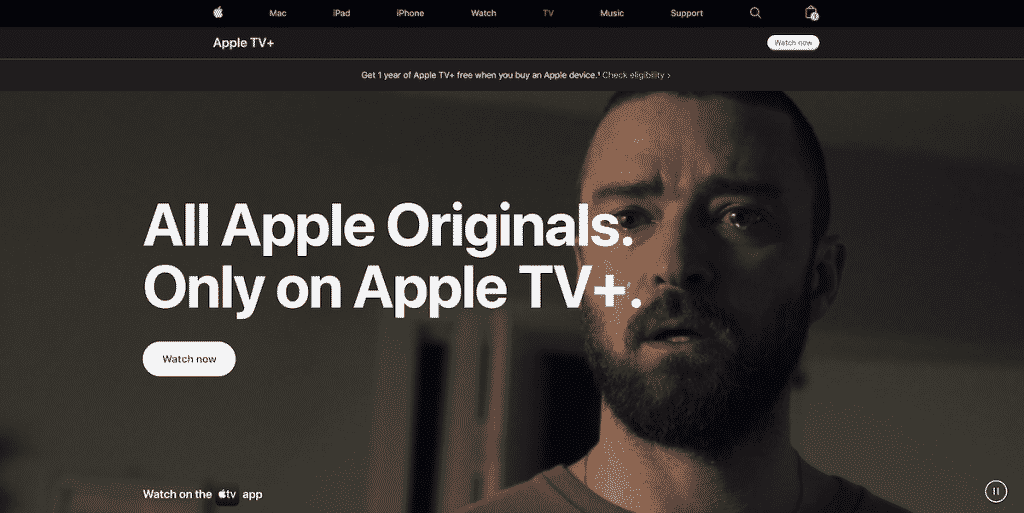 Apple TV+ is a streaming service featuring Apple Originals — award-winning series, compelling dramas, groundbreaking documentaries, kids' entertainment, comedies, and more — with new Apple Originals added every month.
Watch Apple TV+ on the Apple TV app, which is already on your favorite Apple devices. Just open the app, click or tap Apple TV+, and enjoy the shows and movies. You can also watch Apple TV+ on streaming platforms, popular smart TVs, and AirPlay-enabled TVs with the Apple TV app — or watch online.
So how much does it cost? That all depends on which offer you choose. If you buy an Apple device, Apple TV+ is included free for one year. A monthly subscription is just $4.99 per month after a free seven-day trial. Or Apple TV+ is included in Apple One, which bundles up to five other Apple services into a single monthly subscription.
2. Sling TV ($35–50 per month)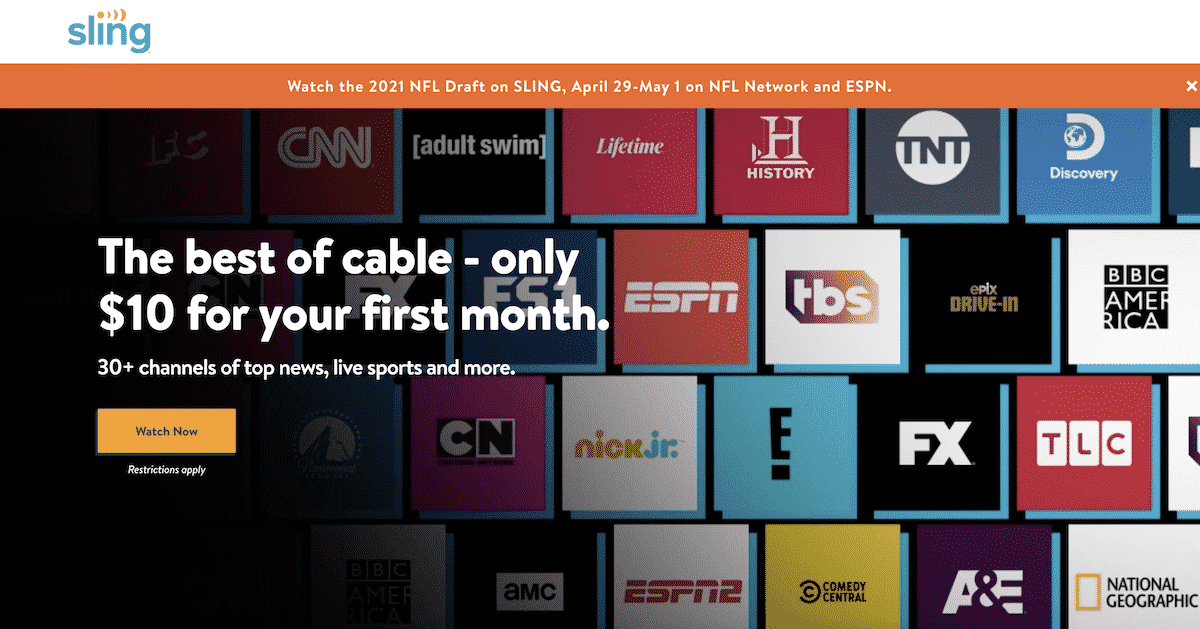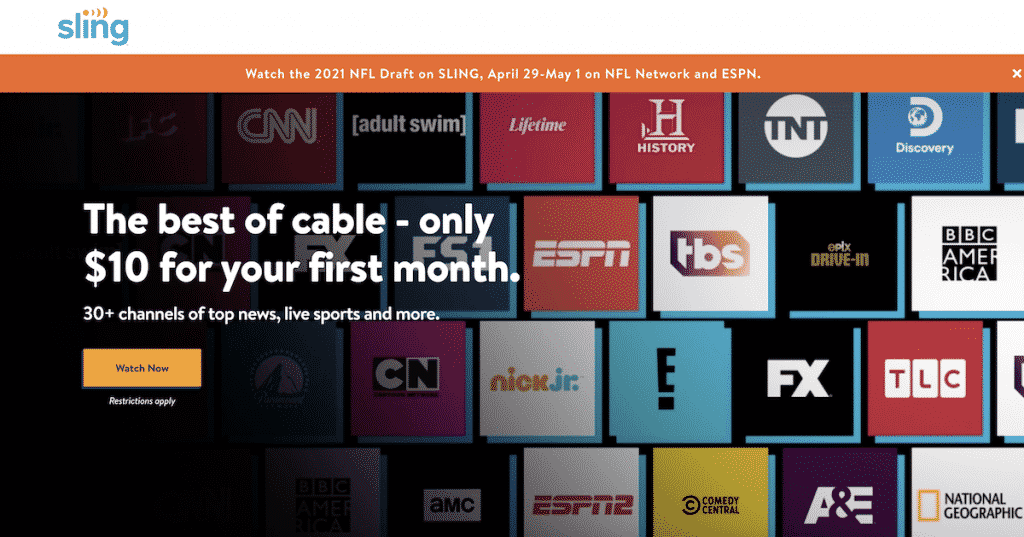 Sling is one of easiest ways to ditch cable and switch to a lower live TV streaming option. Sling offers your favorite sports, news, and entertainment with 30+ channels, 80k+ shows and movies on-demand. You can also record your favorite shows with 50 hours of free DVR storage or upgrade to 200 hours for $5/mo. The first month is $10 only and there are no rental equipment, no hidden fees, and you can cancel anytime.
3. Disney+ ($5.99 per month)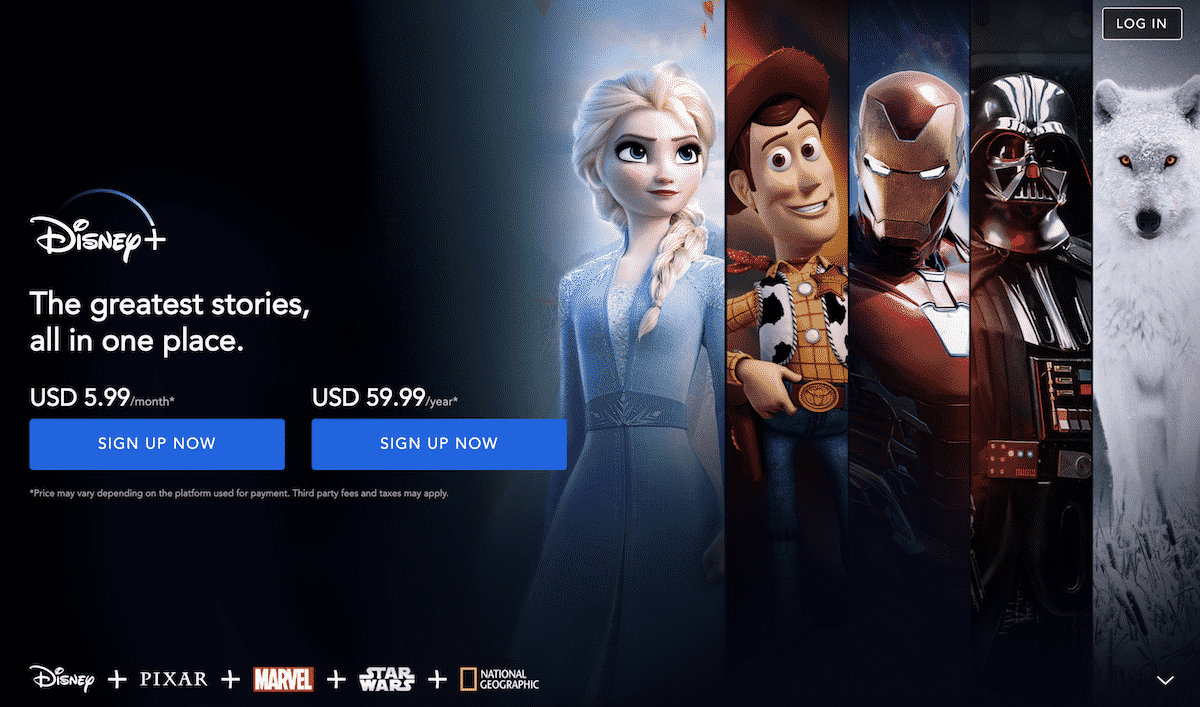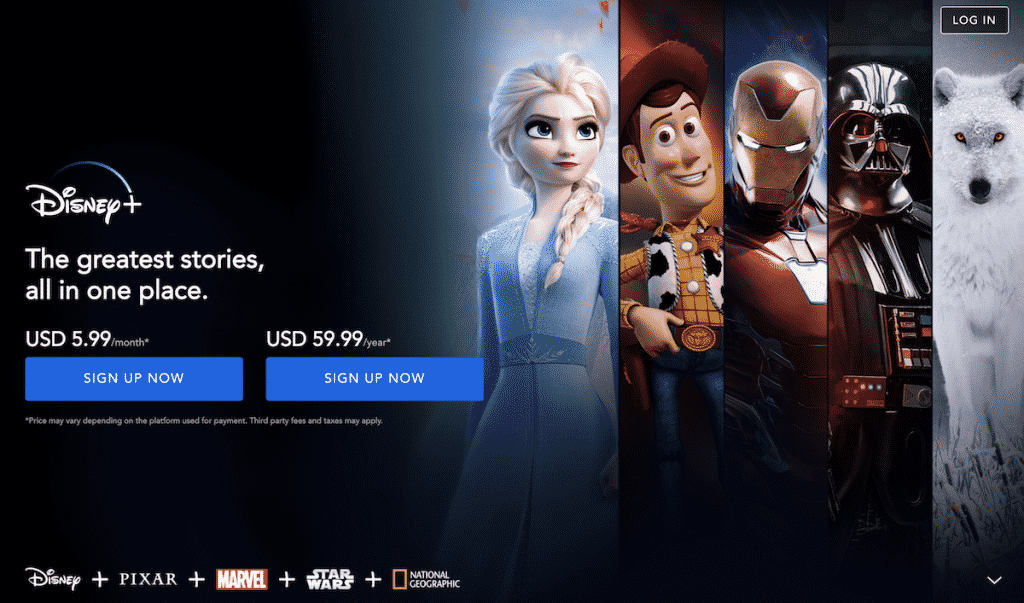 Disney's streaming service can very well become your new go-to for getting your fix of original shows and films along with Disney classics. With unlimited entertainment from Disney, Pixar, Marvel, Star Wars and National Geographic, you'll never be bored.
Watch the latest releases, original series and movies, classic films, throwback TV shows, and so much more. Users can also opt for the Disney+ triple package bundle that offers Hulu and ESPN+. Consumers that are looking for an effective cable alternative can get a lot out of Disney+ offerings.
4. discovery+ ($4.99-6.99 per month)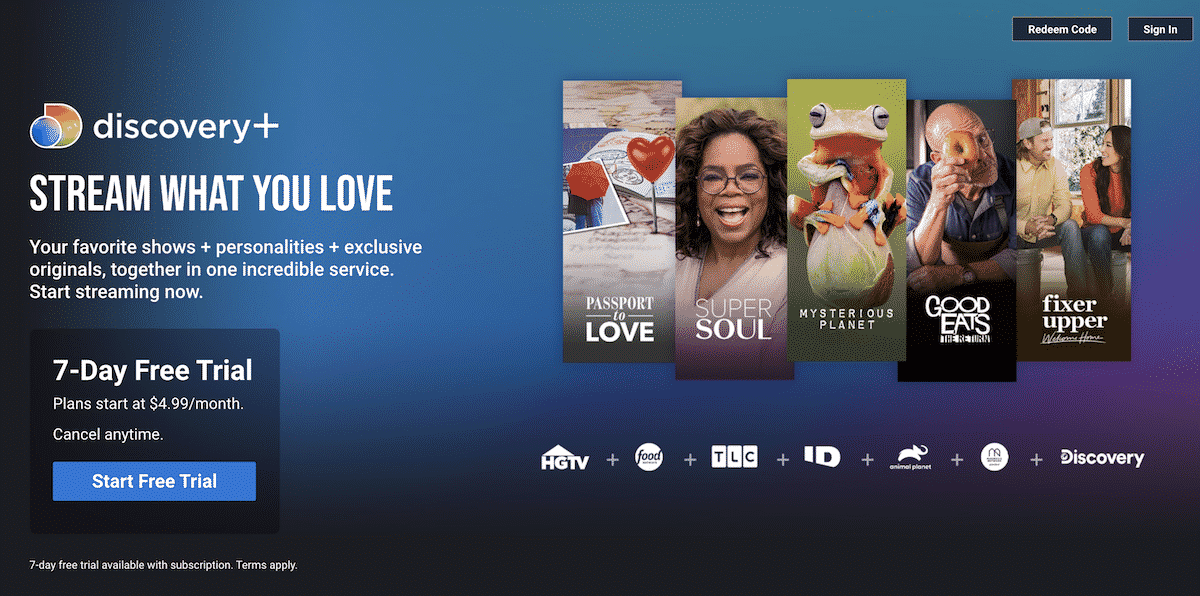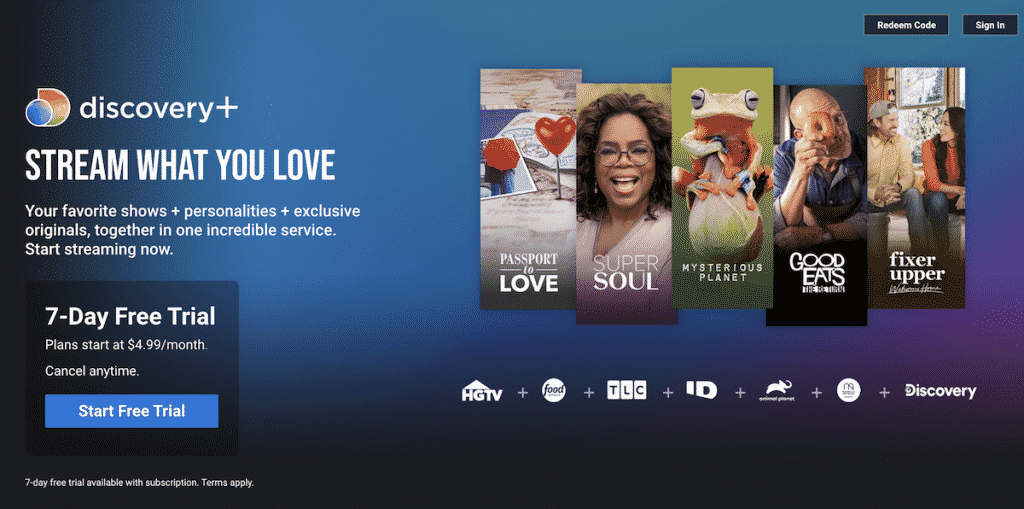 A subscription to discovery+ gives you instant, unlimited access to more than 55,000 episodes of 2,500+ current and classic shows from the most beloved TV brands, including HGTV, Food Network, TLC, ID, Animal Planet, Discovery Channel and more. Fresh new series to inspire, inform and entertain you are added all the time, from lifestyle and true crime to home improvement, food, adventure and more. You'll find all of your favorite personalities like the Irwins, Jonathan and Drew Scott, Chip and Joanna Gaines, Bobby Flay, Ree Drummond, Guy Fieri, Giada De Laurentiis, Lieutenant Joe Kenda and so many more – all in one place.
And discovery+ is home to the definitive collection of award-winning natural history series, including exclusive streaming access to the BBC's largest natural history offering, featuring shows like Planet Earth, Blue Planet and Frozen Planet. discovery+ also features popular shows from A&E, History and Lifetime, including The First 48, Dance Moms, Ice Road Truckers, Married at First Sight, 60 Days In and more.
discovery+ subscription plans start at $4.99 per month, with an ad-free version available for $6.99 per month. Additionally, you can get up to 1 year of discovery+ on Verizon with select Unlimited plans, then $6.99/month after.
5. Peacock (free-$10 per month)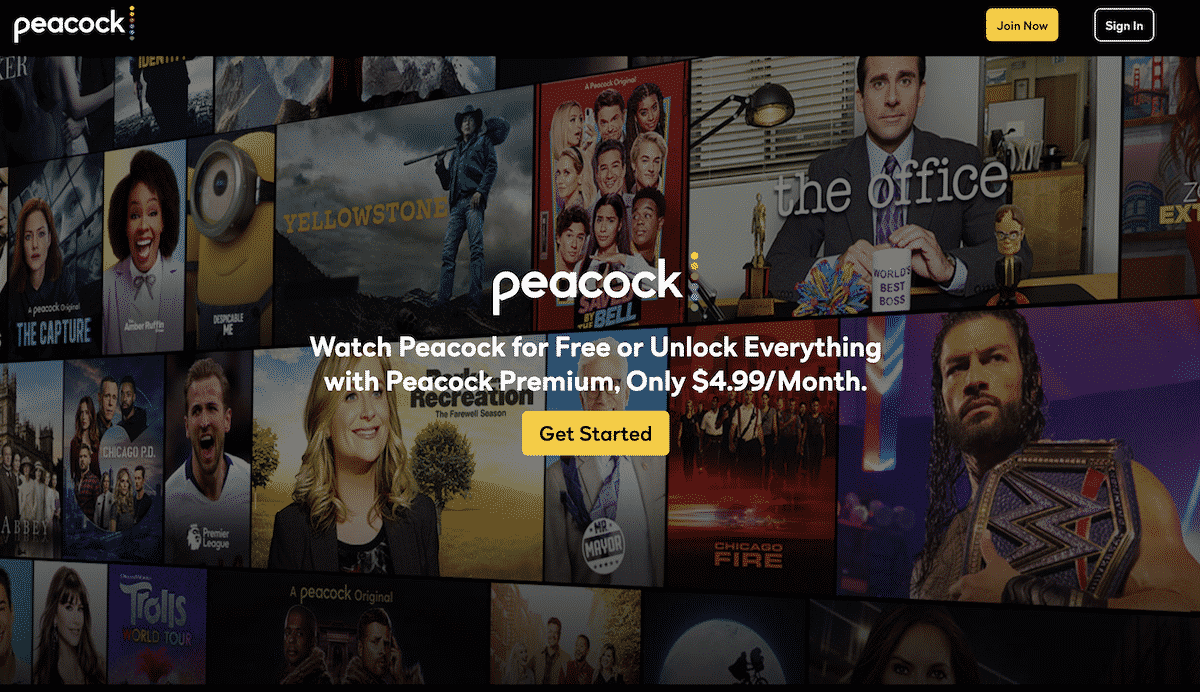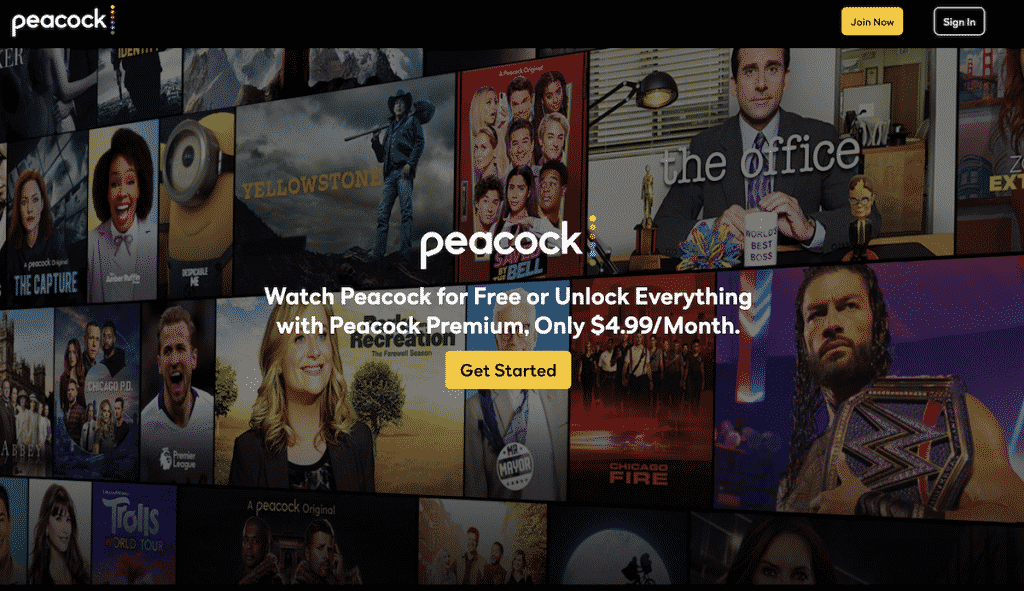 With the free version, you can instantly watch thousands of hours of movies and TV shows—plus sports, news and pop culture—for free. Peacock offers a free version or you can unlock everything with Peacock Premium, which is $4.99 per month. Peacock Premium Plus, offers everything in Premium, without the ads. If you're a fan of The Office, A.P Bio, Parks and Recreation, or Saturday Night Live, you can catch it on Peacock.
6. Paramount+ ($5.99-$9.99 per month)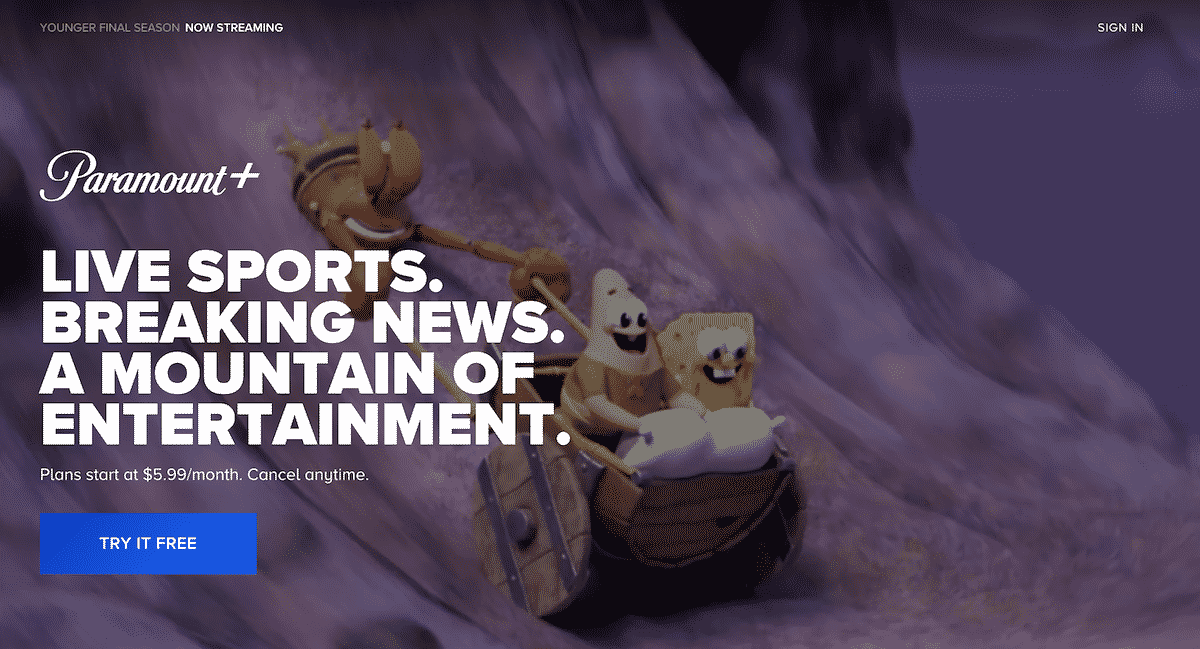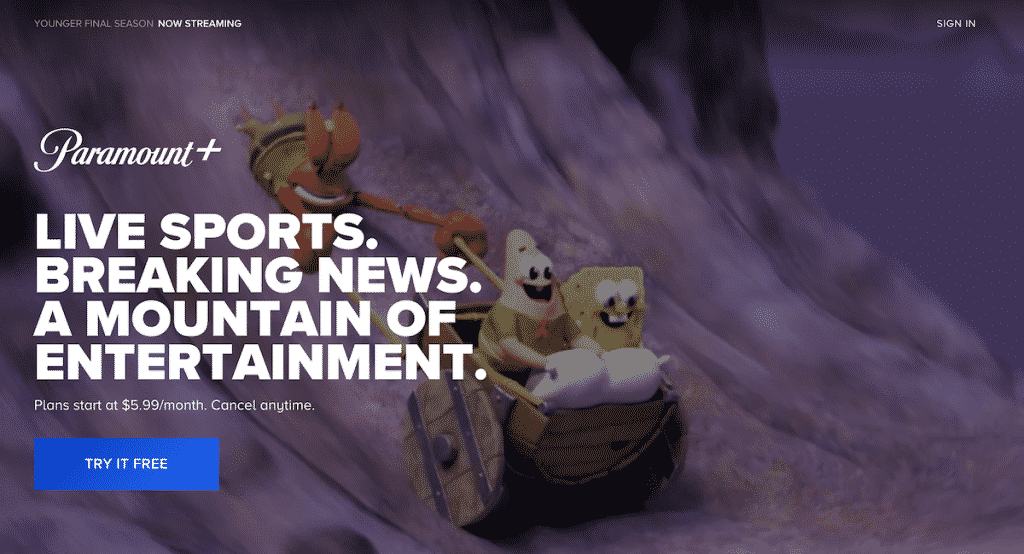 Paramount+ offers classic shows and movies like these other streaming services, but its edge is the new releases of Paramount movies. Within its first few months, the service already has an impressive library of shows, and a great price. It's a great contender in the streaming wars and is a great deal compared to most streaming services, plus you can try it out with a free trial.
7. HBO Max ($14.99 per month)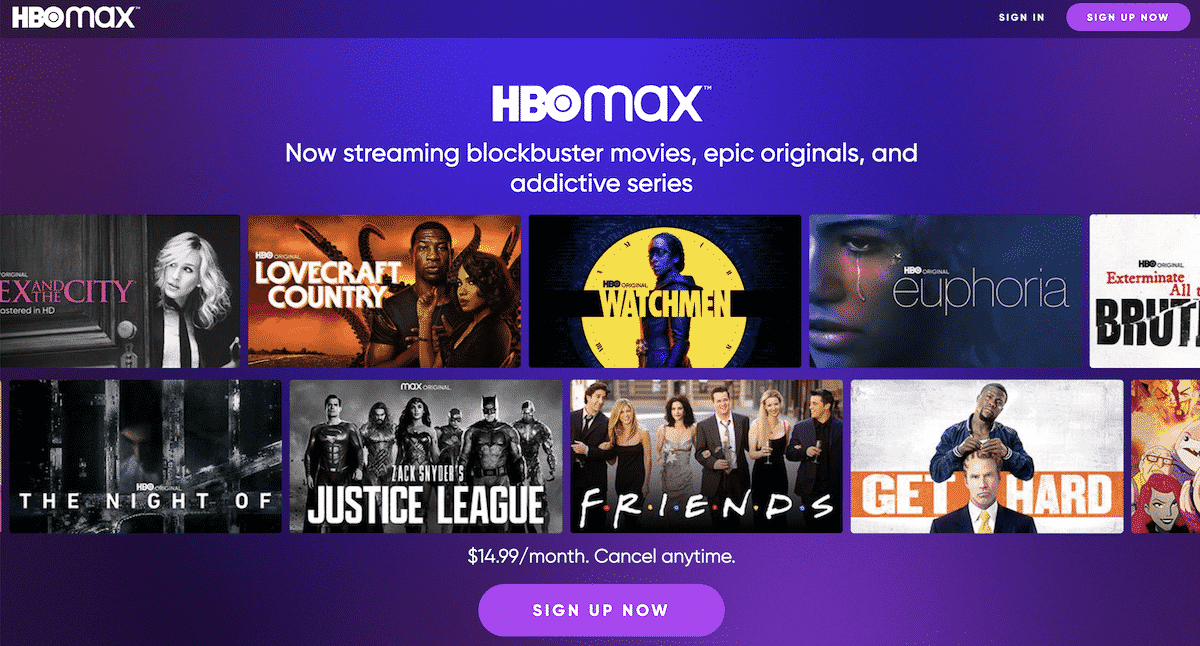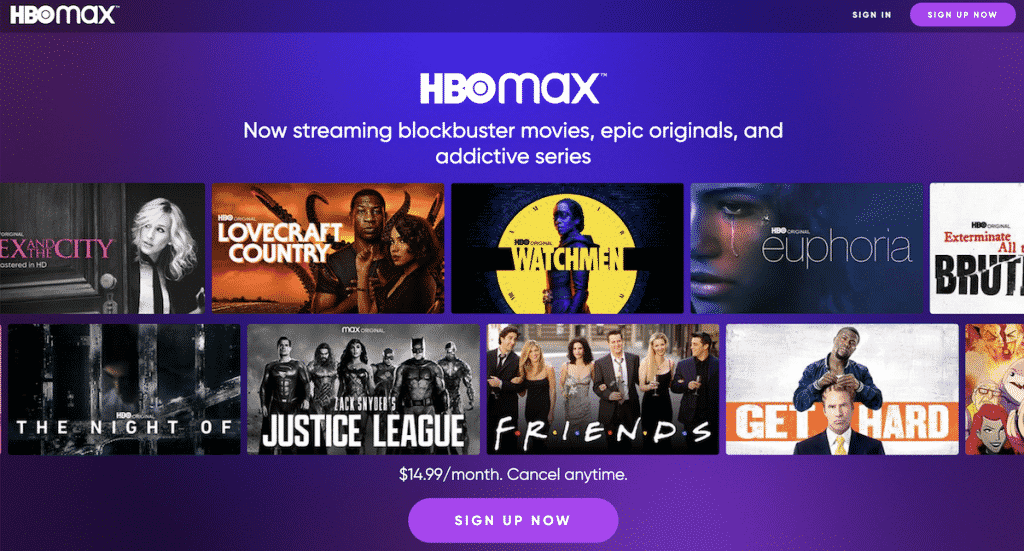 HBO Max has unlimited access to the most obsession-worthy TV series, plus the comedies, dramas, and classic movies you want to stream again (and again). You can watch Sesame Street, Warner Bros. films, Friends, Lord of the Rings, Looney Tunes and more. The price is a little steep compared to other services but it may be worth it to catch your favorite shows.
8. Hulu ($5.99–13.99 per month)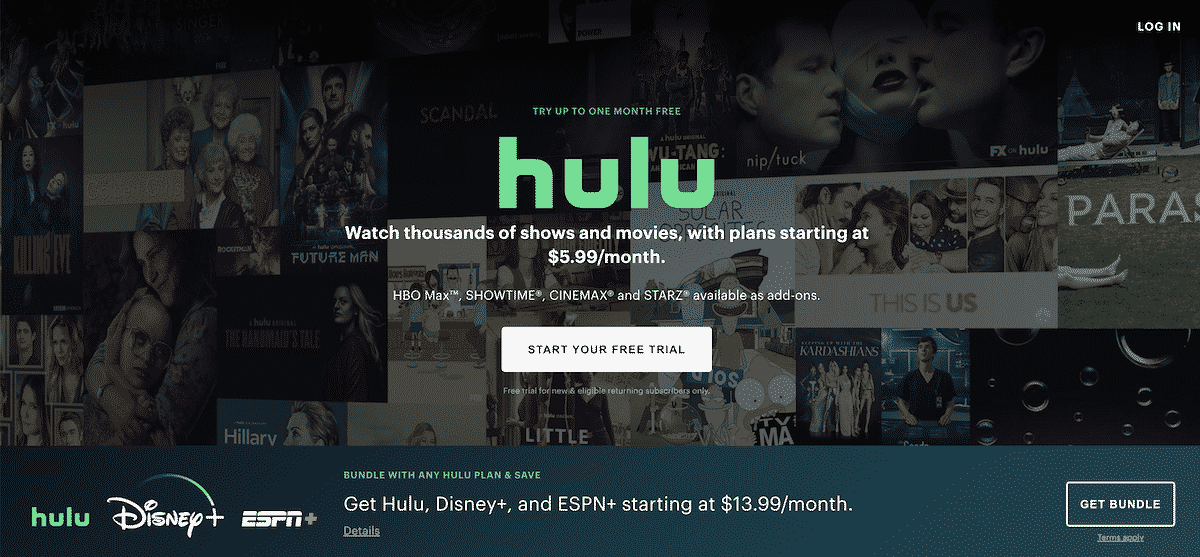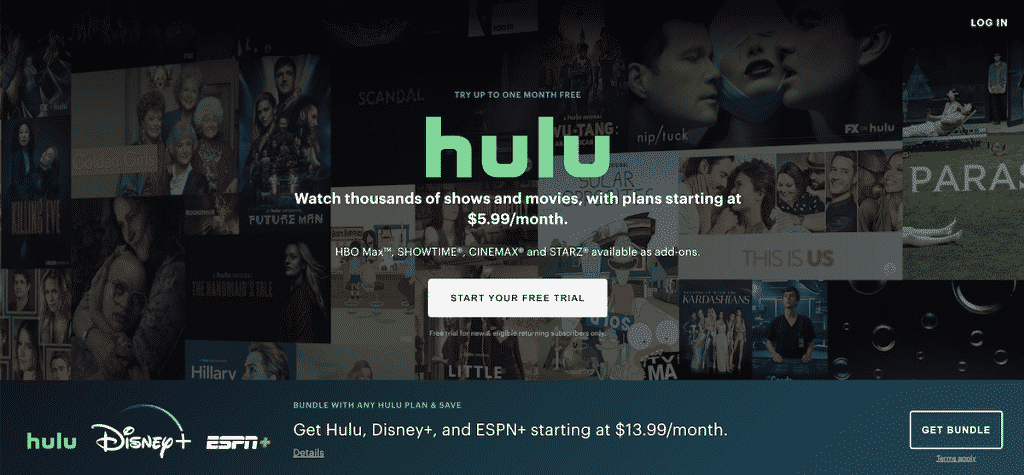 With Hulu, you can stream full seasons of exclusive series, current-season episodes, hit movies, Hulu Originals, kids shows, and more. Plus, you can add HBO Max, SHOWTIME, CINEMAX, and STARZ as add-ons. That's not to mention that you can get Hulu, Disney+ and ESPN+ bundled starting at $13.99 per month. You can try out Hulu with a free trial to see if it's your cup of tea.
9. Hulu Live ($64.99 per month)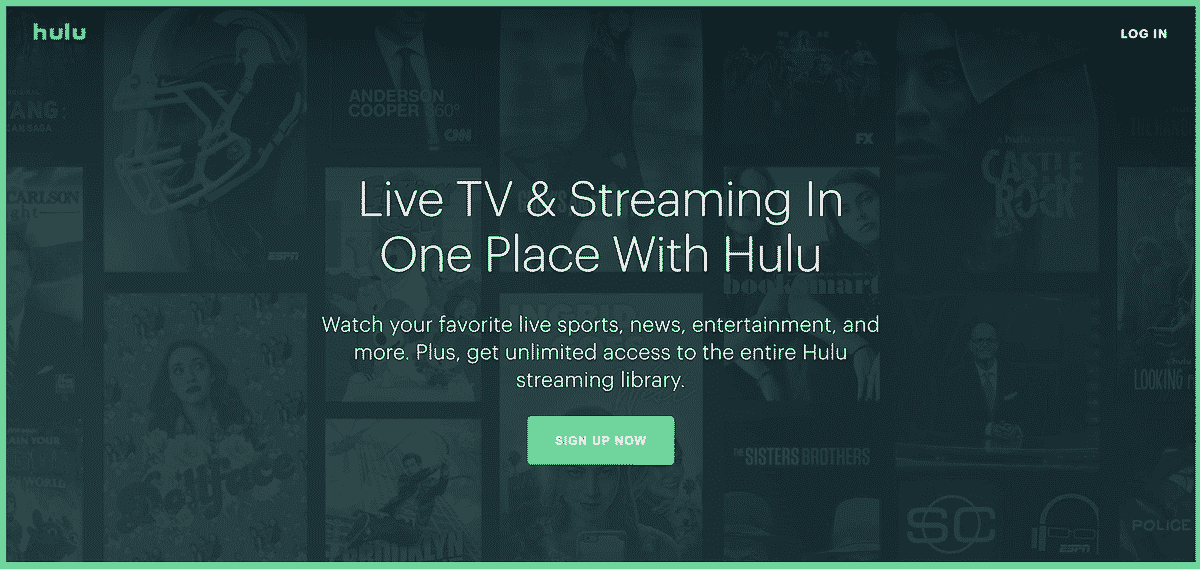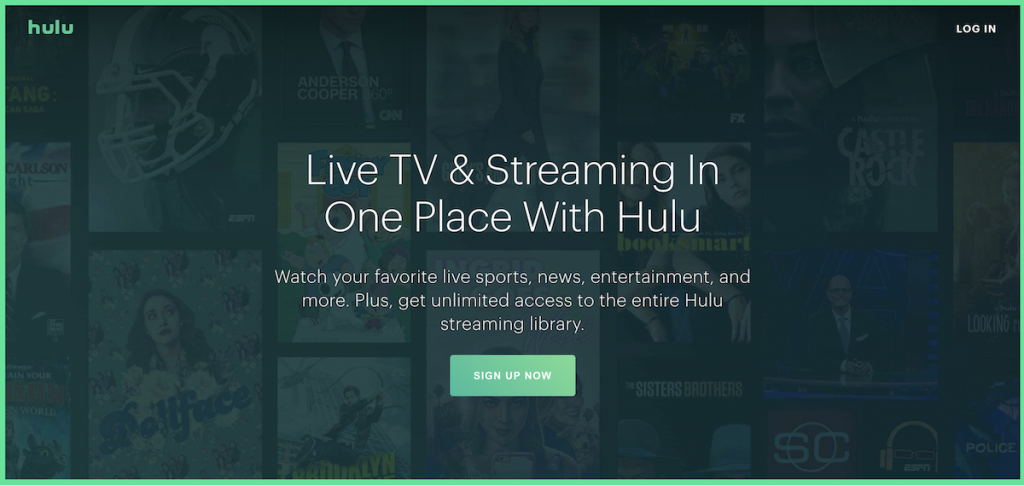 If you want the ultimate replacement to cable TV then you're probably wishing you had Hulu Live. Hulu Live subscribers can watch live sports, breaking news, awards shows, primetime dramas, daytime soaps, local teams and weather forecasts, the latest Hulu Originals, and thousands of shows and movies in the Hulu streaming library. And if that wasn't enough for you Hulu also offers the ability to record shows and watch them at any time. Plus, you can always try it out for seven days free!
10. Netflix ($8.99–15.99 per month)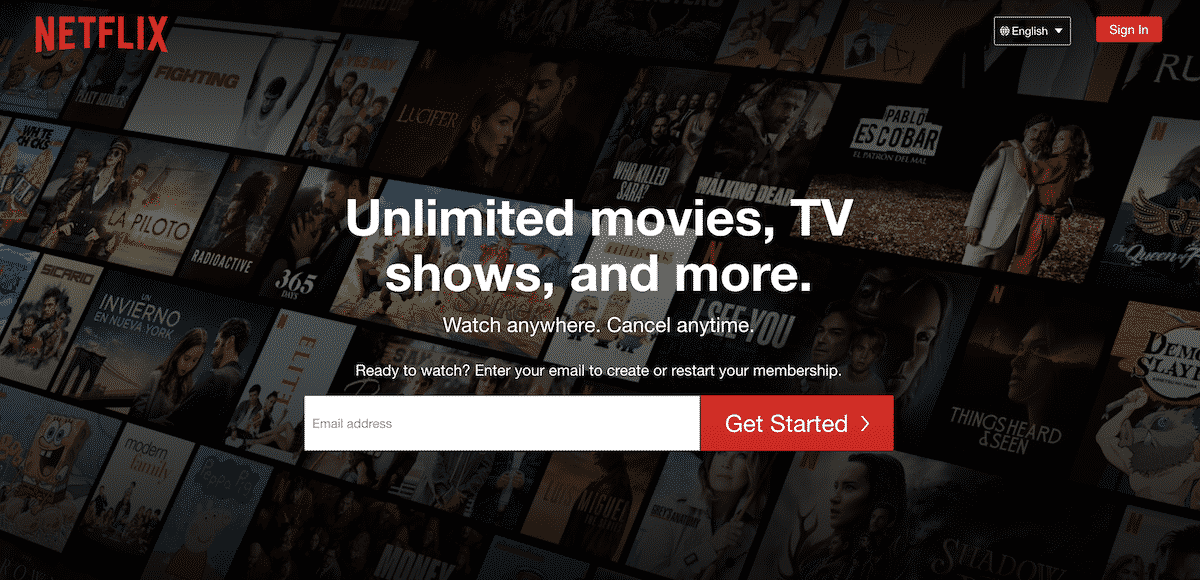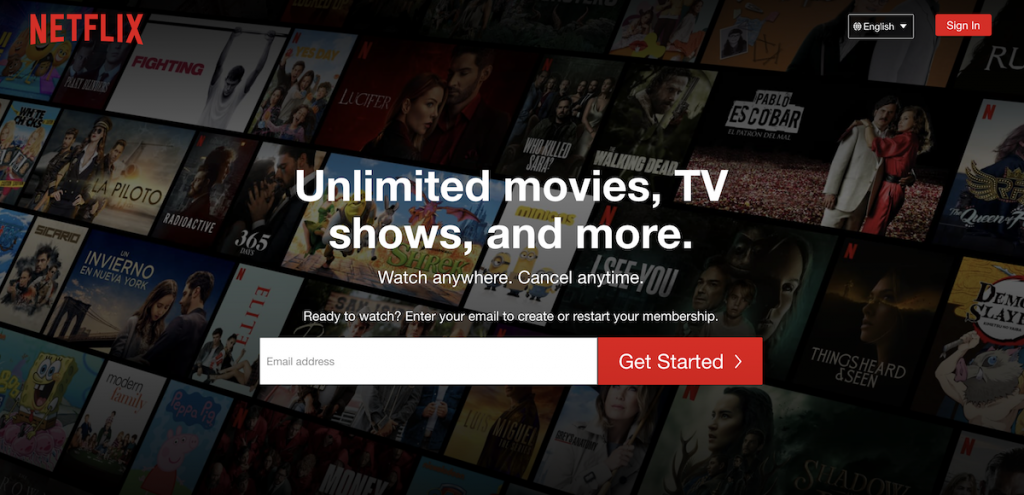 Who doesn't use Netflix nowadays? Netflix is a streaming service that offers a wide variety of award-winning TV shows, movies, anime, documentaries, and more on thousands of internet-connected devices. You can watch as much as you want, whenever you want without a single commercial – all for one low monthly price. There's always something new to discover and new TV shows and movies are added every week!
11. Amazon Prime Video ($8.99 per month)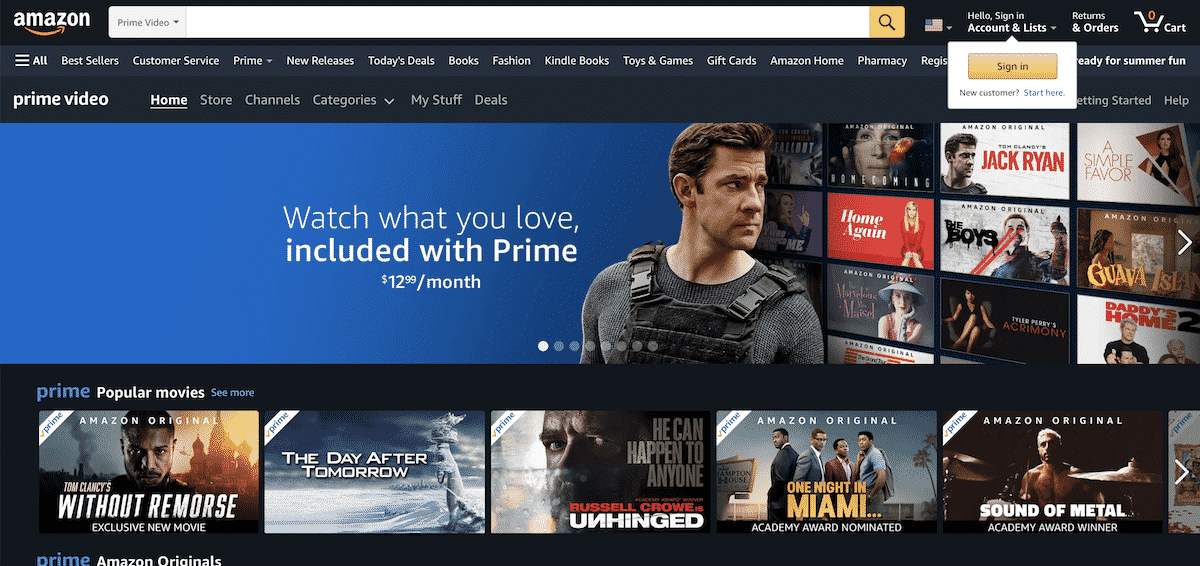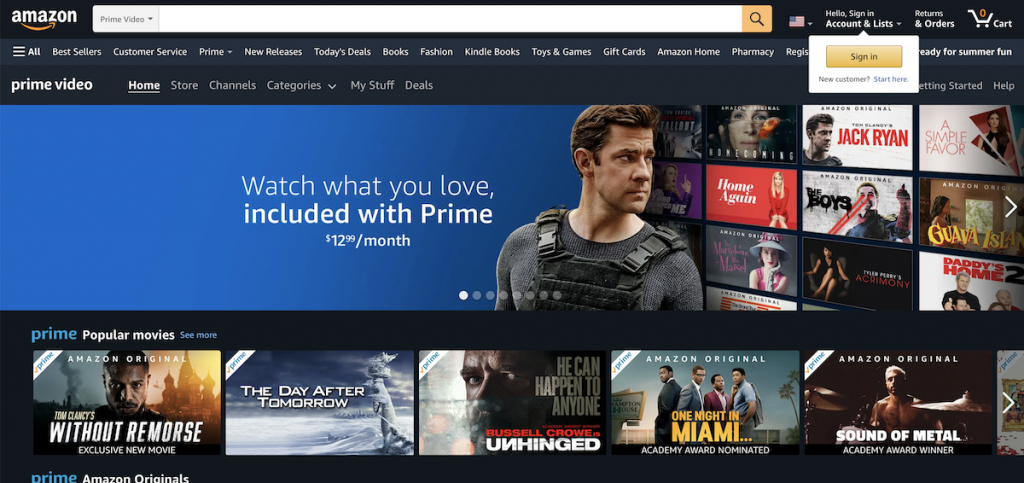 Amazon, it's not just for tech gadgets or shopping for gifts. It's got one of the best libraries of popular movies and TV series, including its own set of original series. What's more is that they offer a wide selection of new releases, movies, and TV shows that you can rent out to watch. Amazon comes free with your Amazon Prime membership or you can pay for simply Amazon Prime Video, which is $8.99 per month.
12. Philo ($20 per month)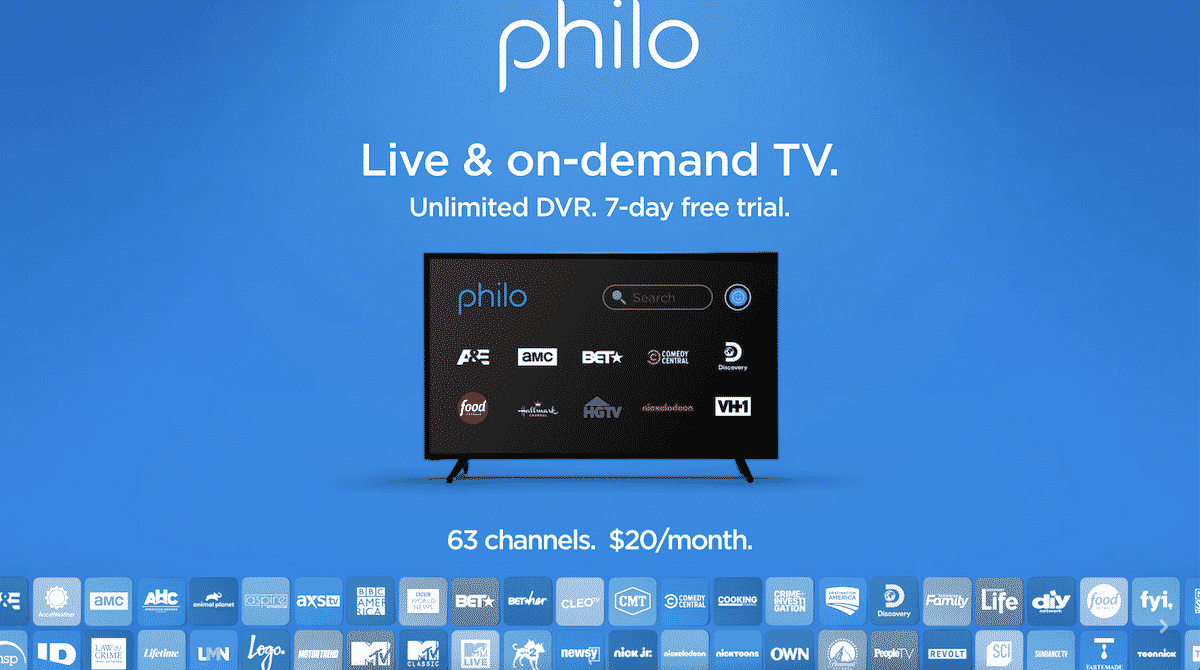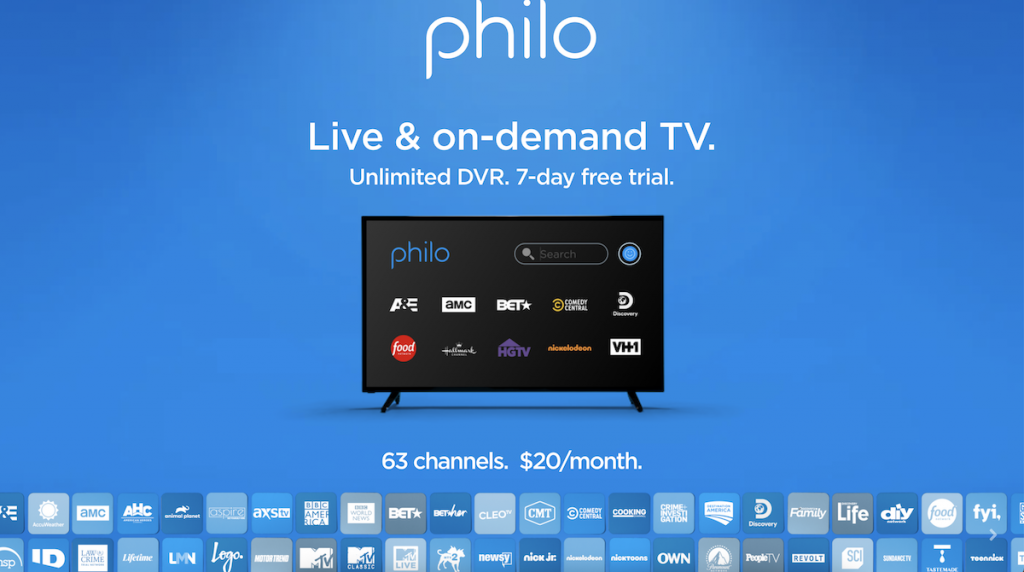 Philo offers live and on-demand TV for $20 per month, no contract. You can get 63 channels with unlimited DVR and even a 7-day free trial. Philo is a great contender as an alternative to cable TV that comes with a great price. What's more is that you can stream up three devices so the whole family can watch while at home.
13. FuboTV ($64.99–79.99 per month)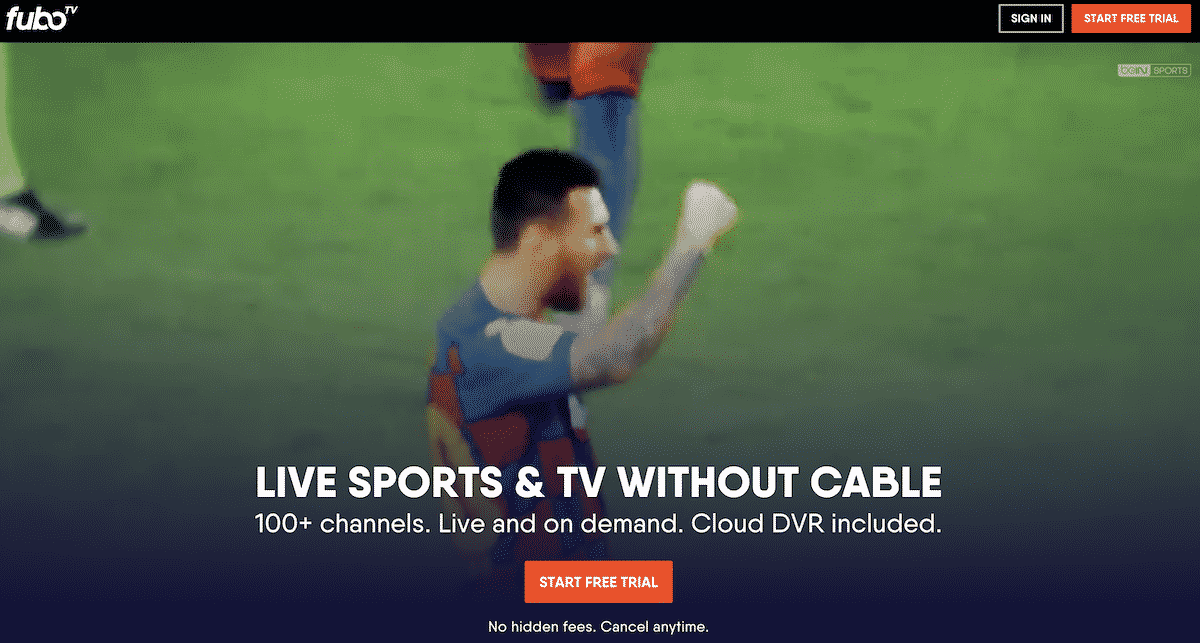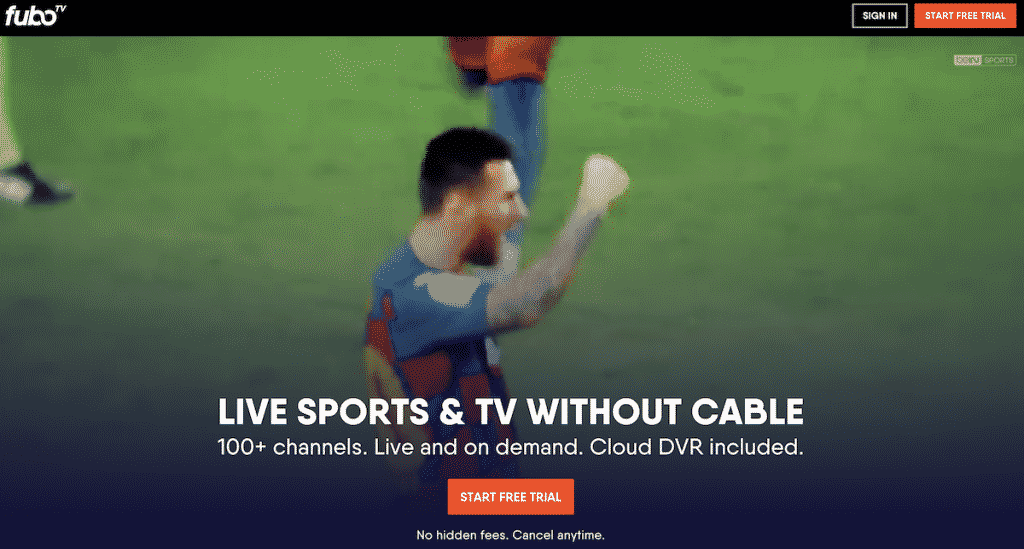 FuboTV is a great service for sports fans. It offers the perfect mix of sports and entertainment, live and on demand. The cheapest plan offers over 100 channels, streaming on three screens, and even a DVR feature to let you record shows. The elite plan offers you 161 channels, 1,000 hours of cloud DVR space, unlimited screens and costs $79.99 per month. FuboTV is a pretty solid option for cord-cutters looking to get rid of cable television.
14. YouTube TV ($65 per month)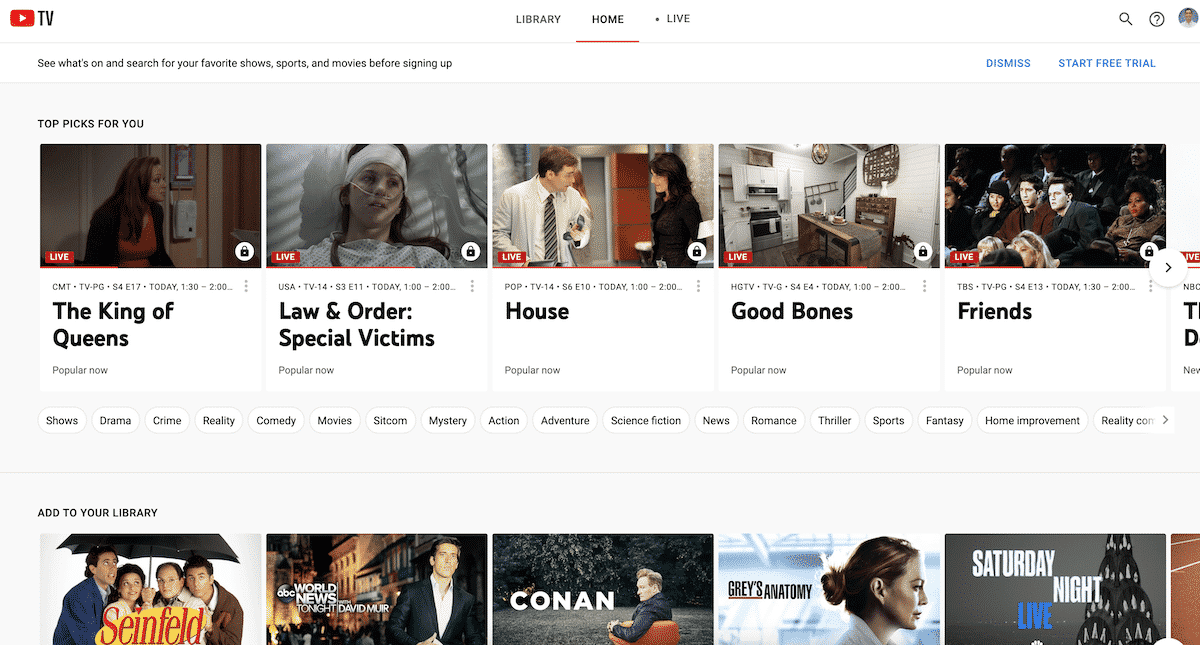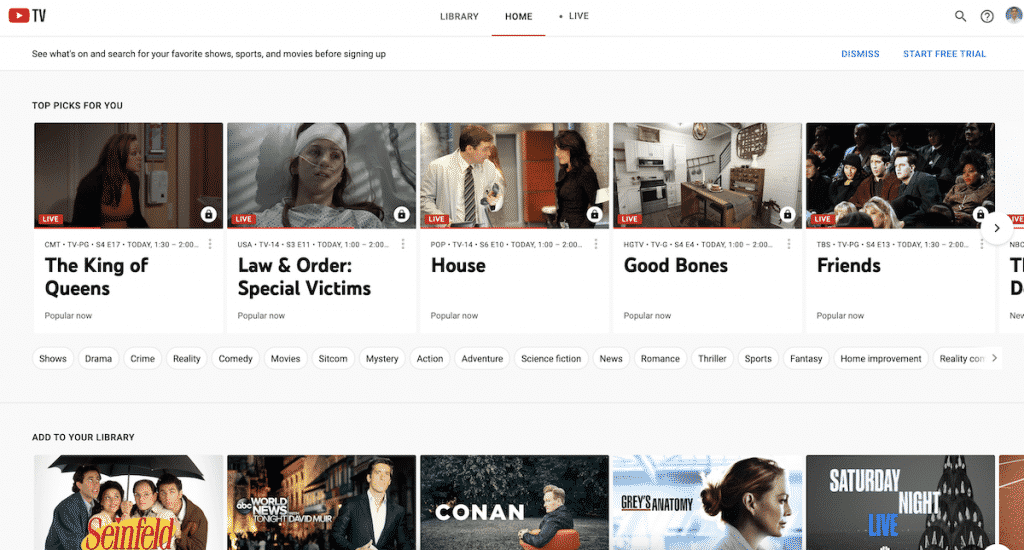 YouTube TV lets you stream live and local sports, news, shows from 85+ channels including ABC, CBS, FOX, NBC, HGTV, TNT, and more. Local and regional programming is also provided with YouTube TV, offering complete local network coverage in over 98% of US TV households. If you're a sports fan you can also watch ESPN and CBS Sports, if that's your thing.
15. YouTube (free)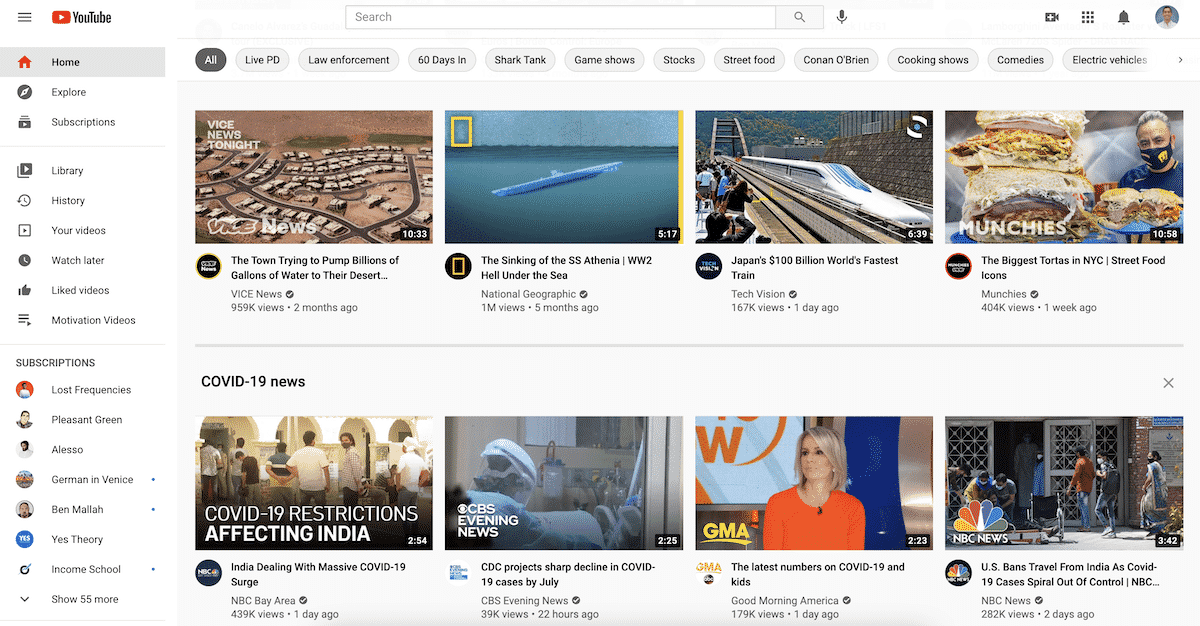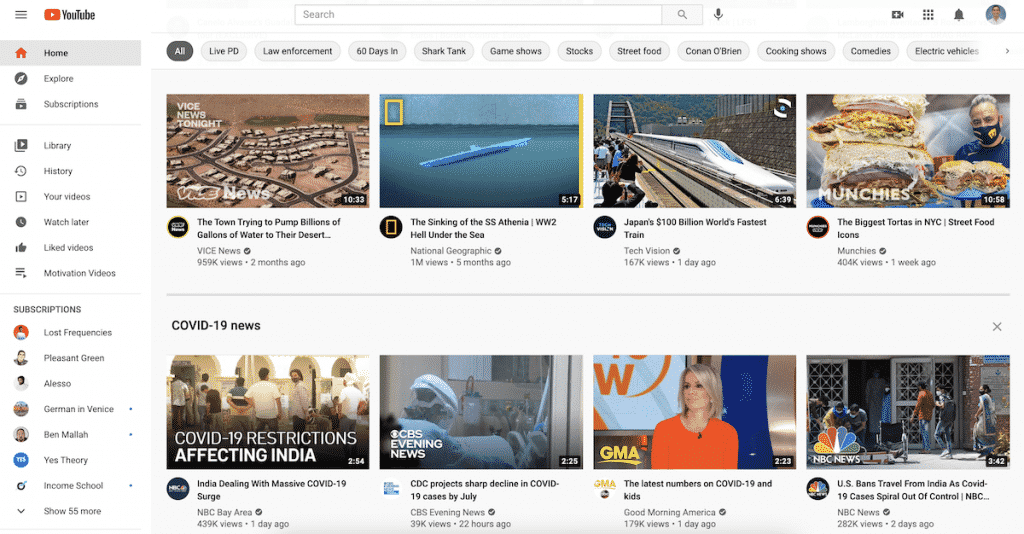 I probably don't have to give you the 411 about YouTube, but did you know you can use it to watch free movies, shows, and the news? YouTube offers those who want a free alternative a massive library of videos and movies to watch, for free. However, you'll have to watch ads at the beginning of most videos, but it's worth it if you're trying to save a few bucks each month.
16. Pluto TV (free)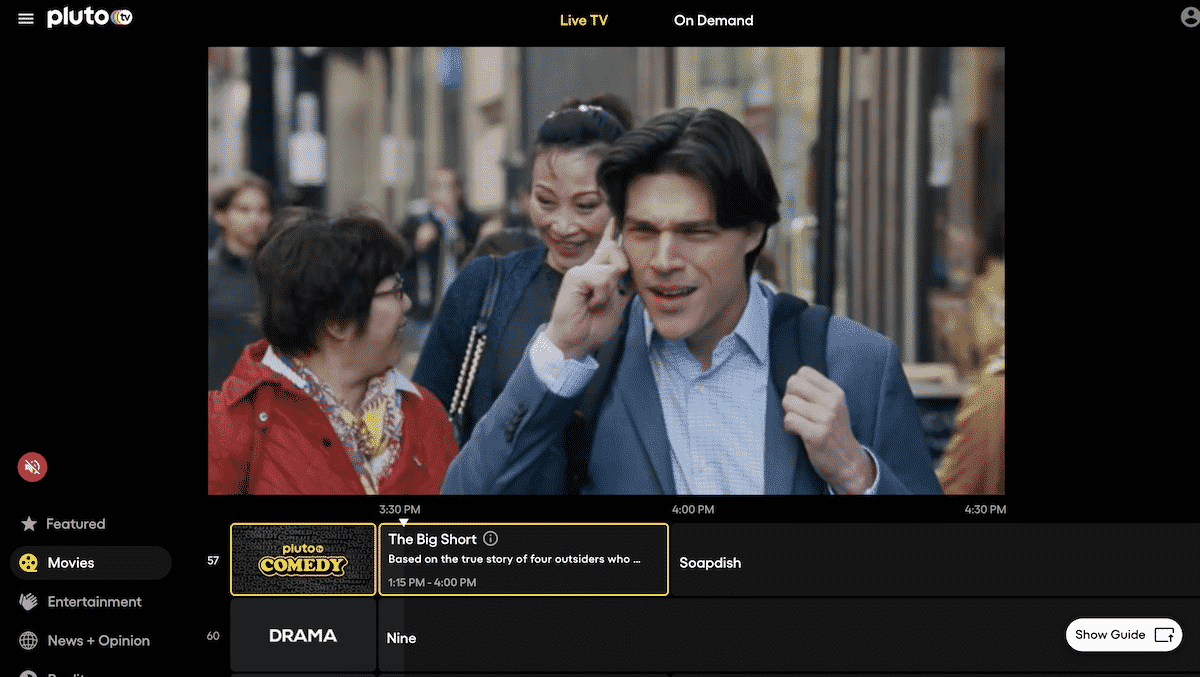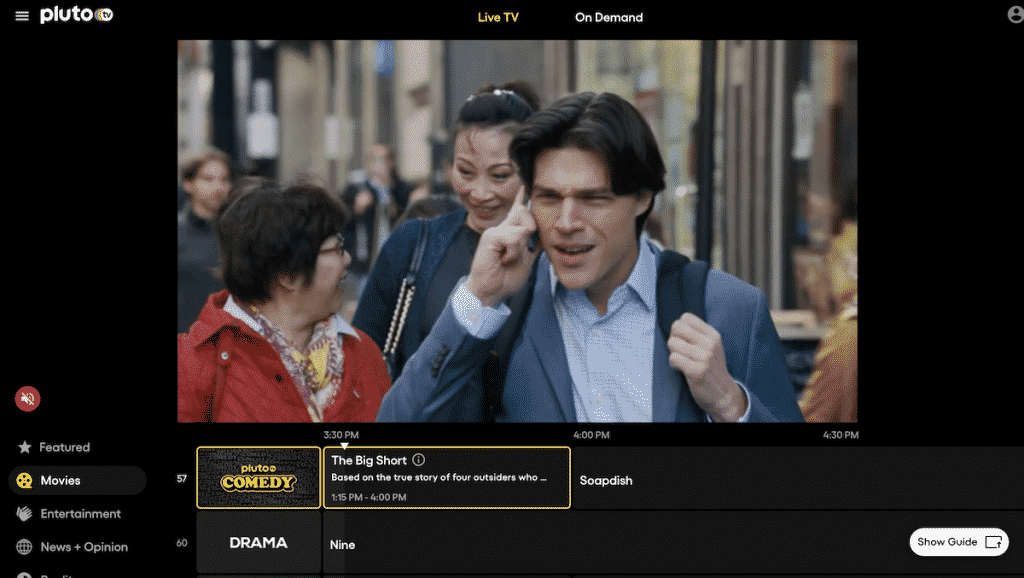 Pluto TV is a pretty awesome on-demand streaming service that has over 250 channels for free. You should probably check it out and you'll find one of your favorite movies streaming at this very moment. If you are tired of paying for Netflix, Hulu or Amazon Prime then Pluto TV is your ticket to free TV and movies. Just keep in mind that it is an ad-supported service so you can't escape the ads here.
17. Cable Network Channels Online (free)
Want to catch your favorite shows without paying for a streaming service? All of the major local channels have apps and most of them are actually free. Most networks post recently aired TV shows to watch on its apps, so you won't miss them by downloading network apps.
You can download these network apps and start streaming your local channels from your favorite device, all for free:
18. HDTV Antenna (prices vary)
The simplest way and most cost-effective way requires going back to the basics. By that I mean, you can watch tv without cable by getting an antenna for your home. Did you know that digital antennas have evolved dramatically over the years? The signals HDTV Antennas receive and deliver are superior to the compressed signals coming over cable TV.
Although there are some antennas priced in the vicinity of $40, the new advanced antennas worth around $90+ have the capability of receiving HD quality signals over a 100+ mile radius. Depending upon your location, by installing a quality antenna could allow you to view as many as 60 channels – cutting the cord big-time.
You'll get the big networks like ABC, NBC, CBS, Fox with just the one-time expense of buying and setting up a quality antenna. My favorite is this HDTV Antenna that has a 120 mile-long radius, which you can check the price here.
19. Library (free)
You may be surprised to learn that you can find your favorite TV shows available for rent at your local library. While this may not be as convenient as getting digital streaming straight to your TV while sitting on the coach, it's an option. You can visit your local library's website to see if they offer digital rentals or other perks.
Cutting the Cord Tips
Even before you consider any device or gadget or start selecting channel packages you have to consider a very important aspect that most people consider at the very end.
Internet.
Fast, strong internet. Cutting the cord leaves you with only one option for getting the channels of your choice – streaming them over the internet. Internet upwards of 30 megabits per second, anything less could obstruct receiving clear, crisp signals. You can check how fast your internet speed is by going here.
Not taking this aspect into consideration often results in complicated techy tweakings of gadgets or maybe even replacements. Once the internet issue is taken care of or at least all options are weighed, then you can move on to reviewing the kind of device that will perform best for you.
Best Streaming Devices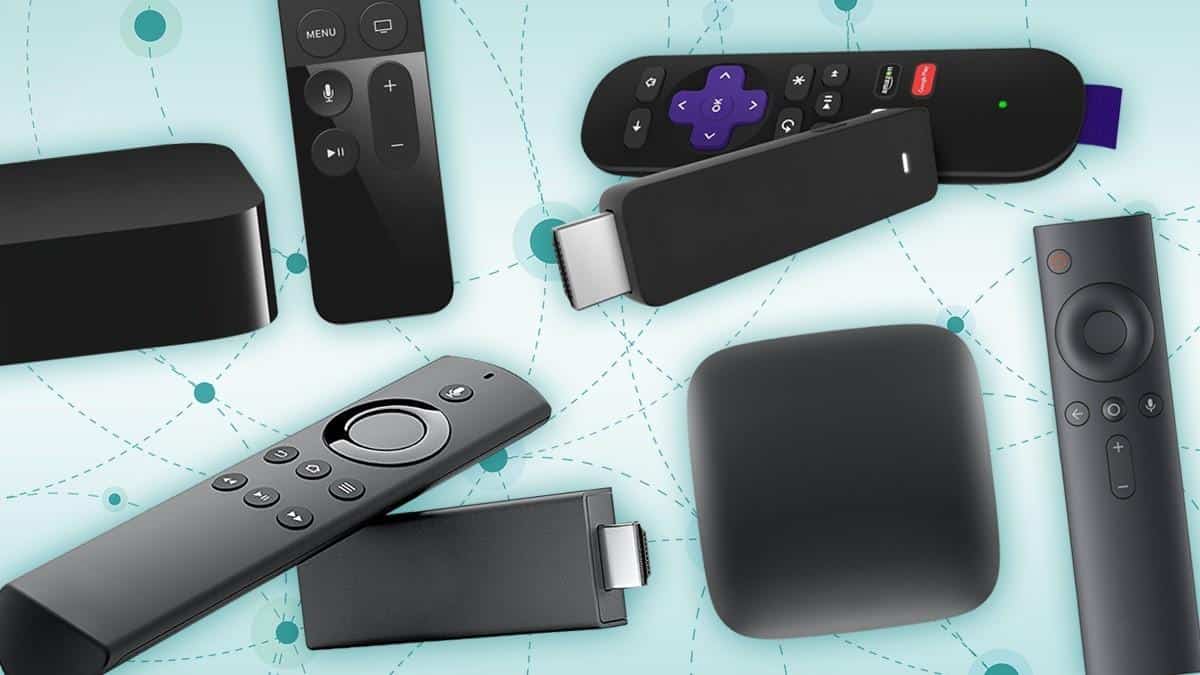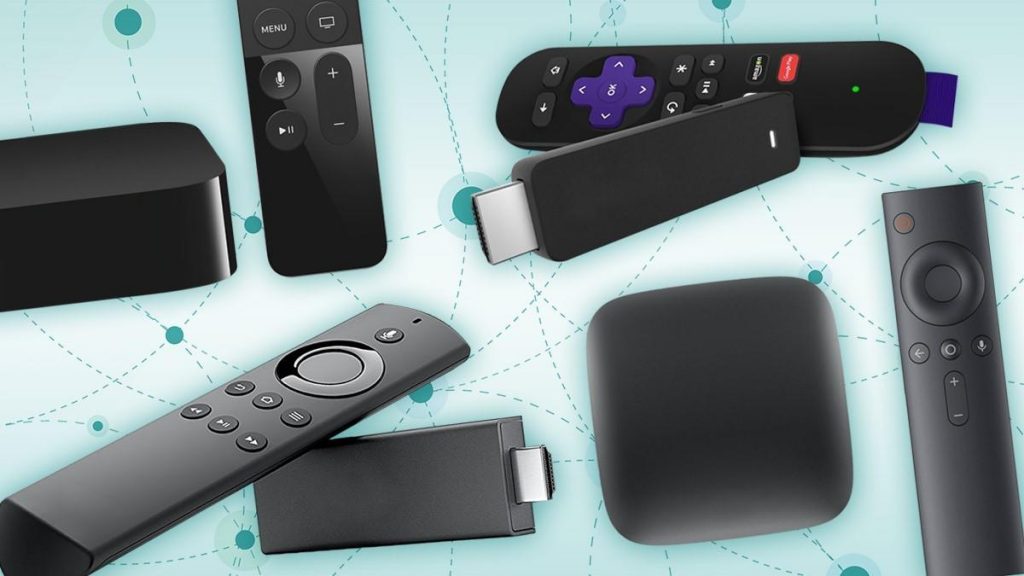 The 5 most popular devices with versatility and ease of use suggested unanimously by cable experts are:
Roku Streaming Stick – The Roku stick is priced for all pockets and adaptable to almost all sets. It has a great look and its application is easy to understand and use. The price ranges from $40+ to $100+ for different models depending on the choice and usage.
The Amazon Fire TV Stick – Extremely popular with cord cutters and rightly so. The Amazon Fire TV stick has a modest price tag of $40+ with great adaptability and ease of use. It plugs into your TV's HDMI port providing you access to movies, subscription channels, TV shows, games and much more.
Google Chromecast – The Google Chromecast is very economically priced at $35+ but with a slight handicap. Controlled from your phone or tablet – just a wee bit different and despite its attractive price may not be everybody's choice.
Nvidia Shield TV – The Nvidia Shield TV is pricey at $199 but an extremely powerful streamer that supports 4K HDR, specifically suited for PC gamers. Compatible to the Android system and works very well with Netflix, Amazon Video and Hulu applications.
Apple TV – The price tag is high at $179+ for an Apple TV but to most Apple users its a deal. Incredibly beautiful 4K streaming. Supports heavyweights like Netflix, Amazon Prime, ESPN and much, much more.
With these and many more options it is important to be able to choose the right device for your needs. Some tweaks may be necessary before you achieve a comfort level.
Best Streaming Services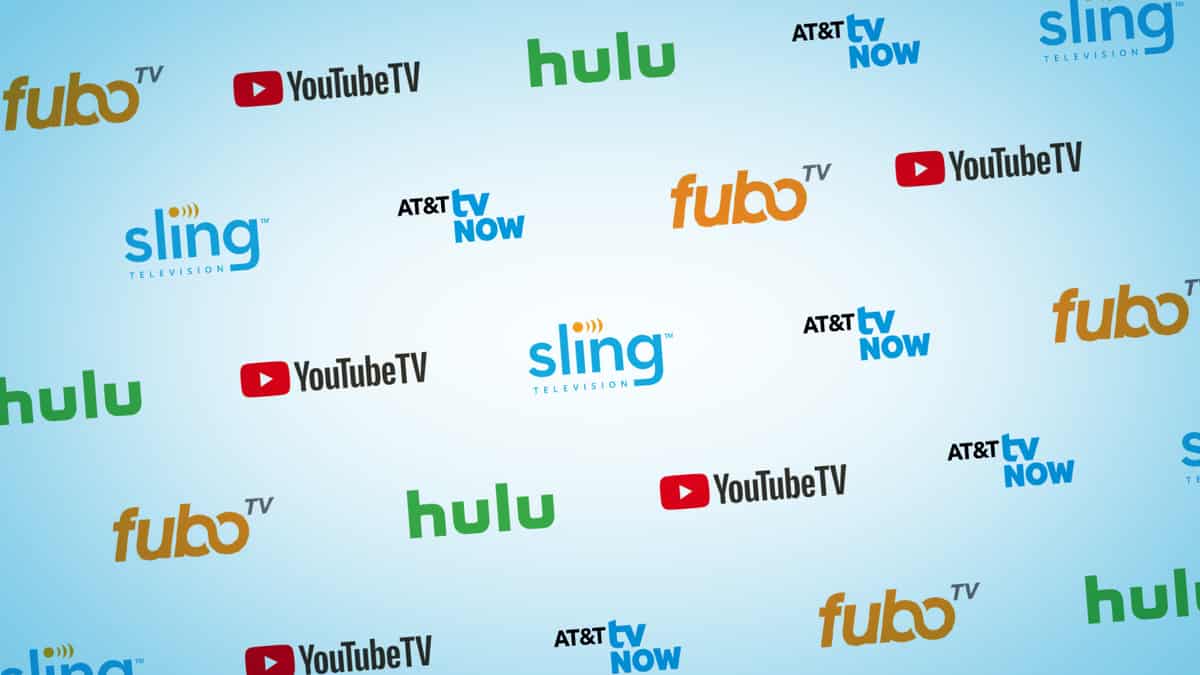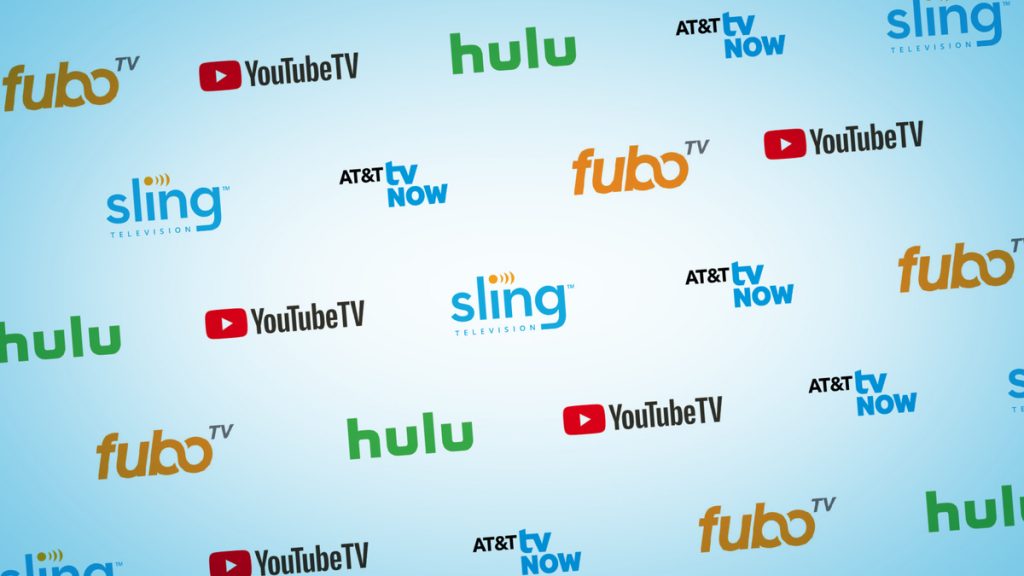 Tons of packages to choose from. Each package containing many channels can be subscribed to on a monthly payment basis. You can try different packages until you find a mix of channels that you would like to view most – or you could subscribe to several different packages as most consumers do.
Some of the most popular TV streaming packages are:
Netflix: Has a very large variety of content for entertainment and movies and starts at $8.99 per month.
Hulu & Hulu Live: Entertainment and Movies are their strong appeal and they too start at $5.99 per month.
Sling TV: Entertainment, Movies, and Sports. Starting at $35+ per month
Amazon Prime Video: Entertainment and Movies at $99 a year [$8.99+ per month].
HBO Max: Starts at $14.99 a month and offers a mix of movies and entertainment.
Bottom Line
The cable television phenomenon, a constantly changing and evolving behemoth has completely dazzled consumers in recent years with limitless choices of what to watch on television.
But things are already changing.
A lot of people feel that they are paying a lot of money for channels they don't watch and they are almost desperate to find cable alternatives. Although it can't be denied that there is still high value in traditional pay-tv services.
There is also the lure that 'cutting the cord' actually means eliminating the darn cable TV bill and although it does get rid of the pesky cable bill and contracts, it actually only decreases the cost of watching choice channels substantially.
So three things overwhelmingly push the cable TV consumers into finding other means of watching television channels of their choice:
The urge to be completely free of the irksome cable guys with their hefty bills and their equally irksome contracts.
Save money in the process and still be able to watch all the channels of their choice. A win-win.
Finding a way to get free cable tv (legally).
Once the cord has at last been cut and the traditional cable TV ushered out the inevitable question that pops up is 'what did we gain from this rather complicated exercise?'
The brief answers below will sum it all up:
Freedom at last from the pesky cable guys. No more cable TV bills, no more contracts. A big relief.
Savings is the meaty part. Not counting the one time expense of the devices purchased, the savings compared to Cable TV is one third. Meaning, if the spend with cable TV was $100 previously you would now save $30 and get the same viewing options.
Happy viewing.
Want to Make Extra Money Now?
KashKick: Want to make an extra $500 this month? KashKick rewards you for downloading apps, playing games, testing offers, and more. Over 2M+ users get paid daily.
Arrived: If you want a simple way to earn extra cash on the side from your phone, look no further than the best real estate platform that pays you passive income.
Survey Junkie: Need a $5 gift card daily? Survey Junkie pays users in cash or free e-gift cards. The amount you earn depends on the number and length of surveys you qualify for and complete.