PayPal helps us send and receive money with ease and has been around for quite some time. In fact, 74% of people who use PayPal say that they like it.
The same can likely be said for those who know of game apps that pay instantly to PayPal. These apps reward you for playing games and passing the time, decompressing from the day, or just entertaining yourself.
Many of these free PayPal games are easy to download and get started. They're often available for either Android or Apple smartphone users, or both.
Our list includes several game apps that pay instantly to PayPal. Download these games and start playing to earn more for your time and have fun while doing it.
The good news is that if you ever get tired of one app or just aren't earning as much as you want to, there are many others you can try. These new game apps might even pay more, depending on the arrangement.
Are you ready to learn more about game apps that pay instantly to PayPal? Let's get started!
13 Game Apps That Pay Instantly to PayPal
When it comes to making money instantly, here are a baker's dozen game apps that you can use to earn free PayPal money.
Apple iOS: 4.5 / Galaxy Store: 4.5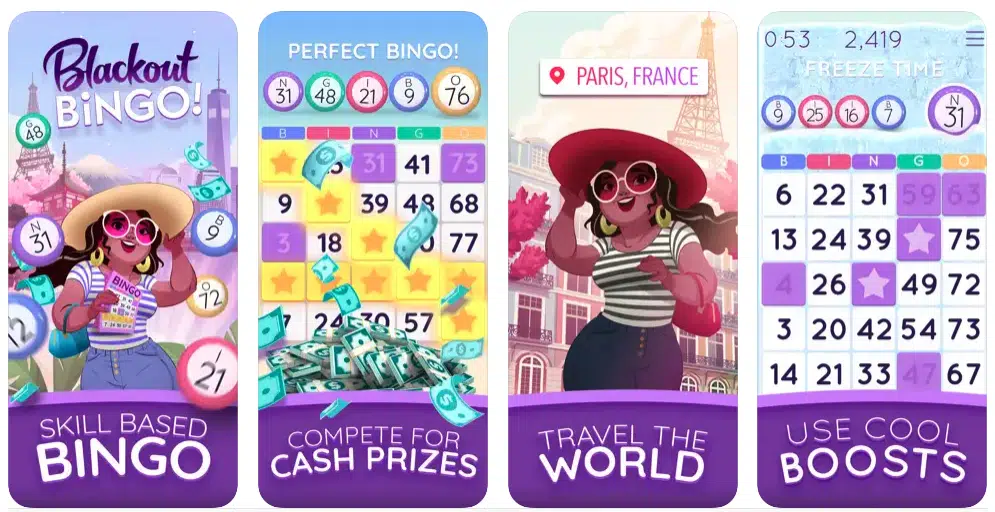 You're probably used to playing bingo on large cards with numbered spaces. However, Blackout Bingo brings the game into the digital sphere with two-minute rounds that have you dashing to daub the board and call out, "BINGO!"
This app is available for download for both Android and Apple devices. It pays out with prepaid debit cards, gift cards, and, of course, PayPal deposits.
With Blackout Bingo, you can play unlimited practice games or play against others for real cash prizes. One-on-one and multiplayer tournaments are available.
Bingo can be fun to play, especially since you don't need a lot of skill or time. If you want to earn more PayPal money, check out Blackout Bingo.
DOWNLOAD NOW:


Like Mistplay below, Rewarded Play grants players in-game currency when they complete a particular task or level in another game. This requires that Rewarded Play looks over your shoulder as you download and try new games.
However, you can easily earn numerous points for playing these games. Once you've reached redemption status, you can choose between gift cards from many popular retailers to PayPal deposits.
Games featured on Rewarded Play include Wheel of Fortune, Yahtzee, and Mahjong. While Rewarded Play may not have as many games to download and earn rewards for as Mistplay does, it's still a fair number of games you can try out at your leisure.
DOWNLOAD NOW: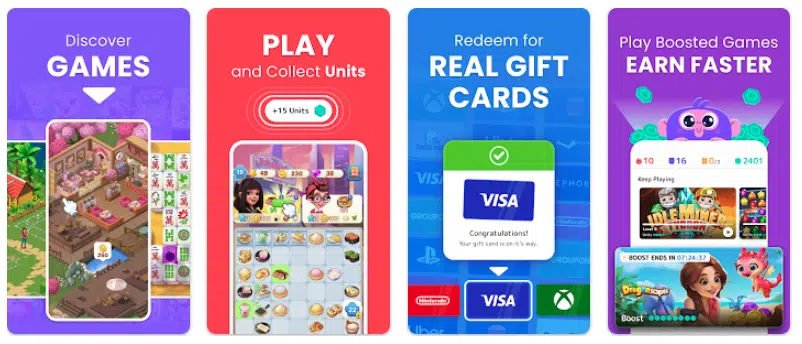 Of all the game apps that pay real money, Mistplay is perhaps one of the most popular. This app is available for Android users only but offers gift cards, PayPal deposits, and prepaid Visas.
Mistplay features several games you can play to earn rewards. You might play an adventure game for a few days, then switch to a casino or card game for a few days after that.
This app awards you when you reach particular levels. These levels will vary from one app to the next.
While Mistplay does have in-app purchases, they are not necessary for earning rewards. Instead, you can use them to earn more points to use toward your rewards.
Mistplay requires that you have at least $5 in rewards to cash out.
DOWNLOAD NOW:
Apple iOS: 4.6 / Galaxy Store: 4.5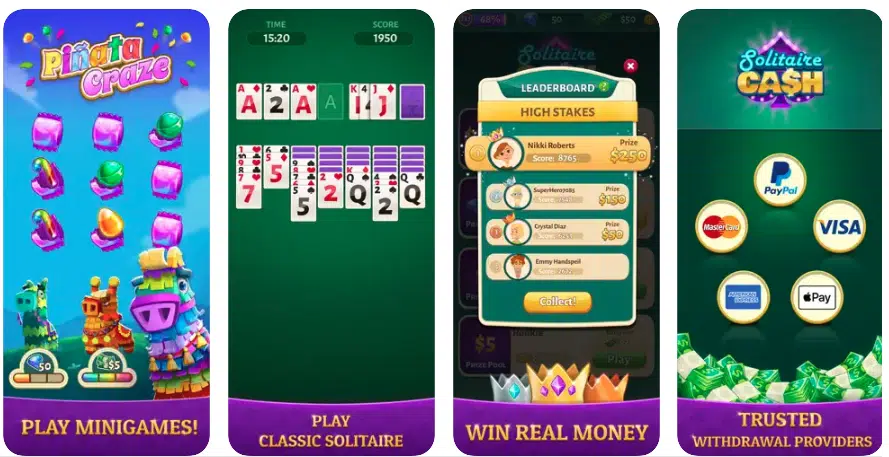 To earn free PayPal money with Solitaire Cash, you'll need to clear the board using classic Klondike rules. You can compete against the clock in practice rounds for as long as you like before you enter cash tournaments.
Most tournaments have anywhere from four to seven players who pay to get in. The top three players will split the winnings amongst themselves based on placing.
Solitaire Cash pays out via PayPal as well as credit cards, debit cards, and direct deposits. This fast-paced game can be addicting, but you'll need a Samsung Galaxy or an iPhone to download it.
DOWNLOAD NOW:
Apple iOS: 4.6 / Google Play: 2.9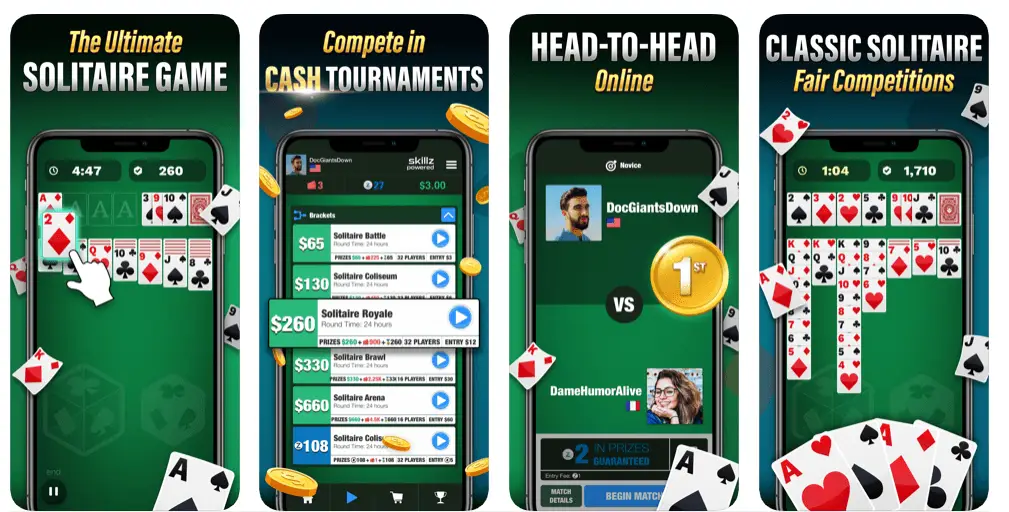 If you can stack cards on top of one another from the ace all the way to the king, you'll have no problem playing Solitaire Cube. This game is free for both iOS and Android users and follows typical Klondike rules.
Though Solitaire is typically played alone, Solitaire Cube lets you play against others to compete for a cash prize. You can play one-on-one or with several other players.
Solitaire Cube is part of the Skillz network of games. That means you can play without ads and win Skillz-specific prizes.
When you've reached the cashout threshold that matches your desired reward, you can request a bank deposit or PayPal. You can also have the app deposit the money to the card you used to fund your account in the first place.
DOWNLOAD NOW: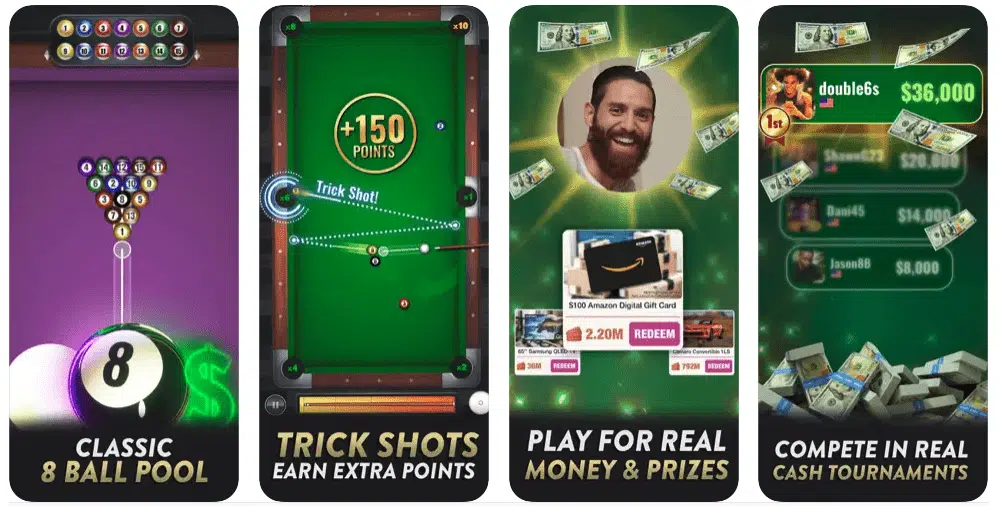 Are you a pool shark? Check out Pool Payday, a mobile gaming app you can download to earn money.
You have two choices with Pool Payday: Trick Shot Pool or 8-Ball Pool. Sink stripes or solids in a typical game of pool or test your trick shots out on the table.
Pool Payday lets you practice for free as long as you want. You can also compete with players head-to-head like you would in real life.
This gaming app is part of the Skillz network of games, which means you can earn cash prizes and Skillz tickets to boot. You can also withdraw your earnings via a bank account deposit, your digital wallet, a debit card, or through PayPal.
The best part about Pool Payday is that the games are relatively short. You won't have to spend hours at a time waiting for the game to end.
DOWNLOAD NOW: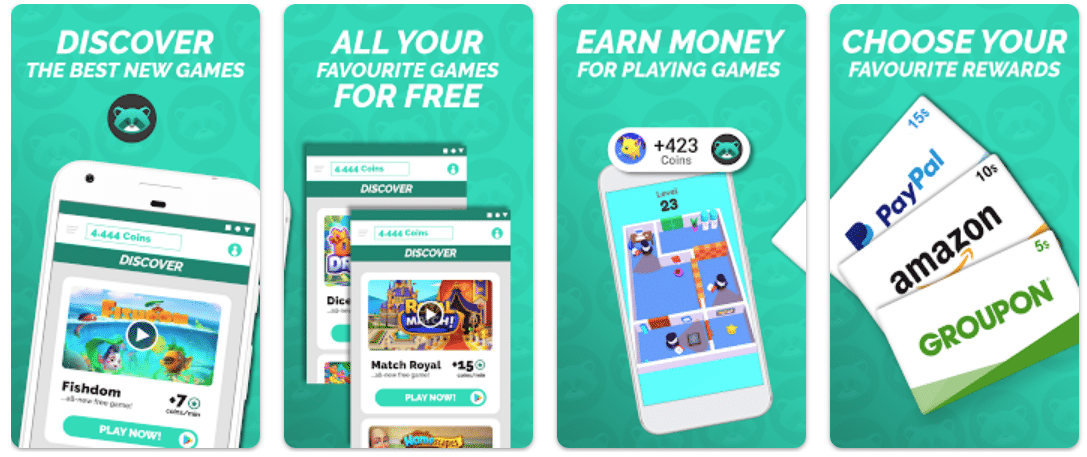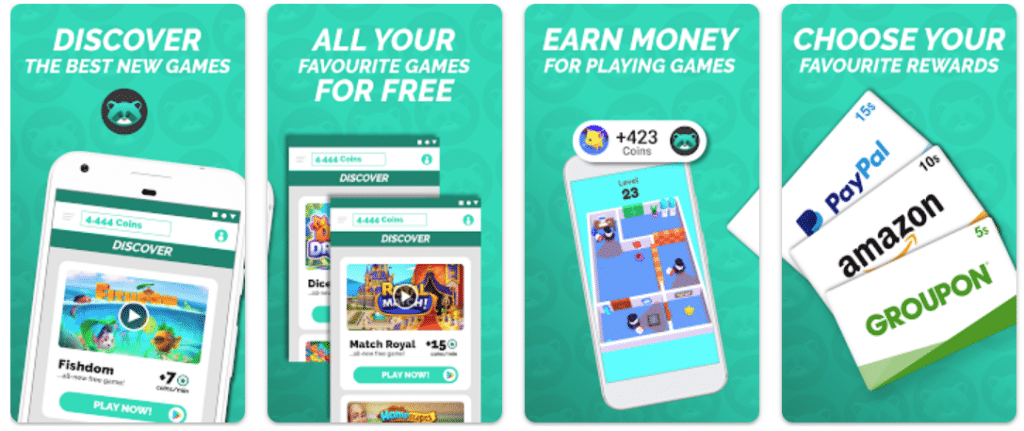 This Android-only app is free to download and doesn't require in-app purchases or deposits. With AppStation, you download several other gaming apps and let AppStation monitor your progress to reward you along the way.
As you play new games, you'll earn corresponding rewards. You can cash those out for gift cards to popular retailers or free PayPal money.
Most people earn their first reward from AppStation within a few hours of downloading the app. With new games always added to the list, AppStation is a favorite among gamers who want to earn more for the games they do play.
DOWNLOAD NOW: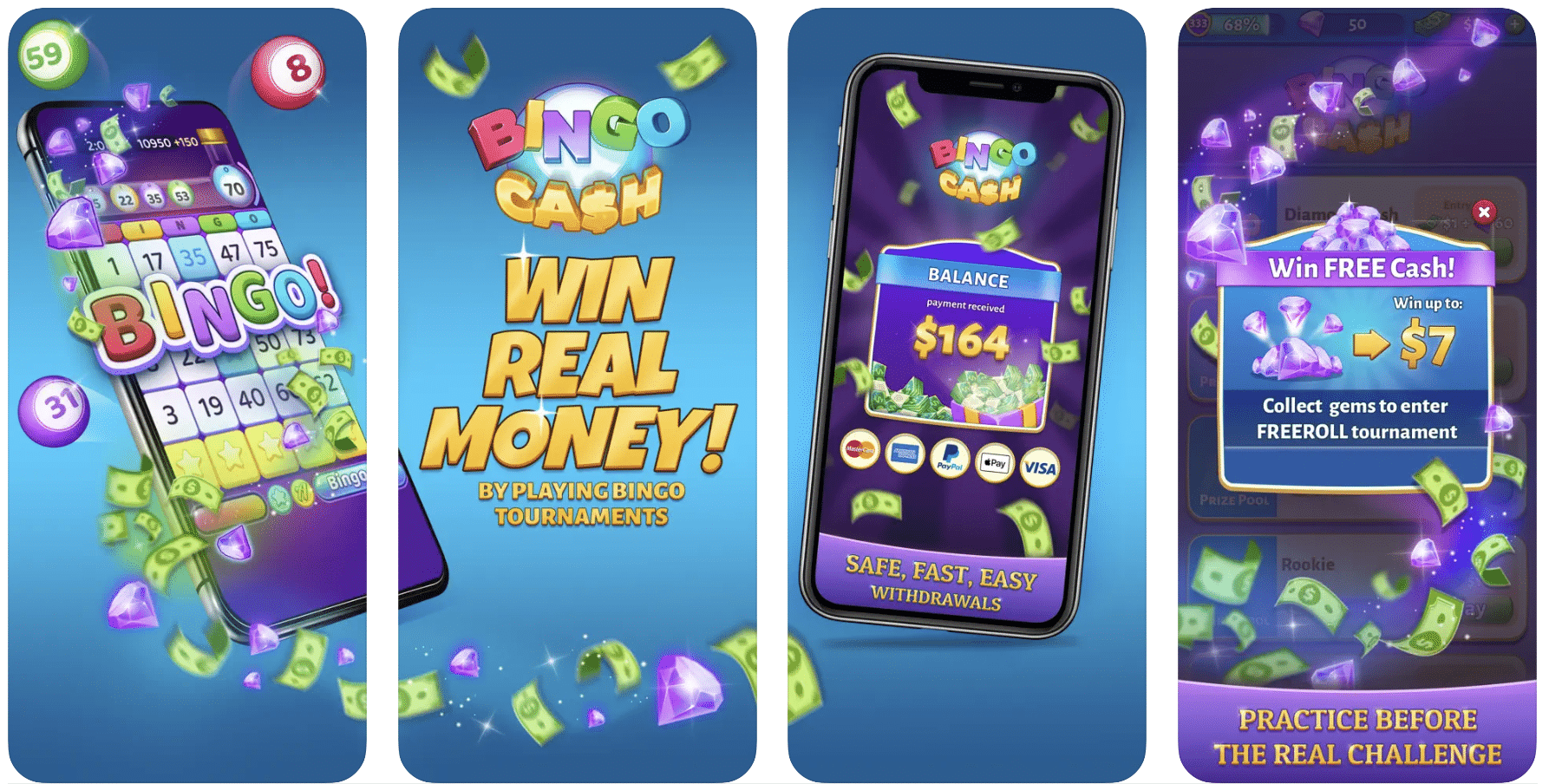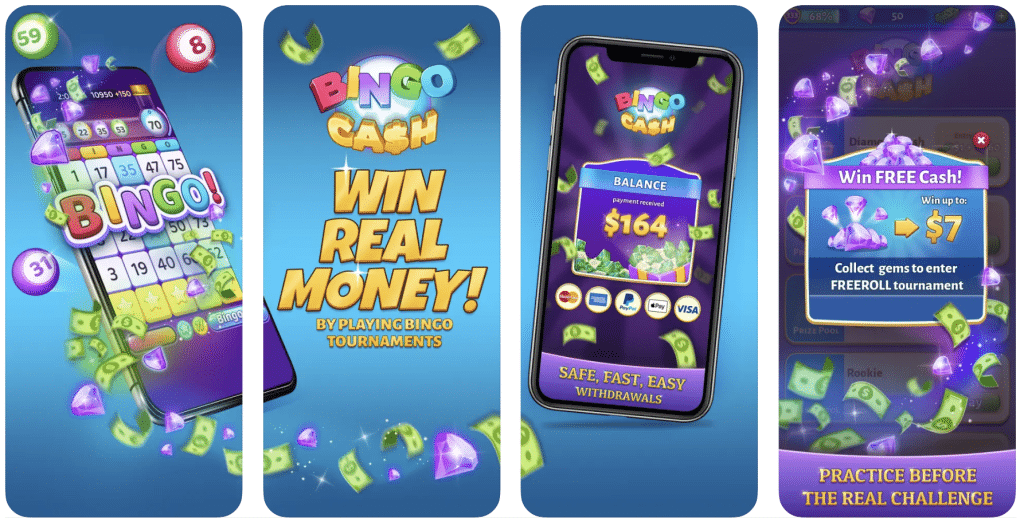 What if you could make a dollar a day with a bingo app? Bingo Cash lets you compete with players of similar skill level to you and earn real cash rewards for your winnings.
Download Bingo Cash on the App Store or the Google Play Store to start your first bingo game. Compete for free to practice your strategy or you can pit your skills against others in head-to-head and multiplayer tournaments.
Win $50 or more in cash tournaments if you place. Withdraw your winnings via PayPal to spend it on yourself.
DOWNLOAD NOW:
9. Swagbucks – $10 Welcome Bonus
Apple iOS: 4.4 / Google Play: 4.2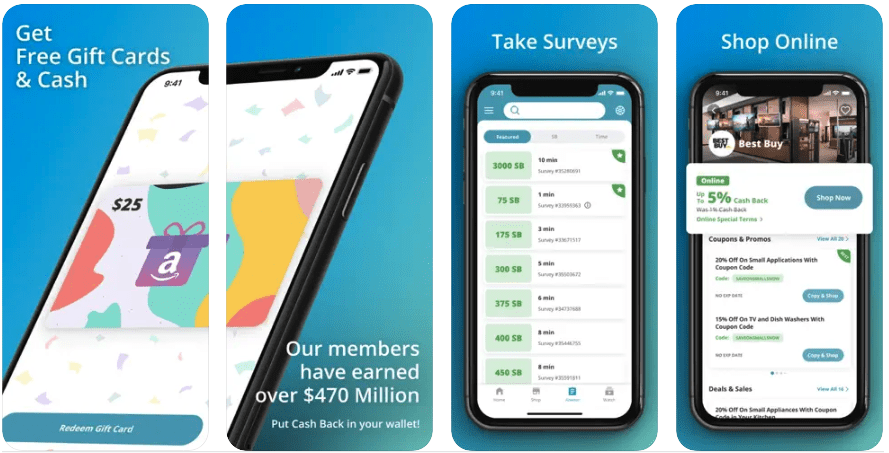 Download Swagbucks on your Android or Apple phone, or visit the website for more information. Swagbucks pays you to answer survey questions, watch videos, shop online, complete paid offers, scan your receipts, and so much more.
It's free to sign up and you can even earn $5 for doing so. There are many gaming options on Swagbucks as well, where you can play against others to win a cash prize.
In addition to PayPal deposits, Swagbucks also rewards players via gift cards and prepaid cards. You can cash out for as little as 500 points, or $5 worth.
Amazon gift cards, on the other hand, start at $1. You'll need at least $5 in rewards to redeem them otherwise.
DOWNLOAD NOW:
Apple iOS: 4.5 / Google Play: 4.1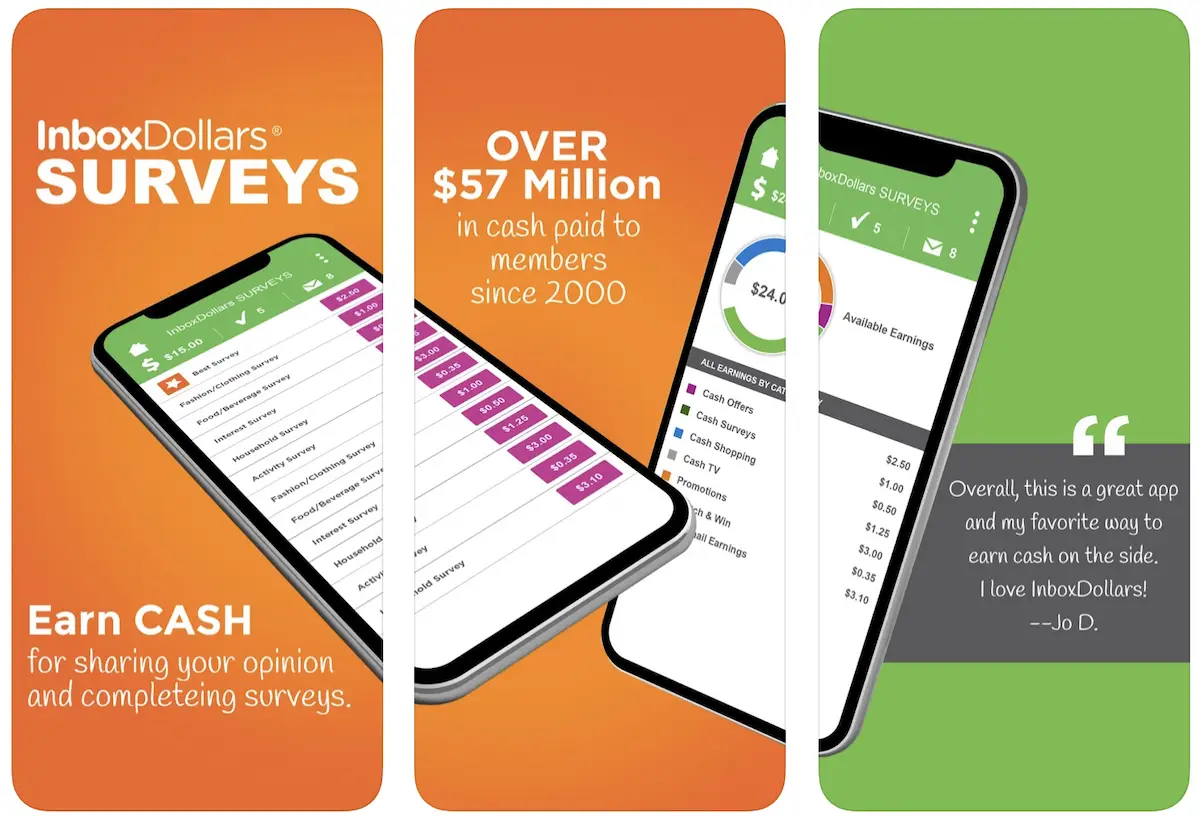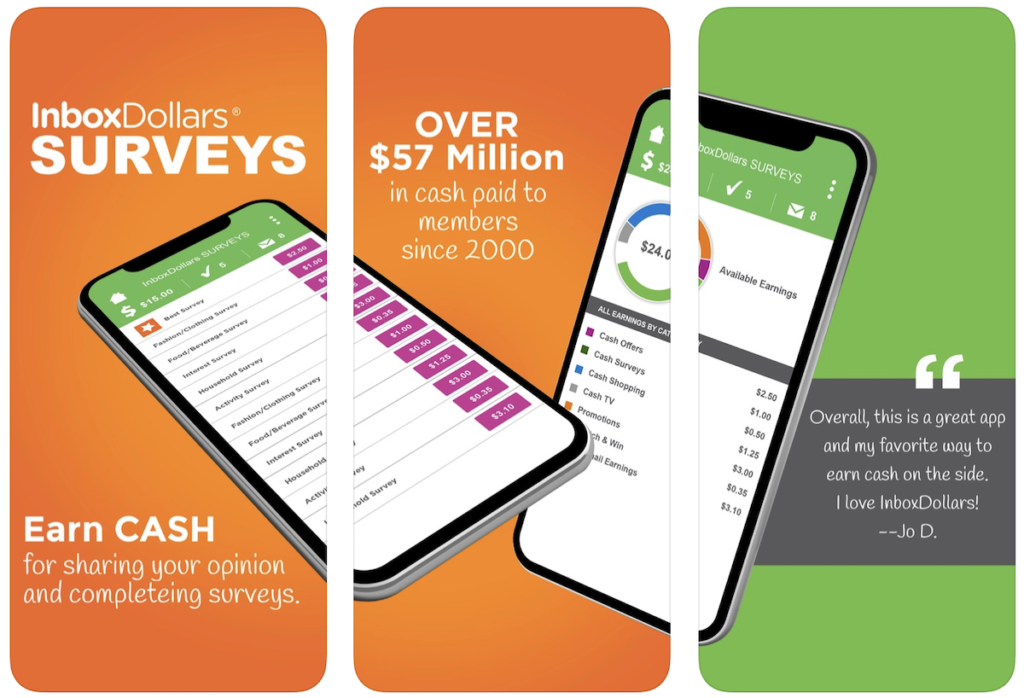 You can find InboxDollars online or on the App Store and Google Play Store listings. InboxDollars offers a $5 sign-up bonus for new members who want to earn extra money in several ways.
For instance, you can answer survey questions, play games, shop online, or watch videos to earn points. You can then redeem those points for gift cards, prepaid Visa cards, or a PayPal deposit.
Games on InboxDollars fall into several categories, including card, strategy, action, and word. You'll need at least $15 to cash out the first time but future cash-outs must meet the $25 minimum.
DOWNLOAD NOW:
11. 21 Blitz
Apple iOS: 4.6 / Google Play: 3.7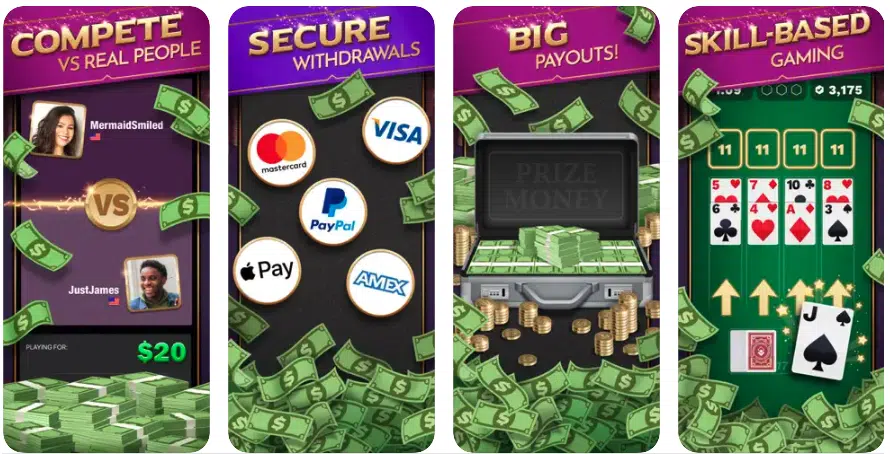 Do you know how to get free money by combining Solitaire and blackjack? Simply download 21 Blitz and start playing today.
This app is available for both Android and iOS users who like to play blackjack, Solitaire, or both. Once you get the hang of it, the concept is fairly simple.
For example, all you have to do is match cards to make 21. In contrast, you can also create an order of five sequential cards in a single stack to mimic Solitaire.
While that may sound like it takes quite a while, most rounds are only a few minutes at most. Players tend to increase in speed as they gain more experience, so it's often best to start with some free practice rounds.
If you win a head-to-head competition, you can withdraw your cash in several ways. Choose to deposit the money to your bank, debit card, or PayPal account.
DOWNLOAD NOW:
Available on the iOS App Store and Galaxy Store
12. Dominoes Gold
Apple iOS: 4.7 / Galaxy Store: 4.5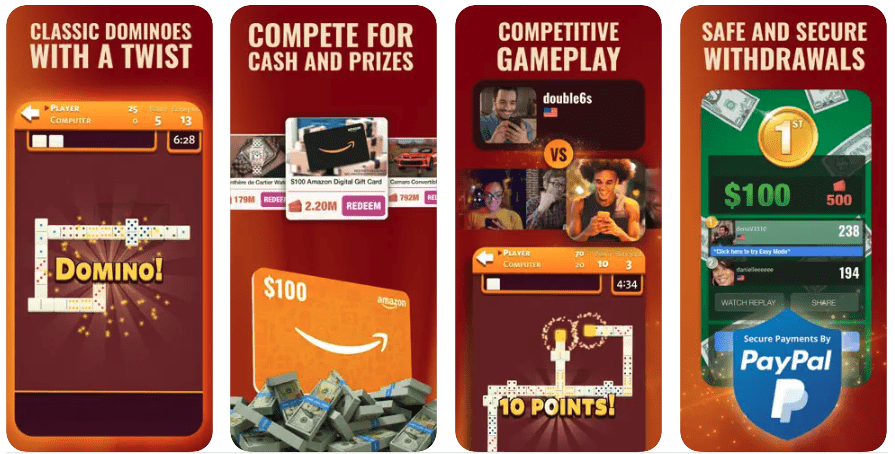 Available for both Android and iOS users, Dominoes Gold incorporates a double-6 set and classic dominoes rules. You'll need to match numbers to earn points.
Though Dominoes Gold does take some skill, it's something you can master in a few rounds. Plus, the game follows standard gameplay per Fives rules.
You can play Dominoes Gold by yourself as long as you'd like. However, you'll need to pay entry fees for most cash tournaments, which can be fast-paced and ruthless.
Once you reach the necessary payout threshold, you can cash out via the payment card you used to link the account, PayPal, or a bank deposit.
DOWNLOAD NOW:
Available on the iOS App Store, Google Play and Galaxy Store
13. Bingo Win Cash
Apple iOS: 4.4 / Google Play: 3.7
This is yet another bingo app to win money that you can download to play and cash out for PayPal money or via Apple Pay. Similar bingo rules apply, albeit with some adjustments here and there to make the game more unique.
Bingo Win Cash also lets you play with friends. It's a combination of slots and bingo that pays you in real prizes if you're declared a winner.
PayPal Games FAQs
Pay Yourself with Games That Pay Instantly to PayPal
Though PayPal has quite a few challengers these days, it's a giant when it comes to sending and receiving money. It's also useful for games that pay instantly to PayPal or even games that pay instantly to Cash App.
We hope this article has helped you to find new games you can play and get rewarded for doing so. When you get paid and have fun, making money almost seems like it's secondary.
Though there are a lot of games on our list above, it's a good thing if you want some variety in your gaming life. When you get tired of one game, you can simply download the next and still contribute to your wallet.
Which games that pay instantly to PayPal will you download?