Want to Make an Extra $100?
Earn $100+ rewards just by trying out new apps! Get money for playing games from the App Store or Google Play. Plus, make cash from surveys and special offers. Whether you're at home or on the go, turn spare moments into cash. Your rewards are waiting at KashKick!



Start Earning Cash Now
Do you want to learn how to make 500 dollars fast? You probably found this article by searching Google for, "how to make five hundred dollars fast" — am I right?
Well, you're not alone. A 2019 GOBankingRates survey found that over half of Americans have less than $1,000 in savings.
So what happens when rent is due or you need money for a car repair or bills? You could always just pull out your credit card but that leads to more debt and can be a vicious cycle.
What do I recommend? I always recommend finding legitimate ways to make money outside of your regular job.
Today, I will share some flexible ways to make money fast. Some of the methods we share will make you $500+ dollars on a flexible basis. Take a look and see if any of these free ways to make money fast interest you.
How to Make 500 Dollars Fast or More
Do you want to make money fast? There are plenty of flexible ways you can earn $500 fast. Take a look at the list of ways below so you can start earning money when you're in a pinch.
1. Make $500 Fast with Game Apps to Win Real Cash
Gone are the times when we used to scratch Charity Sweepstakes at a retailer's center, nowadays these games are available on your smartphone and web. If you are a fan of these luck games, you can make a buck or two downloading game apps that let you make money instantly.
There is a wide variety of game options and activities to choose from and make money. Some apps offer trivia questions, digital scratch-off cards, playing games and many more options and you can win free gift cards or cash to your mobile phone.
Some of the most reputable apps include Solitare Cube and Bingo Cash. You sign up an account and start playing your favorite game immediately.
2. Make $500 Fast with Food Delivery Apps
Today, everything including your grocery store has been shifted online. Due to the heightened demand due to the pandemic, the companies seek to collaborate with freelance delivery agents who benefit with the small delivery fee charged to their clients.
Some of the available food delivery apps include: DoorDash, Instacart, and Uber Eats.
If you want to start earning by using food delivery apps, you simply head over to one of these companies sites, provide your car details, and give a valid driver's license and immediately start your delivering food around your city for extra cash. All of these gig economy jobs allow you to work on your own schedule and you can earn up to $500 to $900 per week on average just working 30 hours a week part-time.
3. Make $500 Fast Selling Your Data for Cash
Search engines, websites and apps are known for selling your data at exorbitant rates, and often as a user you don't get a dime from the money they make off your data. However, nowadays there are free apps online where you can sell your data and make some extra cash from home.
Some of them include: MobileXpression, Savvy Connect, Nielsen Mobile Panel, Data Coup and many others.
With these apps, you simply register an account and start making money by voluntarily sharing your browser usage and internet searching habits.
Nielsen Mobile Panel for instance, tracks people's internet usage by installing its app to your desktop or mobile device. If you agree to it, then you can make $50 per year just for installing it's free app. This is the same case to the rest of these data collection apps, though it depends on the field of interest.
4. Make $500 Fast Watching Ads
Many businesses make sales online through ads and ad campaigns. It makes sense that marketing companies are looking for people who can watch these ads and offer them cash rewards.
To chalk it up, you can make money watching ads with sites like InboxDollars, Swagbucks, SuccessBux and MyPoints.
You can sign up to any of the above sites and start watching these ads for money. With some, you can make $10 fast in a day depending on the ad campaign of your choice.
5. Make $500 Fast Participating in Market Research
Market research is an easy way for brands to learn of a products acceptability in the market using online buyers. There are several market research companies that'll pay you for your opinion. Upon signing up to each, you get access to top paying survey opportunities and you can earn money fast today.
The highest paying survey sites that will pay you free PayPal money include:
Swagbucks
Swagbucks or 'SB' as it is commonly referred, is a research portal that rewards its users for taking up easy tasks such as watching videos, participating in a survey, or searching in the web.
You are rewarded through royalty points which can be redeemed to gift cards or cash via PayPal. The gift cards can be used in over 1,500 retailer shops globally, while cash is sent to your PayPal account.
To get a $5 gift you require a total of 500 points, or alternatively, accumulate a total of 10,000 points to cash out $100 which can be done within a few days of grinding.
Survey Junkie
Survey Junkie has a tagline that says 'you will not be rich' to me oozes honesty. It is true you can't make a fortune from the site, but at least you can make some little pocket change as a part-time hustle.
You earn by participating in surveys, and each can pay on average from $1 to $3. The money is rewarded in points form ranging from 20 to 200 depending on the survey. You can only cash out after accruing over 1000 points an equivalent of $10.
InboxDollars
InboxDollars is an online marketing site which rewards members for participating in simple tasks online such as watching TV, completing surveys, watching celebrity news videos, and other tasks. When you sign up you get a free $5, though you can only cash out after getting your balance to $30.
LifePoints
LifePoints is an online community for like-minded individuals willing to share views on certain topics and make some cash out of it.
You are rewarded through life points and you can only cash out after accumulating over 550 points which is equal to $5.
You can either redeem it to your PayPal account, or get gift cards for different online shops like Ebay, Amazon etc.
6. Make $500 Fast with Cash Back Apps
There are cash back apps that can really help you with your buying needs. These types of apps search through the different stores to get you the best deals, trending deals, price cut alerts, featured offers and coupons to save you money.
Some of these cash back apps to help you score $500 fast include:
Dosh
Dosh collaborates with several stores to give you cash back rewards for every purchase made in the store. You simply download the app online, add your frequently used debit card to your Dosh Account. Now, for every purchase made with your card on any participating store or restaurant, you get a cash-back percentage to your Dosh Account. Sometimes the percentage can rise to up to 10p in some stores.
Rakuten
Rakuten collaborates with some of the world's biggest brands to give you cashback discounts once you shop in the stores. Some of the stores offer up to 20p cashback which is moved to your account and is dispatched after every quarter year to your PayPal or bank account.
Fetch Rewards
Fetch Rewards also rewards subscribers for purchasing goods in participating stores just like other cash back apps. You simply send proof of purchase by scanning the receipt and for every successful upload you get 5 points. Additionally, you can earn points accruing to 2000 points for every referral.
GetUpside
GetUpside partners with businesses to provide you with bonuses on all purchases made. Most of their partners are in the gas station business, restaurants and grocery stores. On subscribing, you get a map of participating stores in your area to view offers. On getting the offer, you can redeem the points totaling to 1 dollar and above to your PayPal account or Check.
7. Get Up to $200 in Free Stocks
I know it sounds absurd, but yes, there are online companies offering you free stocks in major companies like VISA, Microsoft and many more immediately once your open an account.
This is a good opportunity that can immediately increase your net worth and score you up to $250 quickly. A good example of an investing app that offers this is Robinhood. The investing app serves over 10 million customers globally and provides free stocks of up to $200 once you sign up for a free account. The shares are credited to your account after creating your account. Additionally, trading of stocks, cryptocurrency, ETFS and options is free within the popular investing app.
Other major investing apps that alow offer free stocks for joining include M1 Finance, Public, Webull and Acorns.
You simply create an account with each of these apps and immediately get free shares of stock, which start increasing in value over time and can make you money passively.
8. Earn $500 Fast Passively by Investing In Real Estate
This is a perfect investment opportunity for small investors interested in investing in real estate.
Investing in real estate is super legit in 2021 even if you're a beginner. The best part is that you're not risking money to market swings like you are in the stock market. Historical returns for real estate investing also beats out the S&P 500 year after year.
The most popular real estate investing app that I personally use is Fundrise. This is the best real estate app for like-minded real estate investors that want to get their feet wet in real estate but don't know where to begin. You simply sign up for an account and get started with only $500 to start your journey as a real estate investor.
9. Make $500 Fast Playing with Dogs
If you are a pet lover, who fancies being around dogs, then Rover is a perfect side hustle for you to keep up with your hobby as you make some money.
Heck, this is one of the best ideas to make money if you are a dog lover since you are literally paid to spend some time with your favorite four-legged friends.
As a part-time hustle, you can make on average $1,000 every two weeks to walk dogs or dog sit. Depending on your schedule, you can choose to work for Rover whenever you want or on a full-time basis.
10. Get Paid $500 Fast Reading Emails
There are a bunch of companies that are willing to pay you to get their emails read.
This is mainly for marketing purposes, and you can quickly make extra cash from the comfort of your home.
Some of the reputable agencies which offer these services include Swagbucks, InboxDollars, Vindale Research, InboxPays and Toluna.
11. Get $500 from Dave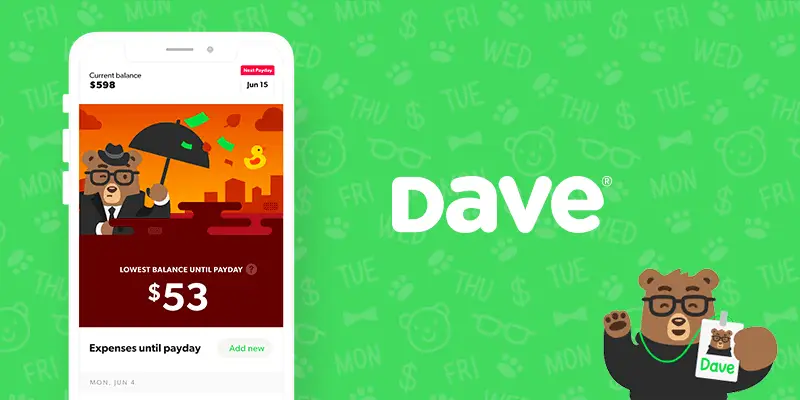 Borrowing $500 from Dave is easy. There's no minimum balance required and you'll only pay $1 per month for cash advances.
Pay $1 more to gain access to budgeting tools and the ability to connect your external bank account. For example, you can choose automatic budgeting to find out how you can save money.
Admittedly, Dave doesn't offer a high-yield savings account or a credit-building option. With a Dave account, however, you can use your debit card to spend without the fear of paying overdraft fees. Any cash advances you take out for overdrafts come with no interest or credit checks.
Dave gives you access to over 32,000 ATMs and the chance to transfer funds of up to $1,000 five times per month from an external account. You can also find local gigs with Side Hustle by Dave to earn even more to put into your new account.
12. Find $500 Fast in Hidden Money
Sometimes, you may be spending more than necessary on your monthly bills, probably due to inflated bills, higher prices on some products, or even redundant subscriptions (hello Netflix and Hulu).
However, there are new bill negotiation tools on the market like Rocket Money that help you save money by negotiating cable, internet, phone, and medical bills.
Rocket Money is a top choice for those who want a budgeting app that can assist in lowering expenses. It allows you to monitor your bank account spending and establish a budget.
Additionally, the app's noteworthy attribute is its Bill Negotiation feature, which can evaluate whether you can receive the same service from a company at a reduced price if you upload a copy of your bill.
13. Get Paid $500 to Walk
I know you can't count the miles you walk in a day, but the news I am about to drop now will make you more concerned with that data.
Nowadays, there are platforms online conducting exercising surveys, and they are typically paying you to walk. Yes, you heard that right!
You simply sign up to the sites, and they track your walked distance and award you with points. Redeemable as either hand cash or points to buy in a store. Some of the best examples of such apps include HealthyWage and Sweatcoin.
14. Sell Your Stuff to Earn $500 in Cash Money
Do you still have your old phones, textbooks, DVDs, electronics, games or other items cluttered in your house? Are you wondering how to make better use of them?
Then this side hustle is for you, there are a bunch of sites online like Decluttr that will buy your old junk with an instant cash quote.
This way you can make extra money from items that you could have otherwise thrown away or donated. Of course, you can choose to sell this stuff on Facebook Marketplace or use selling apps, but who likes doing that. You can see how much your old junk can make you by using this free Decluttr cash quote calculator.
15. Make $500 Fast Starting a Blog
If you are a good writer, then you can start a blog on a specific niche that you are well-versed to make passive income. Even if you aren't a good writer you could always outsource the writing for cheap.
To monetize your blog, you're required to have a reputable online presence by hosting your blog on the web. Bluehost is one of the cheapest web hosting companies available. You only pay a $3.95 monthly hosting fee and you can enjoy building your blog and making money from it. Plus, they'll help you set up your blog within minutes and it's so cheap (cheaper than a latte at Starbucks ☕).
Within your blog, there are several ways to make $100 per day or more consistently. You can opt to post up ads and earn from Google Adsense or alternatively use it for affiliate marketing and make money from popular brands. It'll take some grind and hustle to build your blog with content and start ranking in search engines, but it'll all be worth it.
16. Claim $500 Fast with Open Class Action Lawsuits
Sometimes, you may be involved in a compensation claim which you are not privy to.
According to research, the US has over $10 Million in unclaimed compensation or settlement claims every year.
This is often due to you simply not knowing that you're eligible for a class action lawsuit payout. Do you want to see if you qualify for any of this month's class-action settlements?
Take a look at the latest open class-action lawsuit settlements that you may be eligible for.
17. Make $500 Fast Doing Freelance Work Online
There is an avalanche of online freelancing sites offering jobs in different fields. These freelancing sites link online workers with clients at a small fee. If you are a freelance writer, for example, you can join popular freelancing sites and start getting gigs, and the same applies to other types of freelancing gigs.
Generally, you'll want to build a track record of positive reviews on these freelancing sites and you can start making money doing what you like, at on the comfort of your couch. Some of the best sites to get the freelancing gigs include FlexJobs, Upwork, Freelancer, Fiverr and you can get a gig on typically on any field of online work.
18. Rent Out Your Car to Score 500 Dollars Cash
The car renting business is still one of the few lucrative ventures in the US. However, the digital wave is slowly changing the business from physical locations and nowadays people can book a car at the comfort of their home.
This technology is so advanced, that one can even book a car just like an Airbnb, from any place in the world.
This is made possible by some available apps like Turo and Getaround which helps link car renters to those to want to share their truck, sports car, or anything in between.
You can list your car for free on these apps and make passive income with an idle car that's just sitting in the parking lot half the time.
19. Make $500 Fast Teaching Other Kids
With this fast-rising internet era, most things including learning are quickly shifting online. Hence, there are numerous teaching opportunities available for qualified tutors. A good example of teaching gigs is VIPKiD. VIPKiD is based in China and mainly specializes in the English curriculum for kids aged between 4 and 12 years. The lessons are conducted face to face through Skype or directly through their platforms.
Signing up is easy and convenient, and you must go through a 30 minutes interview to gauge your prowess. On qualifying, you are assigned a class of 25 minutes for $7 to $9 per class with a chance for multiple bonuses according to your performance. Funds are sent twice every month for all complete lessons.
It's a legitimate way to consistently make $100 every week. All you need is a bachelor's degree (or higher) in any field and at least 1 year of teaching experience (includes homeschooling, tutoring, coaching, mentoring or other life experiences).
20. Make $500 Fast Charging Scooters
Most evenings in your city are filled with scooters that need to be recharged. Nowadays, the process is even easier since apps help juicers in identifying scooters that need charging around their neighborhood.
Some of the most reputable scooter companies that'll pay you to charge scooters include Bird and Lime, where you can get paid up to $7 for charging a single scooter. This can be a great part-time venture since most juicers work at night and can score $500 per week working just a few days out of a week.
21. Make $500 Fast Taking Photos
Hey there shutterbugs, did you know you can make money by selling those perfect shots resting on your hard drive?
You can sell some of your best photos online through websites like Fotofolia, iStock Photo, Shutter Stock and PhotoMoola, and make a fortune from your hobby.
Typically, these sites link you to potential buyers at a fee of about 30% of the total money earned. You can get as many customers as you can possibly reach. Each photo goes for about $10 depending on the quality and buyer. So making $500 fast is definitely possible, and pretty passive once you list your photos.
22. Get Paid $500 to Test Apps
Most websites and app developers want to bring to the market a seamless app or website, and they therefore require the input of app testers.
These testers should monitor the application's usability, design and functionality. In some advanced levels, you may be required to conduct a bug test to identify any technical problem. As an app tester, you test the app and proceed to submit a report, and you get rewarded with $10 to $20 per test.
Some of the best sites to get these gigs include TrymyUI, User Testing, TestBirds and many more. You simply sign up for these user testing sites and start making some money testing apps and websites to help you can score $100 in no time.
23. Get Paid $500 to Chat Online
How many hours on a specific day, do you spend chatting with friends? Did you know you could use the same energy chatting with people online on behalf of big brands and make a kill out of it?
Many companies are willing to pay you to chat with their clients and keep them busy. Some of the few reputable sites for online chatting include Amazon Chat Support Representative, LiveWorld, The Chat Shop, and JustAnswer.
Alternatively, if you want a less formal setup, there are apps that pay you to chat and flirt with people online. The sites recruit you and train you on their chatting formalities before getting you live and then you can start making money.
24. Sell Your Idea to Companies for $500 or More
There are loads of companies out there who are willing to buy into an innovative idea. Long ago, selling an idea was a hustle since you had to physically look for a sponsor, but that's not the narrative anymore. There is a wide variety of companies online that help you get an investor or better still get a buyer for your idea.
Some of the companies that'll buy your idea include 3M, Dorman Products, Inc., Henke, and Sharper Image. They keenly scrutinize your idea and allow you to negotiate a price according to the creativity and niche of your idea. The highest selling ideas revolve around the tech niche but by searching the web you can get buyers around many other niches.
25. Get Paid $500 to Post Ads Online
Ads are slowly growing to be a reputable online marketing tool for businesses to generate traffic online. When we are binge-watching cat videos on YouTube, the ads may seem boring, but to others, it's a money-making venture.
With the social media era, you can easily create an account on one of the top social media platforms and purely use it to post ads and make some money online.
Many businesses are seeking digital marketers to help push their brand, and as an ads expert, you are a perfect fit. Some of the best social media platforms which help ad experts generate income include Facebook, Pinterest, Instagram, and YouTube.
Furthermore, if you have a blog, you can decide to monetize it by incorporating ads like Google Adsense which in turn generates you money anytime your readers click them.
26. Work as a Virtual Assistant to Earn $500 Fast
Sometimes a company may have a simple task that doesn't require a full-time worker. This prompts them to hire an assistant online to help with the task, thereby opening up opportunities for virtual assistants.
In essence, you'll be able to make money, working flexible hours, and only this time you can work from anywhere in the world. Most companies contract HR agencies to help in shortlisting the VA, hence you must be good at your field to substantiate a good deal.
Some sites like Upwork, Fiverr, and Freelancer are popular with providing VA opportunities from across the USA. You can get an account with them and start looking for opportunities.
27. Get Paid $500 to Read Books
Book publishers are always on the lookout for book reviewers, to help them in editing the final copy of a given book. This is an easy way for book lovers to make money doing what they love, reading books.
You should only read the book on your selected genre, then provide an honest review and get paid immediately. Publishers work with some sites which help them reach freelance readers to help them review a book of course at a fee.
Some of these available sites include OnlineBookClub.org, Any Subject Books, The U.S. Review of Books and many more. Signing up is free and members can cash-out earnings via PayPal or direct deposit after reaching the site's minimum threshold limit.
28. Rent Out Your Room to Make Over 500 Dollars Fast
Airbnb is the fastest link between home or cottage owners and tourists. With the platform, a house owner can rent out their spare room or entire house to people seeking a place to stay.
On the other end, a tourist seeking accommodation views the house on the Airbnb site and can book from anywhere globally. The transactions happen through e-money transfer channels, and Airbnb charges a maintenance fee.
This is a kickass deal mainly if you have an extra space to rent out. The value of your nightly rate depends on the specifications and location, hence you should do your research before listing your room for rent.
29. Become a Bartender or a Server to Make $500 Fast
Over the weekends, clubhouses and restaurants are a flurry of activity as revelers wind down the week. The workload at such times may be overwhelming to the available staff, and most of these joints end up hiring bartenders and waitresses on a casual basis. This is a perfect hustle for a part-time worker seeking to make a fortune. Often, the only requirement is your age and availability and from there you start earning.
30. Negotiating For a Pay Raise to Get $500 More Each Paycheck
Sometimes as an employee, you can get to a state where you can't foot your bills probably due to high mortgage or increased responsibilities. In such a case, you have nothing to lose from asking for a pay rise from your employer. While your request can be rejected at your employee's discretion, you've lost nothing for asking.
31. Money Money Fast Today by Selling Plasma
Selling plasma is a way for individuals to make money by donating their plasma, which is the clear, straw-colored liquid portion of blood that is left after red and white blood cells and platelets are removed. Plasma is used in a variety of medical treatments, including for people with bleeding disorders, immune deficiencies, and burn victims.
Here are the steps to make $500 fast by selling plasma:
Find a plasma donation center in your area. These centers are typically operated by biomedical companies that collect plasma for use in medical treatments.
Contact the plasma donation center to see if they are accepting new donors and to inquire about their payment policies. Some centers may pay a fixed amount per donation, while others may pay based on the volume of plasma donated.
Schedule an appointment to donate plasma at the center. During the appointment, a medical professional will draw your blood and separate the plasma from the other components. The plasma will be collected in a sterile bag, and the remaining blood will be returned to your body through an IV.
After your donation, you will receive payment for your plasma. The amount you can earn will depend on the specific center you are donating at, as well as the volume of plasma you are able to donate. It may take multiple donations to reach the $500 mark, but with regular donations, it is possible to earn this amount within a short period of time.
It is important to note that there are some risks associated with plasma donation, including the possibility of infection or reactions to the donation process. It is important to carefully consider the potential risks before deciding to sell plasma as a way to make money.
32. Flip Amazon Deals to Make $500 Fast
One way to potentially make $500 fast is by flipping Amazon deals. This involves finding discounted items on the Amazon Deals page and reselling them for a profit on platforms like eBay, Facebook Marketplace or selling apps.
Here's a step-by-step guide on how to get started:
First, you'll need to find discounted items on Amazon. You can use price tracking tools like CamelCamelCamel to help you find deals that are significantly discounted from their original price. You can also try searching for clearance or overstock items on Amazon's website.
Once you've found an item you'd like to flip, check its price on other platforms like eBay or Facebook Marketplace to see what similar items are selling for. You'll want to make sure there is a sufficient profit margin before making the purchase.
Purchase the item from Amazon and have it shipped to your address.
Once you've received the item, create a listing for it on eBay or Facebook Marketplace. Make sure to include high-quality photos and a detailed description of the item.
When your item sells, ship it to the buyer and collect your profit.
Keep in mind that flipping Amazon deals is not a guaranteed way to make money, and you'll need to put in some time and effort to find and research profitable items.
However, with a little bit of practice and persistence, you may be able to make $500/day or more by flipping Amazon deals.
Related: How to Flip Money
33. Make Money Fast by Selling Digital Products
Another way to make $500 fast is by selling digital products. Digital products are intangible items that can be delivered and accessed electronically, such as ebooks, online courses, printables, and stock photos.
Here's a step-by-step guide on how to get started:
Decide what type of digital product you want to sell. This could be something you're already knowledgeable about, or something you're willing to research and learn about. Some popular options include ebooks, online courses, printables, and stock photos.
Create your digital product. This will involve researching your topic, creating content, and formatting it in a way that is easy for your customers to access and use.
Set up a website or online store to sell your digital product. You can use a platform like WordPress or Shopify to create a professional-looking website with payment processing capabilities.
Promote your digital product. There are many ways to promote your digital product, including social media marketing, email marketing, paid advertising, and guest blogging.
Start selling and earning money. As you make sales, be sure to track your income and expenses to see how much profit you're making.
Keep in mind that creating and selling digital products requires time, effort, and investment.
However, if you're able to create a high-quality product that meets a need or solves a problem for your target audience, you may be able to make $500 per day or more by selling digital products.
34. Make 500 Dollars Fast by Selling Physical Products
Another way to make 500 dollars fast is by selling physical products. Physical products are tangible items that can be shipped to customers, such as handmade crafts, vintage items, or new products from a manufacturer.
Here's a step-by-step guide on how to get started:
Decide what type of physical product you want to sell. This could be something you're already knowledgeable about, or something you're willing to research and learn about. Some popular options include handmade crafts, vintage items, or new products from a manufacturer.
Find a source for your physical products. If you're selling handmade crafts, you'll need to create the products yourself. If you're selling vintage items or new products from a manufacturer, you'll need to find a supplier or wholesaler.
Set up a website or online store to sell your physical products. You can use a platform like Etsy or Shopify to create a professional-looking website with payment processing capabilities.
Promote your physical products. There are many ways to promote your physical products, including social media marketing, email marketing, paid advertising, and guest blogging.
Start selling and earning money. As you make sales, be sure to track your income and expenses to see how much profit you're making.
Keep in mind that selling physical products requires time, effort, and investment. You'll need to consider the costs of sourcing and shipping your products, as well as any fees associated with selling online.
However, if you're able to find a high-demand product and sell it at a competitive price, you may be able to make 300 dollars fast or more by selling physical products.
35. Become an Influencer to Earn 300 Dollars
An influencer is a person who has the ability to influence the opinions, attitudes, or behaviors of others through their social media presence, content, or personal brand. Influencers often focus on a specific topic or niche, such as fashion, beauty, lifestyle, or fitness, and they use their platforms to share content related to that topic with their followers.
There are a few ways that you could potentially make $500 in a day as an influencer:
Partner with a brand for sponsored content. Many brands are willing to pay influencers to feature their products or services in a sponsored post or video. If you have a significant following and a strong engagement rate, you may be able to negotiate a fee of $500 or more for a single piece of sponsored content.
Sell products or services. If you have your own products or services that you can sell to your followers, you can potentially make $500 or more in a day by promoting these offerings through your social media channels or website.
Offer consulting or coaching services. If you have expertise in a particular area and are willing to offer your time and advice to others, you could potentially make $500 or more in a day by offering consulting or coaching services to your followers.
Host a live event or workshop. If you have a large and engaged following, you may be able to charge a fee to host a live event or workshop where you teach your followers something new or share your knowledge and expertise on a particular topic.
Sell tickets to an event or experience. If you have a unique or interesting experience that you can offer to your followers, you could potentially sell tickets to this event or experience and make $500 or more in a single day.
It's important to note that making $500 in a day as an influencer may not be easy, and it may take some time and effort to build up your following and establish yourself as an authority in your niche.
However, with hard work and dedication, it is possible to monetize your influence and make a significant income through your social media presence.
Avoid Needing $500 Fast Next Time
At this point, you must have seen how complex the process can be when you need money fast in a crunch. But you still have hope to help you evade such situations next time.
Some of the applicable financial tricks that'll help you avoid this from happening again include:
Save your money in a separate savings account.
Automate your savings account from your monthly earnings.
Budget your money effectively.
How to Fail at Making 500 Dollars Fast
The only way of failing at learning how to make 500 dollars fast is giving up.
If you went through this list of ways to make $500 fast — there should be at least one idea that sticks.
While these ideas are great methods to make money in the short term — there are easier ways to score smaller sums of money like making $20 fast or even make $50 fast.
Have you learned how to make 500 dollars fast? We would love to hear any money-making ideas we missed.
Want to Make Extra Money Now?
KashKick: Want to make an extra $500 this month? KashKick rewards you for downloading apps, playing games, testing offers, and more. Over 2M+ users get paid daily.
Arrived: If you want a simple way to earn extra cash on the side from your phone, look no further than the best real estate platform that pays you passive income.
Survey Junkie: Need a $5 gift card daily? Survey Junkie pays users in cash or free e-gift cards. The amount you earn depends on the number and length of surveys you qualify for and complete.