Real estate investing is one of the most profitable investment options you can take, as the value of real estate properties keeps on rising year by year.
There are plenty of methods of real estate investment you can use if you want to succeed in real estate investing.
Yes, you might need to prepare a large sum of money if you want to get the best result from your real estate investment. However, it's also possible for you to get lazy in your real estate investing and spend only a little money to buy, sell, or rent your real estate properties.
This guide will provide you with various ways you can go through to start your real estate investing the lazy way. Keep reading.
How to Invest in Real Estate with Little Money
Most people think they need to have a lot of money to invest in real estate. Well, it couldn't be far from the truth.
There are some real estate investment strategies you can follow which will allow you to invest in real estate with only a little money.
Here are some strategies to invest in real estate with little money:
1. House Hacking
House hacking is a simple real estate investing method that you can do without having to spend too much money to buy the real estate properties because you are subsidizing the cost of buying the properties from the rental payments you get from your tenants.
In house hacking, you will buy a multi-unit property and live in the unit on the property. Then, you will rent out the other vacant units to the tenants with the renting costs that will help cover your mortgage payments and other essential costs.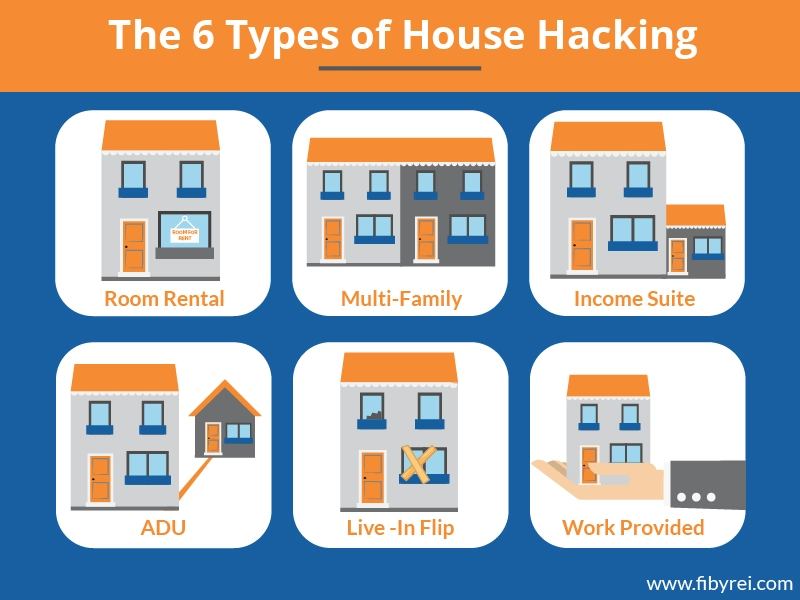 The multi-unit property will become yours after a few years of living in the unit and renting out the other vacant units. You will reap all the profits from renting out your property units to your tenants after the financing period is over.
Next, you can buy another multi-unit property and repeat the same process, and you can even sell the previous property that you have paid in full.
2. Live-In-Then-Rent
Live-In-Then-Rent is a cheap real estate investment strategy that you can follow if you want to own your own rental property in the future. This strategy involves finding a cheap and ugly house for rent with a low rental payment per month.
Then, you can approach the owner and ask the owner to sell the house to you on the mortgage payment, and offer the seller a higher payment than the rental payment the owner received per month.
The financing will involve paying some down payment to the owner, along with the seller's mortgage plan, so you will pay the mortgage payment directly to the owner of the property.
During the financing period, which can go for a few years, you will live in this house, and after you have completed the mortgage payment and made the property yours, you will need to renovate the property and prepare it to become your own rental property.
You can take the loan from a local bank to finance the home improvement project and inform them about your plan to rent out the property. You will rent the property later for a much higher rental payment per month, and you will profit well from this real estate investment. Now, you can repeat the process again and again.
Chad Carson has an excellent case study of how he used this "live-in-than-rent" strategy which he details here.
3. Live-In House Flip
Another cheap real estate strategy you can follow is the live-in house flip strategy. With this real estate investment strategy, you will need to find a cheap house in a poor condition that you can sell later after flipping it.
Finding a cheap house in poor condition means you will only need to pay for a little money to own it, and the mortgage payment will also be quite affordable for you to pay each month. So, after finding such a house, you will pay for its mortgage and live in it during the financing period.
While you live in the house, you will need to improve the house from time to time to make it even better looking, with more features to offer. You can sell it for a much higher price after completing the house's mortgage payment and completing some makeover projects for it.
You can also rent it to the tenants with the long-term rental agreement if you don't want to sell it right away. The price you offer for the house should cover all your investment money, and it should also give you some nice profits.
After selling or renting the flipped house, it's time for you to move to another property and repeat the process.
4. Seller Financing
Seller financing is the mortgage strategy that allows you to finance any property by paying it directly to the seller instead of via the bank or other financial institutions.
With seller financing, it will be much more flexible for you to discuss the mortgage rate with the seller, so you can adjust the monthly mortgage payment to suit your budget and affordability.
Nowadays, it's quite easy for you to find the property for sale with the option to mortgage it through seller financing. It's also a much preferable option for you to own a property without having to pay an expensive mortgage payment per month, as you can just negotiate it with the seller and adjust the mortgage rate according to your budget.
Also, you don't need to accept any deal from the seller if you can't afford the mortgage payment they are offering. You can just look for another deal somewhere else, which gives you plenty of options in your real estate investment.
How to Invest in Real Estate without Buying Property
There are various methods you can use to invest in real estate without buying property and still make money instantly. You can still profit from your real estate investment if you do it right.
Here are some methods you can follow:
1. Real Estate Crowdfunding
Real estate crowdfunding is the type of real estate investment that involves online investors' participation to become the shareholders of various real estate properties and products.
Buying a real estate property will require a sizable amount of investment if you are using your own money on it, and you might not afford it. With real estate crowdfunding, you can invest in various real estate properties and real estate markets without having to pay the full price to buy the property.
Your profits will come from the dividends you will earn from your investment on the real estate crowdfunding platforms.
Here are some real estate crowdfunding platforms you can use:
Fundrise: Fundrise provides the real estate investing platform that allows the investors to have diversified real estate investments with only a small amount of money. With your investment, you can receive quite nice dividends as your profits, paid to your account. Investors can invest with Fundrise with flexible minimums.
DiversyFund: DiversyFund allows the investors to invest in various real estate asset classes, which can help their investment portfolio to grow. There are various options for you to diversify on various real estate markets with DiversyFund. As real estate assets are stable assets, you can ensure the safety of your investment in the future with this platform.
Streitwise: Streitwise is the real estate investment platform that allows the investors to invest in various real estate properties and markets for as low as $5,000. It's open to all investors, and the investors can get dividends of up to 10% for their investment. It has a strong dividend yield, so you don't need to worry about your investment fund's security with Streitwise.
You can use these platforms to start your real estate investment without having to buy any property. You can earn as much dividends as possible by choosing the right real estate markets and properties to invest in with those real estate crowdfunding platforms.
2. Master Leasing
With master leasing, you don't need to buy any property, but you can still profit from any property you rent. This is the real estate strategy that involves leasing a property that has multiple units, and then leasing each unit to other tenants. You will be the one that acts as the master renter of the entire property unit, and you will sublease the property for multiple tenants.
The rent payments you receive from the tenants should be enough to cover the rent payment of the property, and you also need to make some profits out of it. This way, you will earn some nice profits each month in your own real estate business without the need to own or buy any property.
3. Real Estate Investment Trusts (REIT)
Real Estate Investment Trusts (REITs) are companies that own and manage profitable real estate properties, such as apartments, hotels, shopping malls, and so on.
You can invest in Real Estate Investment Trusts (REITs) and earn the dividends from the profits earned by these companies. The good news about real estate investment trusts is that they generate stable income, so you can always get nice profits from your investment on REIT, which can help grow your real estate investment portfolio.
4. Real Estate ETFs
Real Estate ETFs or Real Estate Exchange-Traded Funds offer you a much more affordable way to invest in real estate, as you don't need to spend too much money buying your own properties and managing them.
With real estate ETFs, you can buy securities related to the real estate sector, which often include real estate investment trusts (REIT).
You can choose various real estate sectors you can invest in, and you only need to put a fraction of the property cost to invest in any real estate sector of your choice.
5. Real Estate Mutual Funds
Real Estate Mutual Funds are the type of mutual funds that focus on the investment in the real estate sectors, and most of these funds go toward the investments of various commercial real estate properties, such as apartment buildings, shopping malls, residential complexes, corporate properties, and agricultural lands.
You can invest in real estate mutual funds to get your hands on easy real estate investments that will generate you quite nice dividends over the years.
Also, with this investment strategy, you don't need to spend too much money on your real estate investment.
The Lazy Way to Invest in Real Estate: Is Land a Good Investment?
Land is another excellent investment in real estate you should try delving into. With the land investment, there are various ways you can make your investment grow in value and produce nice profits in the coming years.
Here are some land real estate investment strategies you can follow:
1. Flipping land
Flipping land is almost the same as house flipping, with the difference being that in land flipping, you are buying vacant land for a cheap price, improving it, and then selling it at a higher price.
When done right, flipping land can be a profitable real estate investment for you. However, land flipping can also get abused and become an illegal real estate investment when you use it to inflate the price of undeveloped land by colluding with the real estate companies.
2. Farmland Investing
Farmland investing is the type of real estate investment where you will invest in agricultural land and use it for various purposes. You can use the land for farming, so you can earn profits from the crops you get out of your farming activities.
You can also improve its value and sell it to the farmers. With farmland investing, you can invest by buying the land by yourself, or you can invest it through a platform like AcreTrader.
AcreTrader is a great investment opportunity for land and farm investors who want to buy and sell parcels of farmland. There's no subscription fee and you can even track the entire market in real-time. It's free to list your properties here as well, so it's definitely an app worth checking out if you want easy access to farmland across North America.
A minimum investment of $15,000 to $25,000 is required and you can diversify with an asset with an average 11.0% annual return. Alongside a rapidly growing global population and demand for food, farmland offers a truly diversified investment opportunity with attractive long-term returns.
3. Buy and Hold
Buy and Hold is a long-term real estate investment strategy that involves buying a land property and not selling it for a long time.
During the time you are paying for the land's mortgage, you can rent the land to make money out of it, so you can cover the mortgage payment from the tenants.
You can also use the land as an agricultural land by planting various crops and selling the crops for profits.
4. Buy and Lease
The buy-and-lease strategy is perhaps the most common real estate investing strategy, where you buy a property and then lease it. In land real estate investment, buy and lease means buying a profitable land and leasing it to those who would want to use it. For instance, you can buy profitable farmland and lease the land to one or more farmers, so they can work on the land. You will earn lease payments from the farmers.
5. Buy and Sell with Owner Financing
You can also buy and sell a land property with owner financing. It will give you a better alternative than the regular mortgage payment. For instance, the regular mortgage plan might require you to set a 15-25% down payment for the property, but with the owner financing, you can just negotiate the down payment with the seller to lower it. Then, the seller will provide you the financing option for you to pay over a certain period, with the interest rates that differ from seller to seller.
In Summary
You have learned some excellent methods to invest in real estate properties. In fact, there are various ways you can follow to start your real estate investment without having to buy any property or spend a sizable amount of money on a property. Pick the method you prefer the most and enjoy the profits from your real estate investments to help you become financial independent.
Want to Make Extra Money Now?
KashKick: Want to make an extra $500 this month? KashKick rewards you for downloading apps, playing games, testing offers, and more. Over 2M+ users get paid daily.
Arrived: If you want a simple way to earn extra cash on the side from your phone, look no further than the best real estate platform that pays you passive income.
Survey Junkie: Need a $5 gift card daily? Survey Junkie pays users in cash or free e-gift cards. The amount you earn depends on the number and length of surveys you qualify for and complete.