Want to travel but don't have a lot of money lying around to spend on travel? You're in luck, here are 6 of the best ways you can travel for free in 2021.
Even in these uncertain economic times, families are still in need of vacations.
A chance to get away from it all for a while, vacations give families a time to rest, recuperate, bond … and spend their whole savings?
It doesn't have to be this way.
Planning a thrifty vacation does not have to mean giving up on fun completely.
Want free money?
Aspiration: Want to get spotted a $100 for free? Simply sign up for Aspiration, and the free banking app will give you cash for free, you just relax while it gives you $100 just for opening a new debit card. There's no catch. This bank account is legit and only takes two minutes to sign up for an account.
Check out some ideas below to get the most bang for your buck so that you can travel for cheap.
How to Travel for Free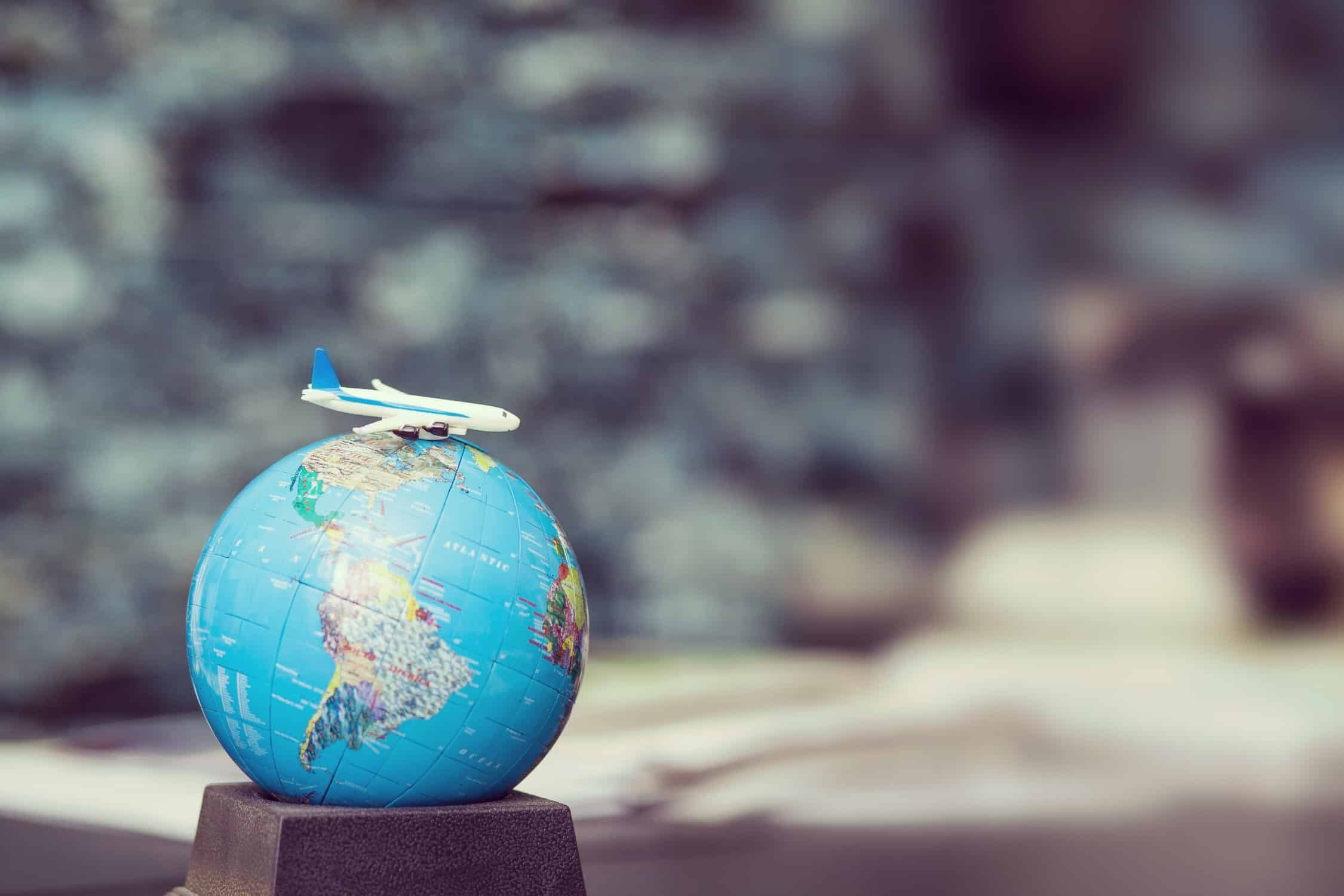 1. Teach Abroad
If you can teach at an American school overseas then you can travel for free. By doing so, some schools will offer to pay for round-trip flights and housing. There literally thousands of schools all over the world looking for qualified English speakers. If you're interested, check out international recruiting agency Search Associates.
2. WWOOF
An amusing acronym to say, WWOOF stands for World Wide Opportunities on Organic Farms. They are looking for farmers who need seasonal work and provide workers with space, housing, and food in exchange for around six to eight hours of work each day. You'll have find your own way to the farm, but if you use WWOOF, you can surely find a country that you're interested in that is looking for workers.
3. Hostels & Other Work-Stay Options
Another option is checking out HelpStay and Workaway for opportunities to stay all over the world in exchange for working at hostels and other work-stay options. They'll offer you free housing in exchange for your work and even some small spending money.
4. America's Free Attractions
Yes, free still actually exist in the good old U.S. of A.
Make this post of 50 Free Things To Do in the US, your first stop before even leaving your driveway.
This site is composed of literally thousands of parks, museums, zoos, festivals and parades all across the country that will not cost you a penny.
For example, did you know it is totally free to ride the Staten Island Ferry in New York City? Or that you can tour Anheuser-Busch, the St. Lous Science Museum and the St. Lous zoo for nothing? A little research now will help you have fun – for free!
5. Freebies for Kids
It goes without saying that kids cost money. At no time is this more apparent than on a vacation.
But consider at least two things this age group can do for free: eat and sleep.
Many hotels offer a "kids stay free" (with a paying adult) program, and in the same token, restaurants are getting on board with kids eating for free (again, with a paid adult entree).
Check out this post that lists 65 places where kids eat for free to start with and do a little homework before hitting your destination.
6. Find the Official Site
If you know you're hitting a certain area for vacation, do an internet search about that area in advance.
This is probably not new advice, but it is definitely something to consider.
The trick is to find the official travel and tourism site for that state and/or city.
For example, say you're heading to Orlando. Do a Google search, and you'll be bombarded with sites.
Find the official Orlando site. There, you can sign up to receive their Magicard which gives you opportunities for discounts all over the city.
It's free and could save you money on travel, eating, attractions and other ways to get free money for your trip.
Many cities offer something similar or will send you a coupon book to use when you visit.
7. Short-Term Organized Volunteering
Another option that allows you to travel for free is through short-term volunteer placements. You can find these types of opportunities on Go Overseas or Idealist — many times you can find opportunities all across the globe where you can teach English or other odd jobs.
There are bunch of ways that you can get involved in volunteering that'll let you travel for free. It's just a quick internet search away.
Ways to Get Paid to Travel
Want to make money traveling? The idea of being able to go from resort to resort, city to city – and never look back. Anyone with the travel bug knows that tingling feeling in the pit of their stomachs they get when thinking about this dream lifestyle.
Not having to worry about a 9-5. Being able to experience a multitude of cultures, experiences, and the ability to cultivate friendships around the world. Now, that is living life to the max.
The big problem is…
Although, it's completely possible – you still need money to make this happen. Those green bad boys make the world spin and fund your flights, meals, and accommodation. For most, that's the reason why traveling full-time is seen as an impossible hope. A dream never to come to fruition.
If you are dedicated to the nomad's lifestyle, however, there are ways that you can make your money while visiting new countries and making countless new memories. We will go through some of the surefire ways that we know through this article.
How to Make Money Traveling
Before we get into the actual tips to help you make money abroad – we want to make one thing clear. All those bloggers, podcasters, and YouTubers who tell you it's easy, it's a vacation every day and other good catch lines…
Well, they are plain and simply just trying to upsell you for whatever course, product, or service they are offering.
Making money abroad is a pain. It requires discipline to not go exploring with random strangers you met at a local backpacker. It requires the patience to deal with slow WiFi when you are slumming it up in a backpacker club in Malaysia waiting for a Skype meeting with an important client.
It requires hustle when you get off that 18-hour flight from America to South East Asia. The most important part about being a successful nomad is keeping it real.
8. Teach English Online – Requires TEFL Certification
Those who aspire to teach the next generation the skills they need for life may be putting off there one dream so that they can achieve their other…
Which really sucks.
But guess what! We live in the digital age, and thanks to this you can have the best of both worlds. Teaching online can be an extremely lucrative way to make a full-time income (working fewer hours, and with less stress).
The best part about investing in this revenue stream is you can do it from anywhere in the world, as long as you have a stable internet connection.
The only condition to becoming a digital teacher is you will need to overcome one hurdle. Which is a 120-hour TEFL course. This will give you the certifications you need to teach abroad. From there, the world is your oyster.
9. Become A Social Media Influencer
There is no such thing as a quick-fix solution for making money abroad. This particular method is far from a get rich quick scheme. In fact, if this is what you want to do – it's important to have a -main way to make dough for your travels while you build your audience.
But man, once it gets going, it's one fun rollercoaster to be on.
I mean, sure the cocktails on the beach while making money is really a myth. Trust me – it's just sandy, windy, and impossible to focus. However, this strategy comes the closest. As you can advertise products, locations, and even all-inclusive resorts you visit to your audience and be fairly compensated by your sponsors.
To find out more about becoming a social media influencer, check out this article.
10. Work As A Virtual Assistant
I remember my days of backpacking through South East Asia. I spent over 2-years experiencing the city life of Bangkok, the cultural paradise of Chiang Mai, and the beauty of Kuala Lumpur. Guess what the best part was…
During this time, I was actually working a full-time job as a virtual assistant for a digital marketing agency.
Although, the pay wasn't "out of this world", it was more than enough to cover my daily expenses, accommodation fees, and sightseeing. Which, as a backpacker is all you really need.
The barrier to entry as a virtual assistant is really low as well. Which is what makes it the perfect fit for travelers looking for security on the road. The flexible hours, decent pay, and month-to-month security is why I loved it so much.
For tips on how to land your first client as a virtual assistant, check out this article.
Good luck traveling for free with these travel tips!
The Best Apps to Save You Real Money
We are on our phone a lot, right? Wouldn't it make sense to save money with the best money saving apps?
App
At a glance
download
Capital One Shopping
★★★★★


Amazon doesn't want you to know about this plugin. Learn about a little known plugin that tells you if you're getting the best price on Amazon.

START SAVING

Aspiration
★★★★★


Get a $150 bonus at Aspiration when you open and fund an account with $10 or more. Then use your Aspiration debit card to make at least $1,000 worth of cumulative transactions within 60 days of account opening.

CLAIM $150 BONUS

Robinhood
★★★★★


Open a new account in the next 24 hours and you could get up $200 in free stock.

CLAIM FREE STOCK

Truebill
★★★★★


This free app delivers on its promise to save you money effortlessly. You can use it to lower your bills, cancel unwanted subscriptions and bill negotiations.

SLASH YOUR BILLS