In today's world, a majority of financial transactions tend to take place online. Even exchanging money between family, friends, or colleagues is done through apps like Zelle, PayPal, and Venmo. However, millions of Americans still cash their paychecks and benefit checks at check-cashing outlets.
When you have a bank account, cashing a check can be a super easy process by either visiting your local bank, an ATM, or, in some locations, can even use the bank's app to take a photo of the check and deposit it from your phone.
Without your bank account, some banks do not allow you to deposit a check, or if they do, you'll have to pay a small fee every time.
For many consumers, check-cashing services are a necessity when you don't have a bank account or even in a pinch to get funds. If you don't have a bank account but you still need quick access to your cash, can 7-Eleven be the place to go?
Well, if you need information on cashing a check at 7-Eleven, then continue to read on.
Do 7-Eleven Cash Checks?
7-Eleven is your go-to convenience store for food, snacks, hot and cold beverages, gas, and now financial services. Known for its Slurpees and Big Gulps, changes in consumer demand have allowed the brand to innovate.
These innovations have made life easier for customers with various financial services to customers & businesses, including gift cards, fleet cards, money orders, etc., prepaid cards, and more.
Although 7-Eleven check cashing is not available through the convenience store itself, this function is currently only facilitated through their Transact Prepaid Mastercard.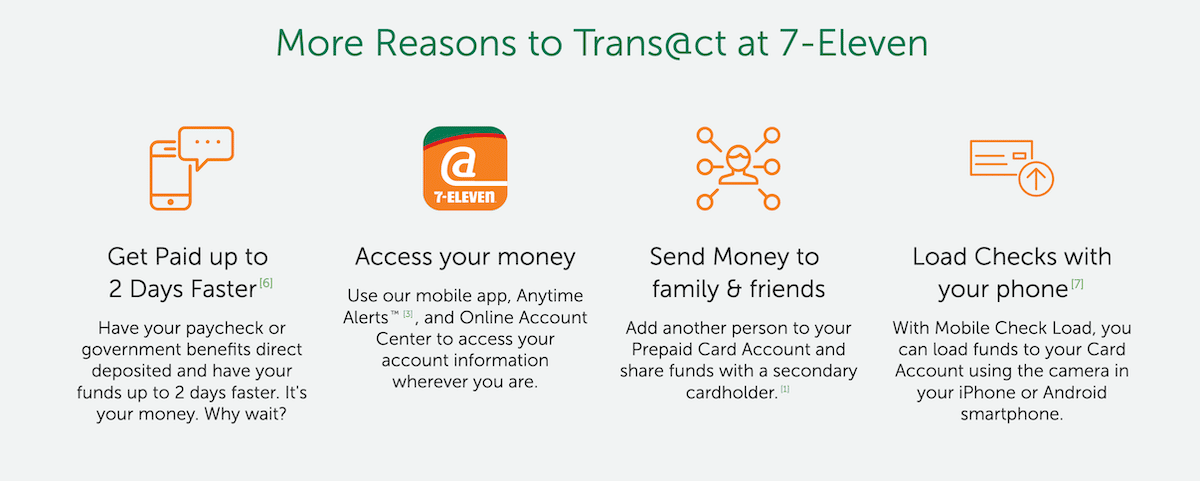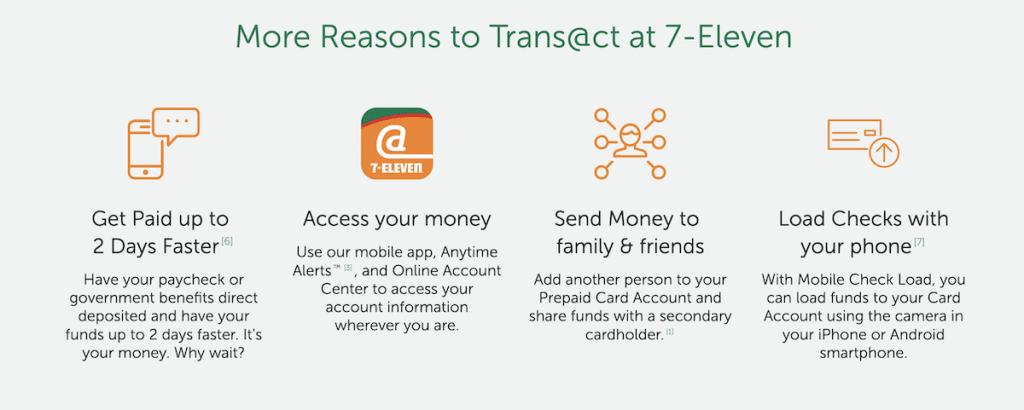 7-Eleven partners with Transact to offer check cashing services at many of its locations.
You can load your payroll check to 7-Eleven's reloadable prepaid debit card. You can even use all sorts of checks when depositing into your Transact account. However, some stores don't offer this service.
The card is a substitute for check cashing or could aid you in evading the need to cash checks in the future. It comes with a mobile app that allows you to deposit checks onto your card.
Transact can be a convenient alternative to opening a bank account, providing the following benefits:
Use it anywhere: Shop anywhere that debit Mastercard's are accepted.
Pay your bills: Use the card to pay your bills in-store or online using the Transact Mobile App.
Reloadable: You can reload your prepaid debit card at any register
Transfer your Funds: Send money to friends and family by including them in your Transact account.
Free ATM Service Across 7-Eleven Nationwide (where available): Transact gives you access to accessible ATMs at 7-Eleven, any Allpoint Network ATM, or an ATM with a Trans@ct logo, and you can withdraw cash free of fees.
Get paid up to 2 days faster: any employer or government costs available for direct deposit may be loaded straight onto the card up to 2 days more quickly with direct deposit. It's your money.
Access your money & account 24/7: Use the mobile app and Online Account Center to access your account information wherever you are, whenever you want.
Load checks with your phone: With Mobile Check Load, you can load funds to your Card Account using the camera in your iPhone or Android smartphone.
How Much Does 7-Eleven Charge to Cash a Check?
If you decide to use the Transact Prepaid Mastercard for your check cashing needs, there are a few fees you should be aware of, including:
Opening an account: If you decide to open an account with Transact, no fees are necessary. However, if you ever need to replace your card because it is lost or damaged, it'll cost $9.95.
Depositing Money to Your Transact Card: Adding money onto your card with direct deposit is free, along with mobile check deposit is free (check with your mobile provider for any third-party service fees). Additionally, moving money to and from your account online may be free, depending on the transfer service you chose and the other banking organization that's part of the transaction.
Withdrawals: There are no ATM fees at 7-Eleven ATMs, Allpoint Network ATM, or an ATM with a Trans@ct logo. Click here to find a participating ATM near you. However, withdrawing money from any other ATM will cost you $2.50, and third-party ATM operator charges may have their transaction fees.
Before any transaction, you should always check the terms and conditions with your local 7-11 store to be fully acquainted with any specific fees before cashing your checks in their stores.
What Types of Checks Does 7-Eleven Cash?
With Transact, you can utilize the Mobile Check Load function, a service provided by First Century Bank NA and Ingo Money, Inc. With this function, you can load funds to your Card Account using the camera in your iPhone or Android smartphone. These can include:
Government benefits checks
Payroll checks
Cashier's checks
Tax refund checks
Money orders
All checks are subject to approval for funding, as the check approval process usually takes 3 to 5 minutes but can take up to one hour. Fees may be applied for approved transactions funded to your card. Unapproved checks will not be funded to your card.
Check with your local 7-Eleven to confirm the max deposit to cash your check.
How to Cash a Check at 7-Eleven
To cash your check at 7-Eleven, you must first get the prepaid Transact card. With this card, you can cash checks, and the balance is loaded onto the card, where it can be withdrawn from any 7-Eleven ATM or used as a debit card for future purchases. It's also linked to your account so that you can use it for direct deposit. You can check your card's balance at any time through your online account or mobile app.
You can sign up for a Transact card here. When applying, you will be required to provide
Your name.
Your address.
Your date of birth.
Government-issued identification (i.e., driver's license, passport, etc.)
After you complete enrollment, the recipient will receive account information that can be used to update their direct deposit information.
Once your Transact card and account are activated, use the 7-Eleven store locator to find a check cashing kiosk near you. Follow the check cashing prompts on the ATM, which will require your Transact card, verify your information, and your check. Once that has been completed, the machine will load the balance onto your Transact card, which can be used as either a debit card or withdraw cash from the 7-Eleven ATM.
What are 7-Eleven Hours?
On average, 7-Eleven is open 24 hours. However, with the COVID-19 pandemic, local 7-Eleven's may be closed daily for enhanced sanitation measures or temporarily closed. Contact your local store to confirm their hours and utilize the Store Locator to visit other 7-Eleven locations nearby.
If you are looking for a 7-Eleven with the Transact ATM for cash checking services, make sure to check with your local 7-Eleven to determine availability and review check cashing hours before visiting.
What Gas Stations Cash Checks?
Although most folks tend to cash a check at a bank, you may run into a last-minute need to cash a check, and you find your bank has limited hours or not at a convenient location. This is why some people start thinking about gas stations for their cashing checks.
Most gas stations offer 24-hour check cashing, though some are in conjunction with grocery stores and vary by location. Interestingly, most gas stations will not accept a personal check because of the higher chance of fraud. Most gas stations also won't accept a ripped check.
Below are a few gas stations that you can check out if you are in a pinch:
Sunoco: With over 5,00 fuel stations across the nation, some Sunoco's offer check cashing. Since some stores are independently owned, check cashing may vary by location; check the locator here to see if there's one near you.
Shell: With more than 25,000 Shell gas stations in the U.S., many Shell locations offer check cashing services. The rules and acceptability will vary by location since many of the stations are independently owned. Ask the attendant on duty before you start pumping gas. Find a participating Shell gas station near me.
Safeway: Safeway has over 1,300 locations across the nation. Many of their sites offer ways to cash a check without a bank. Make sure to use the Safeway locator to find the nearest station near you.
Giant Eagle: Giant Eagle offers to check cashing payroll, government, and U.S. traveler's checks. However, you must have a Giant Eagle Advantage Card (the retailer's rewards card) and valid photo I.D. to cash checks at Giant Eagle. Giant Eagle does not cash non-Giant Eagle money orders, tax refund checks, insurance checks, third-party checks, foreign traveler's checks, or gift checks.
Where Can I Cash My Check Right Now?
Cashing a check can be a simple process when you have a bank account. However, if you don't, cash checking is not impossible. Many companies will let you cash a check, but you'll probably have to pay a small fee for the service.
Any business you go to conduct check-cashing will have different rules and requirements for getting your check cashed. Some businesses will cash certain checks that others won't, so be sure to call ahead before making a memorable trip.
If you don't have a bank account or aren't near your go-to bank, you may be able to go to one of the above gas stations or any of the below locations:
Grocery stores
Grocery stores are a convenient option for cashing a check, as you probably already go to one that offers this service, which means you don't have to go out of your local area to find a cash checking store.
Select supermarkets will cash your check without a bank account, including:
Kroger
Publix
Winn Dixie
Albertsons
WinCo
Stop & Shop
Fees and check limits may vary by store, but all will require a form of government I.D.
Walmart
Walmart is one of the most global and accessible across the nation. With over 5,000 locations, you are bound to run across one in your area. So does Walmart cash checks? To utilize their check-cashing services, Walmart charges a maximum of $8 for checks over $1,000 and $4 for anything under that amount. Bring a valid I.D. with you to the Money Services customer services desk. You can also get your funds via cashback or a reloadable Walmart Money card.
Check cashing options include:
Payroll checks
Government checks
Tax checks
Cashiers' checks
Insurance settlement checks
401k and retirement distribution checks
Money orders
Select personal checks
Make sure to bring the check and a valid I.D. with you to the store.
Check-cashing stores
There are over 13,000 check-cashing stores in the U.S. Most stores will charge between 2-3% to cash a check.
The bank listed on the check
If you're aiming to cash a check without a bank account, the most accessible place to start is with the bank on the check you're trying to cash. As every bank will have different terms and requirements to cash checks connected to their institution, it's imperative to call your local branch to find out its check cashing policy and fees.
You'll probably need 1-2 forms of valid government-issued I.D.'s to confirm the check is you.
Endorse your check to a trusted individual:
If you don't have a bank account of your own, you could also endorse the check to a trusted individual such as a friend or family member who does have a bank account. The person you endorse your check to can then cash the check for free and give the funds to you.
To endorse a check, you must conduct the following process:
Write "Pay to the order of [Name]."
Sign your name underneath
This method would require a deep level of trust in the individual. In a few locations, you may have to be present at the bank to certify your endorsement. If you need to cash a check often, it may be easier for you to open a checking account of your own versus relying on another person for this transaction.
Summary
Though 7-Eleven does not provide direct check-cashing services, their Transact program offers a convenient way for you to deposit money into an accessible account used anywhere MasterCard is acknowledged.
If you want to cash in hand and don't want to sign up for a Transact card, there are a variety of banks, retail stores, or gas stations that can provide check-cashing services for your convenience.
Sources:
Want to Make Extra Money Now?
KashKick: Want to make an extra $500 this month? KashKick rewards you for downloading apps, playing games, testing offers, and more. Over 2M+ users get paid daily.
Arrived: If you want a simple way to earn extra cash on the side from your phone, look no further than the best real estate platform that pays you passive income.
Survey Junkie: Need a $5 gift card daily? Survey Junkie pays users in cash or free e-gift cards. The amount you earn depends on the number and length of surveys you qualify for and complete.