Amsterdam is a city full of history, art, and vibrant culture that has something to offer every traveler. With charming canals, world-class museums, and a bustling nightlife, it's no wonder that this enchanting destination is so popular among tourists.
We recently did a Europe trip and spent 4 days in Paris, and Amsterdam was our next stop.
In this blog post, you'll discover an ultimate 3 days in Amsterdam itinerary filled with must-see attractions and hidden gems, ensuring you make the most of your time in the Dutch capital. So, let's get ready to immerse ourselves in the captivating beauty of Amsterdam!
Key Takeaways
Explore Amsterdam's city center, art & history, and modern neighborhoods in 3 days
Admire iconic works of art at the Rijksmuseum & Van Gogh Museum
Enjoy a canal cruise or visit bustling markets like Albert Cuyp Market for unique souvenirs
Day 1: Exploring Amsterdam's City Center
Our first day in Amsterdam is all about exploring the city's historic center, where you'll find a mix of iconic landmarks and hidden treasures. Get ready to stroll through picturesque streets, admire stunning architecture, and experience the unique charm of Amsterdam's canals.
From the lively Dam Square to the famous Red Light District, you'll be drawn in by the vibrant atmosphere that makes this historic city center so special.
Dam Square
Dam Square is the heartbeat of Amsterdam, a bustling plaza surrounded by magnificent buildings and historic monuments. As you step into this lively square, you'll be greeted by the imposing Royal Palace, a former town hall turned royal residence. Opt for advance, skip-the-line tickets to optimize your palace visit and exploring the stunning interiors with an included audio guide.
Aside from the Royal Palace, Dam Square is home to the National Monument, a striking obelisk commemorating the victims of World War II, and the stunning Nieuwe Kerk, a 15th-century church that now hosts cultural events and exhibitions. Be sure to visit nearby attractions such as Madame Tussauds and Ripley's Believe It Or Not, but remember to book your tickets ahead of time to avoid long queues.
Red Light District
A visit to Amsterdam wouldn't be complete without exploring its famous Red Light District, a unique area known for its adult entertainment venues and vibrant nightlife. As you wander through the narrow streets, you'll discover an eclectic mix of sex shops, brothels, and museums, all coexisting alongside charming boutiques and cozy cafes. Remember to respect the privacy of the workers in the area and refrain from taking photographs.
Join a guided tour for a comprehensive understanding of the Red Light District's history and significance. This way, you'll learn about the area's intriguing past while also experiencing its lively atmosphere. If you prefer to explore on your own, be sure to sample some delicious local delicacies like stroopwafels or herring from a street vendor, or relax at a nearby cafe like Café Restaurant Hans en Grietje.
Oude Kerk
Next on our journey is Oude Kerk, Amsterdam's oldest church and a true architectural marvel. Nestled in the heart of the Red Light District, this historic building boasts a unique wooden ceiling and offers a fascinating glimpse into the city's past. If you have the I Amsterdam City Card, you'll enjoy free entry to this beautiful church.
For an unforgettable experience, climb the church tower of Oude Kerk and take in the breathtaking views of Amsterdam's cityscape. As you gaze out over the city, you'll appreciate the stunning blend of old and new that makes Amsterdam so captivating.
Canal Cruise
After a day of exploring Amsterdam's historic center, it's time to unwind with a relaxing canal cruise along Amsterdam's canals. As you float along the city's picturesque waterways, you'll gain a unique perspective of Amsterdam's stunning architecture and iconic bridges. From traditional houses to the charming Herengracht and Keizersgracht canals, this serene boat ride offers an unforgettable experience.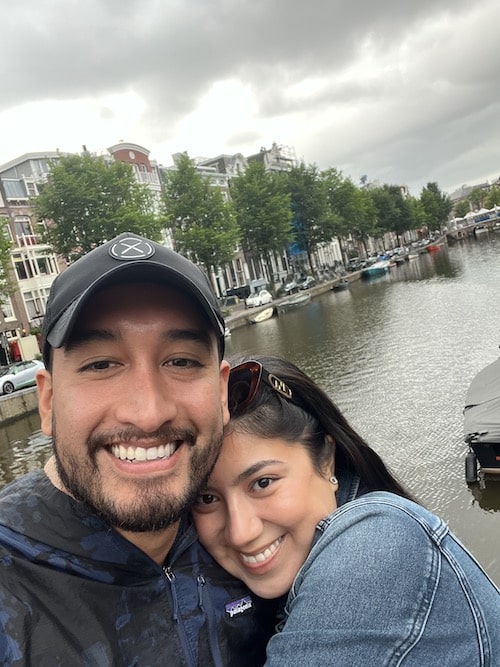 With the I Amsterdam City Card, you can enjoy a complimentary canal cruise, or treat yourself to a more special experience with a cheese and wine option. As the sun sets and the city lights twinkle along the waterways, you'll find yourself falling in love with Amsterdam's enchanting charm.
Day 2: Art, History, and Green Spaces
Planning your Amsterdam itinerary? Our guide on spending days in Amsterdam will help you make the most of your time in this vibrant city. On the second day, we recommend dedicating it to the city's abundant art and history, visiting world-renowned museums and strolling through lush green spaces. Here are some highlights of the day:
Visit the Rijksmuseum to see masterpieces by Dutch artists such as Rembrandt and Vermeer.
Explore the Van Gogh Museum to admire the works of the famous Dutch painter.
Take a leisurely walk through Vondelpark, Amsterdam's largest park, and enjoy its tranquil beauty.
Prepare to be inspired by Amsterdam's artistic and natural wonders.
Rijksmuseum
As one of the world's largest and most impressive art museums, the Rijksmuseum is an absolute must-see during your time in Amsterdam. Housing over 8,000 pieces from Dutch history and art, you'll be mesmerized by works from legendary artists such as Rembrandt, Vermeer, and Van Gogh. Opt for advance, skip-the-line tickets to fully explore the museum's vast collection at your leisure.
The Rijksmuseum's Gallery of Honour is a particular highlight, where you'll find iconic masterpieces like Vermeer's "The Milkmaid" and Rembrandt's "The Night Watch". Wandering through the museum's vast halls will transport you back in time, immersing you in the captivating era of the Dutch Golden Age.
Van Gogh Museum
The Van Gogh Museum in Amsterdam is a must-visit for anyone interested in the life and art of the famous Dutch painter. It is an essential stop on any itinerary exploring this vibrant city. Boasting the world's largest collection of Van Gogh's work, including over 200 paintings and 500 drawings, you'll be captivated by the vivid colors and expressive brushstrokes that define his unique style.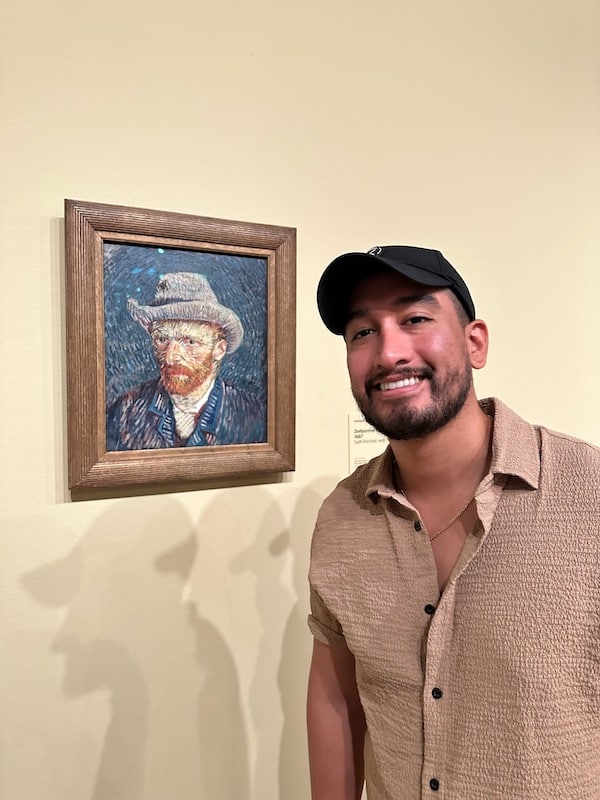 To make the most of your visit to the museum, here are some tips:
Arrive early to avoid the crowds
Consider purchasing timed-entry tickets online in advance
As you explore the museum, you'll gain a deeper understanding of Van Gogh's artistic journey, from his early sketches to his iconic masterpieces.
Vondelpark
After a morning of art and history, it's time to relax and soak up the beauty of Vondelpark, Amsterdam's largest public park. As you meander through its winding paths, you'll discover picturesque lakes, lush greenery, and charming play areas for children. Whether you choose to jog, bike, or simply stroll through this urban oasis, you'll find yourself surrounded by nature's tranquility.
Vondelpark is not only a haven for outdoor enthusiasts but also a hub of cultural activities. Be sure to check out the open-air theater, which hosts concerts and performances during the summer months, or enjoy a delicious meal at one of the park's charming cafes.
Day 3: Markets, Museums, and Modern Amsterdam
Our final day in Amsterdam, a gem among many European cities, takes us beyond the city center to:
The bustling Albert Cuyp Market
The poignant Anne Frank House
Vibrant museums
Modern neighborhoods
You'll experience the diverse and ever-evolving spirit of Amsterdam.
Albert Cuyp Market
Located in the trendy De Pijp neighborhood, the Albert Cuyp Market is a must-visit for anyone looking to experience Amsterdam's lively street market culture, including the famous Amsterdam Flower Market. As you wander through the bustling stalls, you'll find everything from:
fresh produce
clothing
unique souvenirs
traditional Dutch delicacies
A visit to the Albert Cuyp Market wouldn't be complete without indulging in some delicious stroopwafels, a classic Dutch treat made of thin layers of waffle filled with sweet syrup. As you savor each bite, you'll be immersed in the vibrant atmosphere and rich flavors that make this market a favorite among locals and tourists alike.
Anne Frank House
The Anne Frank House is a poignant and powerful museum dedicated to Anne's life and her family's experience during World War II. As you explore the rooms where Anne and her family hid from the Nazis, you'll be moved by the courage and resilience they displayed during one of history's darkest periods.
To visit the Anne Frank House, follow these steps:
Purchase a ticket online with a specific time slot, as tickets are timed and sell out quickly.
Arrive at the museum at your designated time.
Take in the powerful story of Anne and her family.
Remember that photography is not allowed inside the museum, out of respect for their memory.
A'DAM Lookout
For a bird's-eye view of Amsterdam, head to the A'DAM Lookout, a thrilling rooftop experience located at the top of the A'DAM Tower. Accessible by a free ferry from Amsterdam Central Station, this observation deck offers stunning 360° views of the city and a host of exciting attractions, such as the rooftop swing and giant ADAM letters.
As you take in the breathtaking panorama, make sure to snap a photo with the iconic ADAM letters and conquer your fears on the daring rooftop swing, the highest in Europe. With your heart racing and the city spread out below you, there's no better way to appreciate the beauty of Amsterdam from above.
East Docklands
For a glimpse of modern Amsterdam, venture to the East Docklands, a vibrant area that blends contemporary architecture with historical charm. Here, you'll find attractions like the Oosterdokskade, a striking waterfront development, as well as the NEMO Science Museum and the National Maritime Museum.
As you explore the East Docklands, take in the unique mix of old and new, from repurposed warehouses to cutting-edge buildings. This dynamic neighborhood showcases the innovative spirit of Amsterdam and offers a refreshing change of pace from the city's historic center.
Where to Stay in Amsterdam
Your choice of accommodation in Amsterdam will depend on your budget and preferences, but you should book your accommodation in advance, as the best value options tend to fill up quickly. The city offers a wide range of options, from budget-friendly hostels in neighborhoods like Oud West and Jordaan, to luxurious hotels in the heart of the city center.
Some popular choices for accommodations in Amsterdam include:
Stayokay Hostel
The Student Hotel
Pulitzer Hotel
Art'otel Amsterdam
No matter where you choose to stay, you'll be well-positioned to explore the captivating city of Amsterdam and make the most of your 3 day Amsterdam itinerary adventure.
Travel Tips for Your 3-Day Amsterdam Trip
Navigating through Amsterdam is easy, thanks to its excellent public transport system, including trams, buses, and metros. However, if you're staying in the city center, walking or biking is often the best way to explore the charming streets and canals. If you need a bike during your trip, you'll find numerous rental shops throughout the city, or you can take advantage of the bike-sharing scheme. Additionally, the Amsterdam Airport Express Bus is a convenient option for travelers arriving or departing from the airport.
The ideal time to visit Amsterdam is from late April to early October, as the weather is mild and the city's parks and terraces come alive with activity. However, if you're hoping to avoid the crowds and higher prices of peak season, consider visiting during the shoulder season in late spring or early autumn.
Maximize your time in Amsterdam by purchasing timed-entry tickets or skip-the-line passes for popular attractions like the Rijksmuseum and Van Gogh Museum. Additionally, consider investing in the I Amsterdam City Card, which offers free entry or discounts on museums and attractions, as well as free access to public transport.
Summary
In just three days, you can experience the magic of Amsterdam, from its historic city center and world-class museums to its vibrant markets and modern neighborhoods. With this ultimate itinerary, you'll uncover the city's hidden gems and iconic landmarks, making memories that will last a lifetime. So, pack your bags and get ready to embark on an unforgettable journey through the captivating streets and canals of Amsterdam.
Frequently Asked Questions
Is it worth going to Amsterdam for 3 days?
Absolutely! A three day stay in Amsterdam is plenty of time to explore the city center and check off all the must-dos, from taking in masterpieces at the Van Gogh Museum to sampling a brown cafe beer.
Why is Amsterdam a popular tourist destination?
Amsterdam is a popular tourist destination due to its rich history, vibrant culture, inclusiveness, and world-famous canals. Its ancient castles, magnificent museums, quaint cobbled streets, and beautiful canal ring make it one of the leading cities in Europe for both leisure and business travel.
Is Amsterdam easy to walk around?
Amsterdam is compact and easy to walk around, with major attractions close together in the city center. Walking between sights is a great way to explore this beautiful city.
What is the best way to travel between attractions in Amsterdam?
For the best experience exploring Amsterdam, walking or biking is the way to go! Public transport such as trams, buses and metros are also available and are great for reaching further afield attractions.
How can I avoid long queues at popular attractions in Amsterdam?
To avoid long queues at popular attractions in Amsterdam, purchase timed-entry tickets or skip-the-line passes ahead of time.
Want to Make Extra Money Now?
KashKick: Want to make an extra $500 this month? KashKick rewards you for downloading apps, playing games, testing offers, and more. Over 2M+ users get paid daily.
Arrived: If you want a simple way to earn extra cash on the side from your phone, look no further than the best real estate platform that pays you passive income.
Survey Junkie: Need a $5 gift card daily? Survey Junkie pays users in cash or free e-gift cards. The amount you earn depends on the number and length of surveys you qualify for and complete.