Want to Make an Extra $100?
Earn $100+ rewards just by trying out new apps! Get money for playing games from the App Store or Google Play. Plus, make cash from surveys and special offers. Whether you're at home or on the go, turn spare moments into cash. Your rewards are waiting at KashKick!



Start Earning Cash Now
If you are already making money through MTurk and it's going well for you, you can earn even more with MTurk alternatives. Let me repeat, if you are using MTurk to earn beer money in your free time then I've got some solid news for you. There are loads of MTurk alternatives available online for you to earn even more.
While Amazon Mechanical Turk is a great platform for people to earn money online by signing up and completing microtasks — it is not the only crowdsourcing microtask platform available to you.
In this article, I'll go over the best MTurk alternatives to make money online.
What is Mturk?
Mturk offers you the ability to earn money for completing small tasks and surveys and is available in the US mainly. You can also earn money if you are in Canada, Europe, and Australia.
MTurk is by far the best site that I spent the most time to make extra income and has been the best earner for me.
This site lets humans perform small tasks that robots still cannot do well. It is owned by Amazon. The downside is there are slim pickings on weekends and when colleges are out on vacation. I typically stick to surveys, but once in a while do batch jobs which there are more of.
You have to wait a week for your first payout, which will go to an Amazon payment account. You can get payouts one time per day after that. Approval for MTurk can sometimes be a pain in the ass, almost impossible if you are not from the US, but is definitely worth it in my opinion if you can get approved.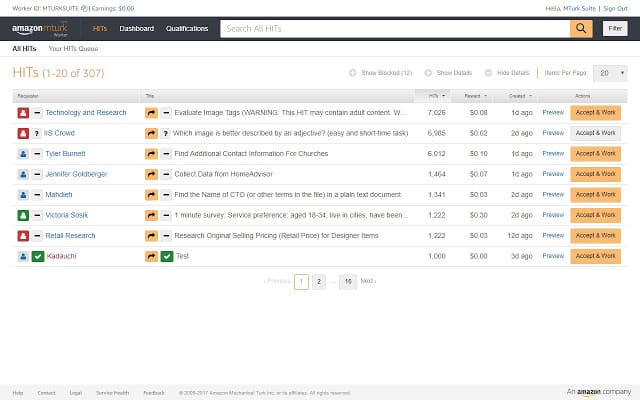 Best MTurk Alternatives to Make Money
The best alternatives to MTurk will help you earn money fast with online jobs so you can make money and use your time wisely.
I'll only recommend sites like MTurk that are worth your time because lets be honest, time is the most important thing we have.
What's required?
A working laptop, a cell phone (in some cases), an internet connection, and a fairly good amount of patience to learn. If you are in a position where these tools are not available, you can also do many of these from a library.
Anyway, on to the revenue streams where you can earn with websites like Amazon Mechanical Turk. Let's begin with the Amazon Turk alternatives:
Sites Like MTurk for Passive Income
You can take a stab at money-making apps and other reward sites to earn passive income online.
1. Swagbucks (Best MTurk Alternative)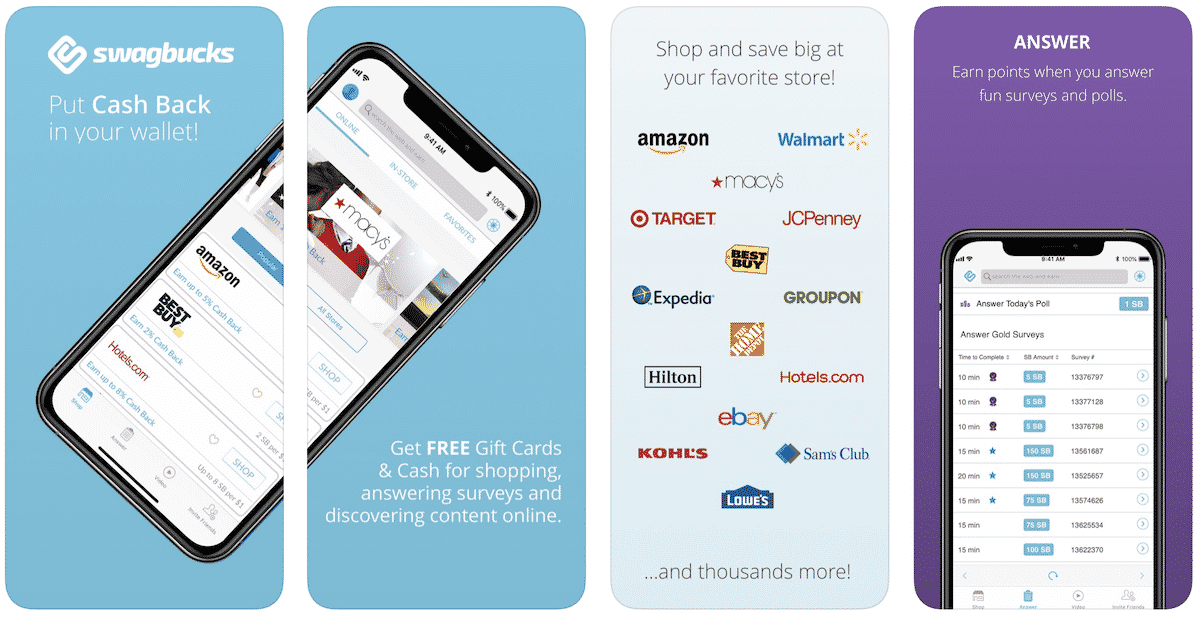 Pick up one of the $30 Amazon Fire Tablet and throw a custom ROM and root it. Or an Android device (not your daily phone) will work for this. Only 4 of the 6 apps work for iOS devices. Swagbucks Watch, EntertaiNow, Lifestylz.tv, MovieCli.Ps, Indymusic.tv, Sportly.tv (run in that order).
You use to be able to farm these apps but now only run a certain amount of time with the possibility of bonuses. Just let them run while at home and switch to each app when they are done collecting points.
If your device is rooted, you also want to install Beer Money Assist which can import the shortest running video clips for efficiency. There's also the Swagbucks Live app that is a direct copy of Trivia IQ. You can play for a few extra points and make $25 fast on the reg.
I never do any of the surveys or craves on the main website. If I'm close but haven't met my daily goal through the apps (which can be collected at month's end), I may answer the daily poll, play Swagasarous or Swagbucks Search if I'm close. Also if the apps are being fickle, I don't even bother and just wait until the next day (not worth the stress). If you are new to Swagbucks, you can join using my referral link for a $10 bonus.
This is a scratch card app. I only open it once daily for the return bonus points. Side note, it takes frickin' forever to get enough points to cash out. Once I get enough for the $50 gift card, it will be deleted off my phone never to return. Pro tip on any app or program. Always cash out at the very minimum (wither its a $1 or $5). There usually no financial advantage to saving for larger amounts and a big disadvantage if the company decides you randomly violated the rules and suspends your account (happens several times at /r/beermoney).
Other game apps that I use to win real money are the following (use them each daily):

It usually takes me about 5 minutes a day to play through Microsoft Rewards. The trick is using a desktop with ten keys keypad. For the daily search rewards, I open up Bing and search 'Boston Celtics schedule 2018'. Double click, it highlights 2018, change to 2017 then Enter. Repeat for 2016, 2015, 2014, etc. to 1970. For mobile search, search any large city and continue to select what it auto selects.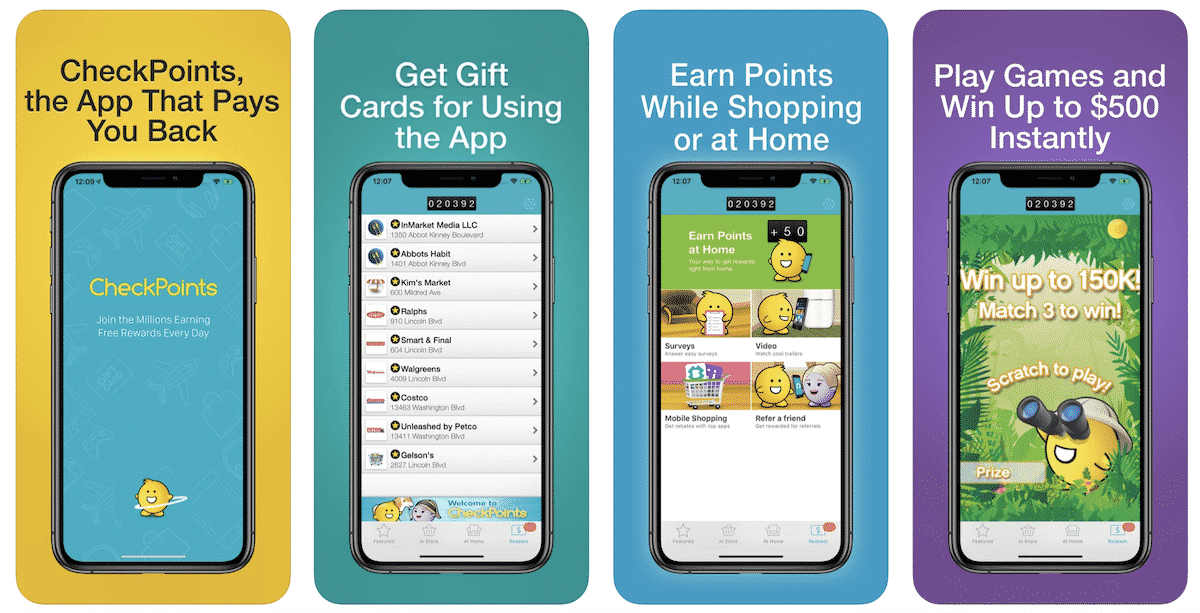 Technically, you could use it to farm for points but I don't. It's installed on my main phone so whenever I go grocery shopping, it will usually pop up with bonus points. I'll also scan barcodes for extra points. I use to get weirded out but now I don't give a shit. I can get browse my store and scan very quickly and be done. It may be against their TOS but my local supermarket is close to a Walmart (which generally has more products to scan). While at my supermarket, I 'check' into Walmart and find their products.

(May be a waiting list): This is the exception to the no survey rule. This company partners with legitimate vendors for surveys. You'll get an email when you fit a survey's demographic (99.5% you will qualify for the sent survey). I always take time out of my day to do the surveys. Generally, the take between 5 and 15 minutes but a couple of completed surveys can net enough points for a $5 Amazon gift card. Plus, since I 'always like to try new products', I've actually got free quality products to try (last one was Gatorade).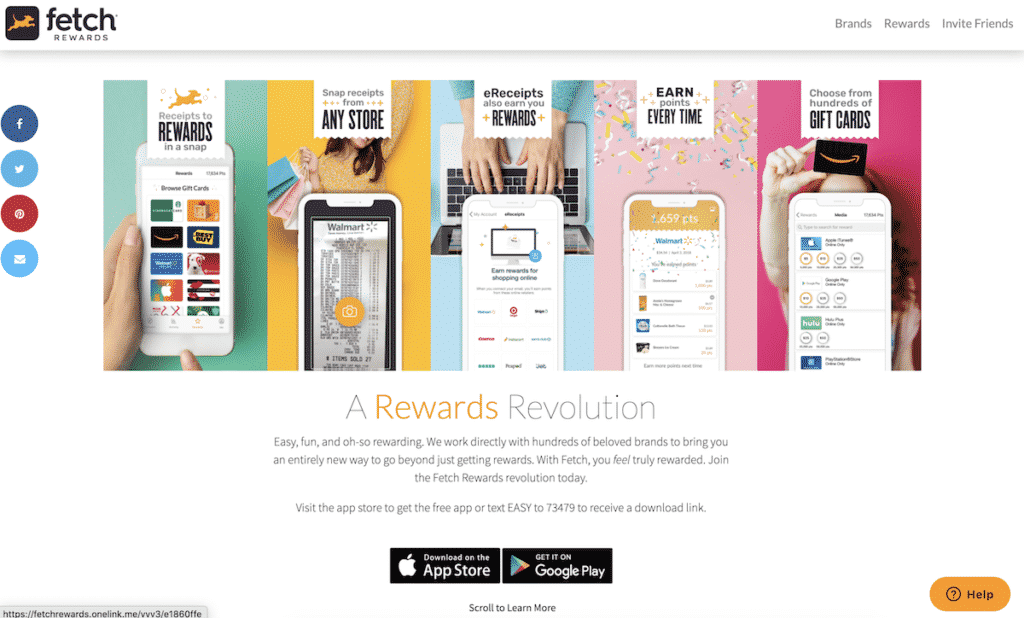 This is one of my favorite apps. You scan any receipt in the app then scan it on the app. After a certain number of receipts (I think 16), you can receive a $1 Amazon gift card. TBF I may scan those extra receipts folks leave at the self-checkout. What I also like is you have a digital copy in case you need to return an item or enter into your budgeting software. Some folks recommend Receipt Hog but it only gives you points for certain receipts.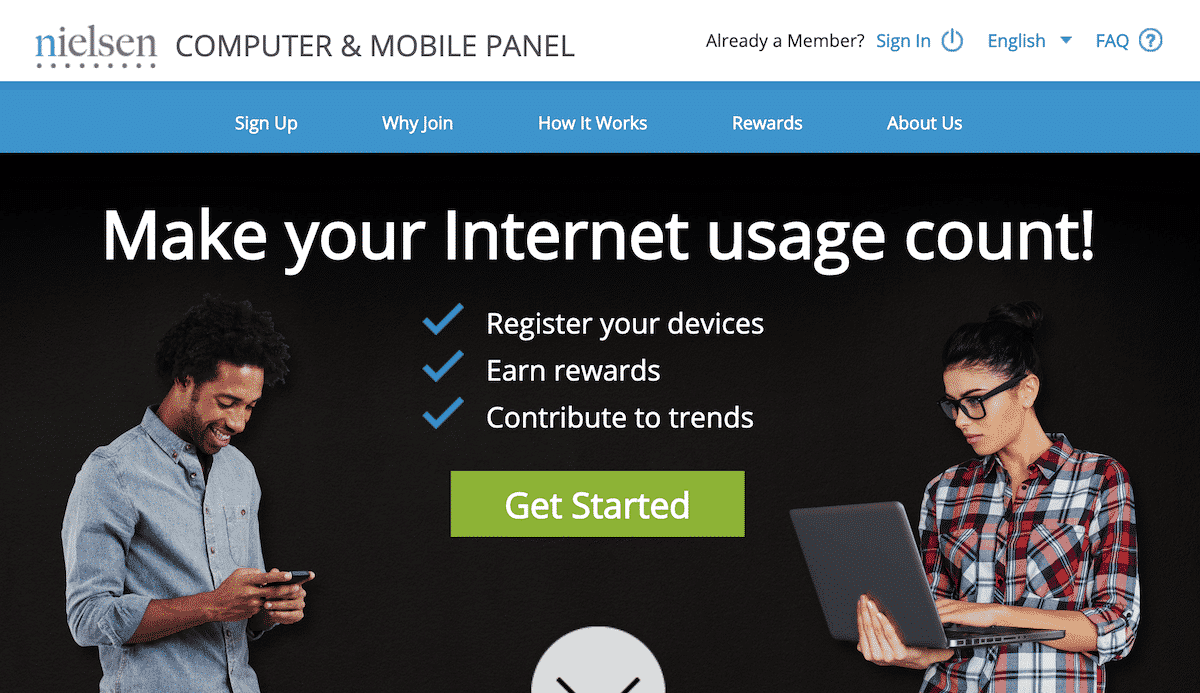 This is a great company to earn passive income. Basically it's an app for your mobile device or laptop that anonymously tracks you browsing habits. Some folks may not be comfortable with that, but for me, they probably already doing it so might as well get paid. This is a completely passive app so I generally can get $5 per month not doing anything.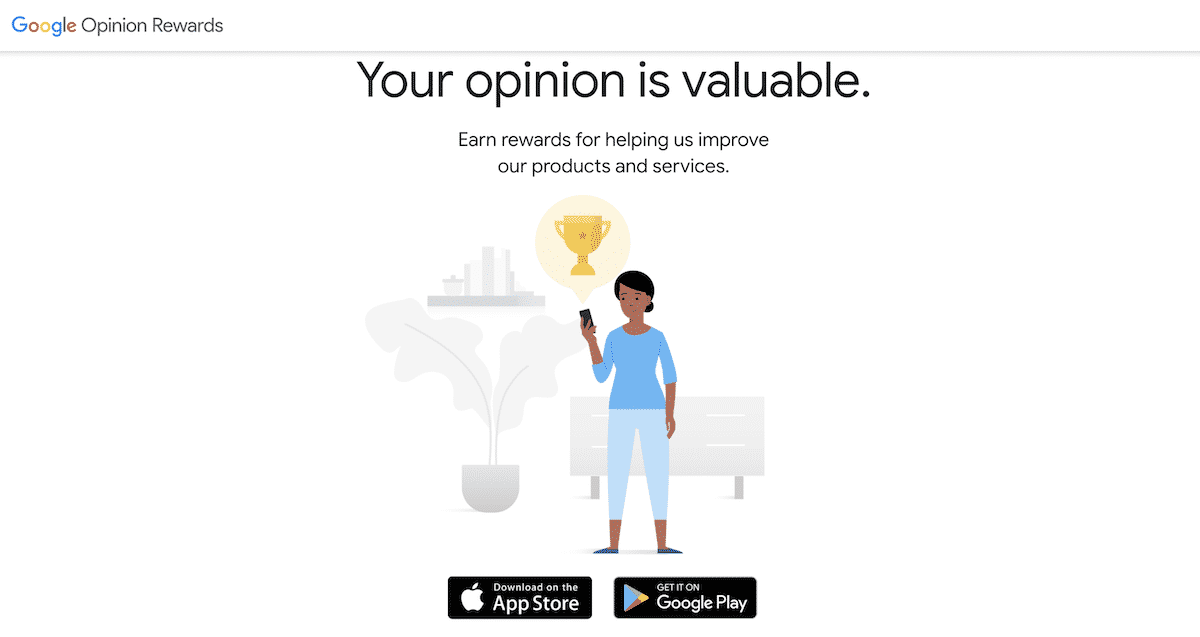 This app will show quick surveys (1 to 6 questions on average) based on where you gone shopping (hint: surveys usually don't show up unless you venture to stores). The surveys can vary from .10 cents to a few dollars. The points are only good for the Play store (not amazon) but you can get your favorite song, rent a movie, support pro editions of your favorite apps. Pro Tip: Never lie on the surveys. Generally, the first question is a trick one so answer honestly or you won't ever get surveys in the future. Even if it doesn't apply, you always get .10 cents for your time.
Other MTurk Alternatives for Active Earning
These MTurk alternatives that I mention below works well for me, my family, and my schedule. Below I will include time requirements to make this money, provide a quick recap of the revenue streams that I have found to work, and provide payment proof for what I can.
I personally invest anywhere from 20 to 30 hours a week doing these sites, on top of my day job. Some days I will make $15 all day, and others I will make over $200. I prefer this, as opposed to a second job because I can pay partial attention to a laptop and 'clock-out' when I want to focus on family or Netflix. This works better for my temperament and preferences.
Studies – Most countries – This site allows users to screen for online or in-person surveys and focus groups. The pay is amazing, easily averaging $125 per test. I only average getting approved for the groups about 10% of the time (I have filled out about 400 screeners and have been selected for 40 studies). Thankfully, each screener only takes me a few minutes to fill out. I have made up to $200 with one hour of work doing an in person focus group. Most focus groups are done through webcam, so you don't even have to leave your house. They payout via PayPal 7 days after the activity is complete.
10. Prolific.ac
Surveys – Most countries – Based in the UK, this is one of my favorites because they pay in Great British Pound (GBP) which is the equivalent to 1.25x USD. Prolific is similar to mturk in that all you do is fill out surveys. Pay is better than mturk, but the availability of surveys is not as great. The initial questionnaire you have to fill out is a bit long taking me about 20 minutes but ensures you qualify for every survey they show you and will never get disqualified for not meeting the demographic. You have to hit £5 before you can cash out, but you get this after a few days of watching for surveys. Leave it open in a tab and check it throughout the day. I wish I could do this one all day. They pay out in PayPal anytime you request it and have a balance of over $5.
In-person store evaluation – the US only – This link will take you directly to a sign-up page with my ref code. Feel free to delete it before signing up, if you want. You will be taken to the app store where you can download the actual app on your phone. Essentially, you go to stores near you that are identified in the app and take pictures or videos of specific items. I like this one because I have the ability to make a few extra bucks if I am already out shopping. The pay for this one averages about $15/hr.
Website evaluation – US & maybe select others – This site allows you to review new websites and apps. You can usually make $10 fast per recorded test lasting 10-15 minutes. Sometimes the pay is more, but never less. I average a few tests a week. Some weeks I will get a dozen tests, other weeks nothing. This one is great to practice your feedback skills, which open up a lot of other doors. Pay is through PayPal, one week (to the minute) after the test is complete.
T-shirt creation – Worldwide – After getting rejected by merch by Amazon, I came here. You design and publish t-shirts, phone cases, and about 20 other mixed products, with each sell netting you a few bucks. They are based in Australia and do pay-outs once a month on the 15th via PayPal. You do all of the uploadings and just wait for people to find it with keywords or searches. Great if you are artistic or know how to use any creative software.
Selling goods – Worldwide – Not much explanation needed here. You buy stuff in-person low and sell online high.
Video game testing – Many countries – This is just simple game testing. It is super fun, very quick, and you get to test new games before anyone else. They send you tests for different listed devices, you download the game file, and they record your screen and voice. The only issue I have with this one is that you are only able to test 3-4 games per month, at $9-$11 each. Paid almost immediately after each test via PayPal. This one has been pretty dead recently.
App testing – Many countries – This one lets the user take quick one or two minute surveys on your opinion of an app screen. They pay for this averages to about $.10 a minute, so it is nothing spectacular. Just leave it open in another tab and take a quick survey when you hear a new one come available.
Studies – US & maybe select others – Similar to Respondent, but with less approval when filling out the demographics for each study.
Making Money Online with MTurk Alternatives
I have noticed a lot of people online exclaiming they need to make money for Christmas and want to get their sister this, their brother that, and their kids all of the toys on their XMas list. I figured with the holidays coming up, we could all use the extra cash by making money fast.
Because these MTurk alternatives (in most cases) are not intended to be a primary source of income, I won't pretend you can survive with only these sites like MTurk.
This is a way to supplement what you already have. There is no way to know what you will make any given month, so do not count on it. My worst month I only made around $500 and the best I made over $1,000 fast.
As I have stated in my other money-making apps or money-earning site posts, this is not a definitive list of everything a person can do online by any means. Do your own research, use Google, ask other people, and find what works for you with the best MTurk alternatives.
Ready to Start Earning with Sites Like Amazon Mechanical Turk?
I know this is a lot of info and most of it is repetitive from my last post on ways to $50 fast online, but I wanted to provide as much info as possible for the compiled post. Well, I hope it helps! Feel free to reach out if you have any questions about pretty much anything. I am always happy to help.
Want to Make Extra Money Now?
KashKick: Want to make an extra $500 this month? KashKick rewards you for downloading apps, playing games, testing offers, and more. Over 2M+ users get paid daily.
Arrived: If you want a simple way to earn extra cash on the side from your phone, look no further than the best real estate platform that pays you passive income.
Survey Junkie: Need a $5 gift card daily? Survey Junkie pays users in cash or free e-gift cards. The amount you earn depends on the number and length of surveys you qualify for and complete.