Bienvenue à Paris! The City of Light awaits you with its majestic landmarks, world-class art, delectable cuisine, and alluring romance. This 4 days in Paris itinerary will guide you through iconic attractions, hidden gems, and local experiences, ensuring you make the most of your time in this enchanting city.
Visiting Paris is always exciting. I was able to visit with my girlfriend this year and we had a blast! Let's dig in, bon voyage!
Key Takeaways
Experience the magic of Paris in 4 days with an exciting itinerary that takes you through iconic landmarks, art & culture and hidden gems!
Prioritize attractions to make the most of your time and create unforgettable memories.
Enjoy traditional brasseries, cozy wine bars & dazzling cabaret shows for a unique experience!
Planning Your 4-Day Paris Itinerary
Setting out on a Paris adventure? Well-crafted plans pave the way for a memorable journey. From the awe-inspiring Notre Dame Cathedral to the iconic Eiffel Tower, a well-prioritized itinerary is indispensable.
Navigating the bustling streets and mastering the efficient Paris Metro system is part of the adventure. Naturally, managing your time well is key to encompassing all the highlights of your Parisian escapade.
Prioritize Attractions
In shaping your Paris itinerary, prioritize attractions based on your unique interests and geographical location to maximize your time in the city. Are you an art lover, history buff, or a foodie? By considering the attractions that are most important to you and those closest to you during your stay, you'll optimize your time and create unforgettable memories.
Some amazing examples of attractions to prioritize include the majestic Notre Dame de Paris, iconic Eiffel Tower, splendid Place de la Concorde, renowned Louvre Museum, picturesque Montmartre, luxurious Galeries Lafayette, stunning Versailles Palace, beautiful Luxembourg Gardens, and enchanting Tuileries Gardens. To make your day trip in Paris more enjoyable, consider buying fast-track entry tickets, taking advantage of the Paris Museum Pass, and taking a Seine River cruise to skip the lines and enter the interior of the Palais Garnier.
Transportation Tips
Navigating Paris is a breeze with the various transportation options available, including walking, the Metro system, buses, and boats (péniches). The Metro system is the most convenient way to get around Paris. To use the Metro, simply buy a ticket at the machines upon entering a metro station, and you'll be able to pay by card and use the machines in English.
Google Maps is your best friend while exploring Paris! It's available offline and can be used to plan your route and find the closest Metro station. To get to and from the airports, the RER B train is the most convenient and affordable option from Charles de Gaulle Airport, while from Orly Airport, you can take the RER B Train or a dedicated bus called Orlyval. Uber is also a great alternative, especially if you have a lot of bags or are traveling in a group.
Time Management
Efficient time management is vital for truly seizing your 4 days in Paris. Many businesses in Paris close for a prolonged lunch break around midday, so be sure to check schedules and make accommodations to eat or visit stores before noon or after 2 PM.
The quietest time to visit the Louvre Museum is during the evening hours. On your last night in Paris, why not take a leisurely walk along the Seine River and absorb the City of Light in all its glory?
Day 1: Iconic Landmarks and Scenic Views
Begin your Parisian journey with a day steeped in iconic landmarks and breathtaking views. Start your journey at the heart of the city, exploring the captivating Notre Dame Cathedral. Continue to marvel at the Eiffel Tower and end your day with a visit to the historic Place de la Concorde.
Get ready to be swept off your feet by the timeless beauty of the city when you visited Paris! Experience the magic of Visiting Paris and create unforgettable memories.
Notre Dame Cathedral
Start your day with a visit to the historic Notre Dame Cathedral, a stunning jewel of Gothic architecture and one of the main tourist sights in Paris. Although the cathedral was seriously damaged during a fire in 2019, the main facade with its twin towers was thankfully saved, and the cathedral's treasures were recovered. Take a moment to appreciate the breathtaking architecture and delve into its rich history.
While you're in the area, don't miss the opportunity to explore Île de la Cité, the small island in the middle of the Seine that houses Notre Dame Cathedral. This charming island is full of exciting gift shops, amazing street performers, and delicious cafes. It's the perfect place to soak in the vibrant atmosphere of Paris.
Eiffel Tower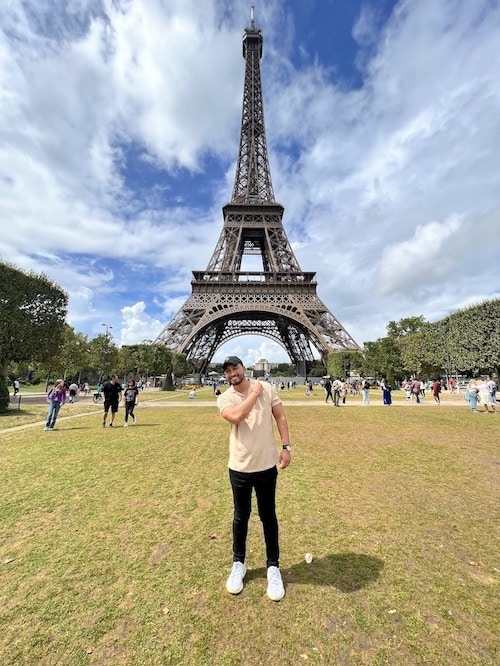 Then, head to the world-renowned Eiffel Tower, a symbol of Paris known worldwide. For a truly unforgettable experience, visit the tower around sunset. To avoid long lines, buy your tickets in advance online, which will ensure you get to enjoy all the beauty of the Eiffel Tower without the wait.
One of the most amazing spots to view the Eiffel Tower is from the Champ de Mars, particularly from the southeastern side of the tower, where there's a lovely grassy area practically inviting you to sprawl out for a picnic. Afterward, take a leisurely stroll along the Seine River and watch the tower transition from day to night – a truly magical sight!
Place de la Concorde
Round off your day of sightseeing with a trip to the historic Place de la Concorde and the iconic Arc de Triomphe. This square witnessed many significant events during the French Revolution, including the execution of Louis XVI and Marie Antoinette by guillotine. Today, the square is adorned with beautiful fountains and an ancient Egyptian obelisk, making it a popular spot for tourists and locals alike.
Take a moment to appreciate the stunning architecture and rich history of the square. As you stand in Place de la Concorde, you're not only surrounded by breathtaking views but also centuries of captivating stories that shaped the city of Paris.
Day 2: Art, Culture, and Shopping
On day two, delve into the rich world of Parisian art, culture, and shopping. Begin your day with a visit to the world-famous Louvre Museum, home to iconic artworks such as the Mona Lisa and Venus de Milo.
Next, wander through the charming streets of Montmartre, a historic artists' district with stunning views of the city.
Finally, indulge in some retail therapy at the luxurious Galeries Lafayette, a Parisian department store with a stunning glass dome and rooftop terrace.
Louvre Museum
Housed in a former royal palace, the Louvre Museum is home to some of the world's most renowned and priceless artworks, making it a must-visit destination for art enthusiasts. With an astonishing collection that spans centuries and cultures, the Louvre offers a unique opportunity to witness the artistic genius of humanity. To make the most of your visit, consider joining a guided tour, allowing you to navigate the vast museum with ease and gain a deeper understanding of the artworks on display.
Some of the highlights of the Louvre's collection include:
The enigmatic Mona Lisa
The captivating Victory of Samothrace
The elegant Venus de Milo
The dramatic Raft of the Medusa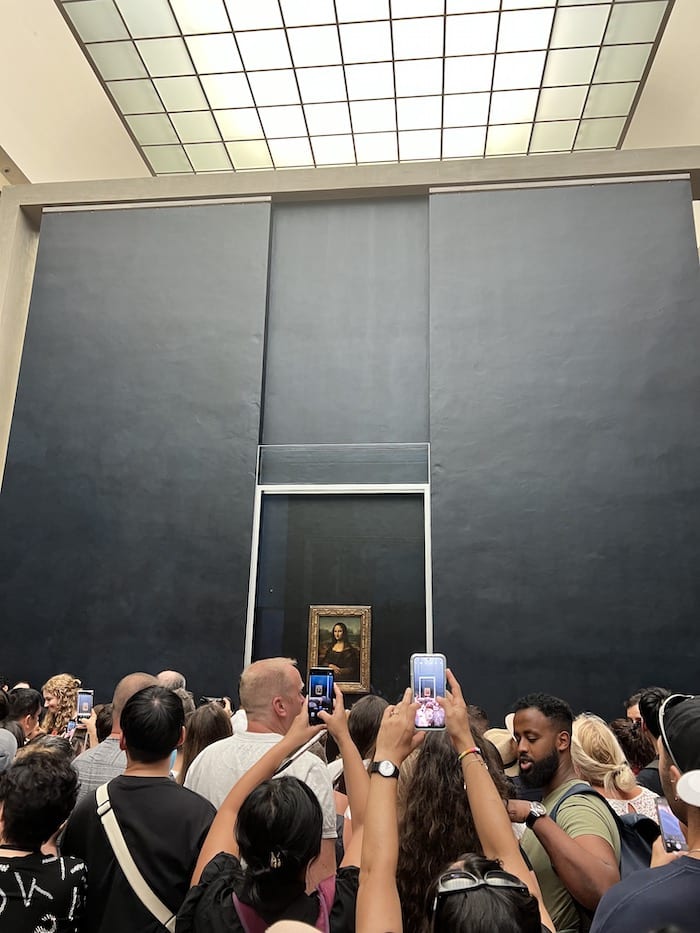 The quietest time to visit the Louvre Museum is during the evening hours, allowing you to fully immerse yourself in the art without the crowds.
Montmartre
Once you've discovered the Louvre Museum's treasures, venture to the scenic neighborhood of Montmartre, once home to iconic artists such as Salvador Dalí, Claude Monet, Pablo Picasso, and Vincent van Gogh. With its narrow cobblestone streets, bustling cafes, and stunning views, Montmartre offers a glimpse into the bohemian past of Paris and a rich source of inspiration for creativity.
As you stroll through the charming streets of Montmartre, be sure to visit the beautiful Basilica of the Sacred Heart (Sacré-Cœur), offering sweeping views of Paris from its steps. Don't miss the lively Place du Tertre, where talented artists sell original artwork al fresco, and you may even have your portrait painted in their unique style.
Galeries Lafayette
Cap off your day immersed in art and culture with a trip to the splendid Galeries Lafayette, a luxurious Parisian department store offering an incredible range of designer brands and merchandise under its awe-inspiring glass dome. From high-fashion clothing and accessories to fragrances and fine foods, Galeries Lafayette is a shopping paradise for those seeking the finest Paris has to offer.
After a day of shopping, make your way to the rooftop terrace of Galeries Lafayette, where you'll be rewarded with stunning city views and a photogenic 'Paris, je t'aime' sign. As you take in the breathtaking panorama, reflect on your day exploring the art, culture, and shopping delights of Paris.
Day 3: Royal Palaces and Beautiful Gardens
Day three in Paris invites you to journey back in time, basking in the grandeur of royal palaces and the serenity of picturesque gardens. Begin your day with a visit to the grand Versailles Palace, an architectural masterpiece and symbol of French royalty, as part of your four day Paris itinerary, which also includes other days in Paris itinerary experiences.
Continue your journey by unwinding in the picturesque Luxembourg Gardens, a popular spot for locals and tourists alike. Finally, stroll through the historic Tuileries Gardens, located between the Louvre Museum and Place de la Concorde.
Versailles Palace
Just a short train ride from the heart of Paris lies the magnificent Versailles Palace, a symbol of French royalty and opulence. This grand palace boasts opulent royal chambers, impeccably maintained gardens, and stunning works of art that transport you to a time of unparalleled extravagance. To fully appreciate the beauty and history of Versailles, it's highly recommended to join a guided tour.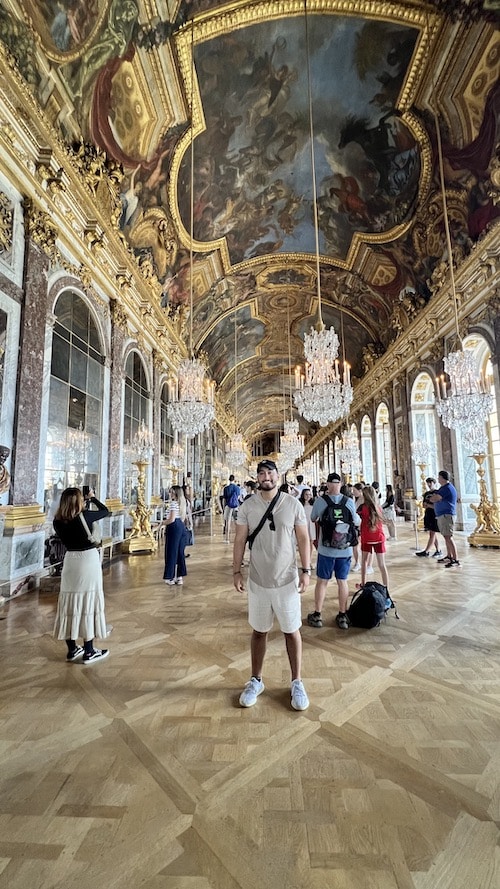 After exploring the palace, take a leisurely stroll through the vast gardens of Versailles, adorned with sculptures, fountains, and beautiful landscapes. These gardens are a testament to the grandeur and artistic vision of the French royalty, providing a serene escape from the bustling city.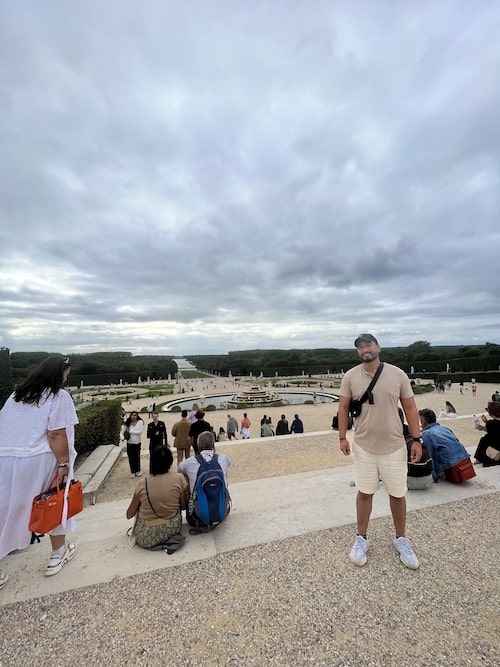 Luxembourg Gardens
After your visit to Versailles Palace, return to the heart of Paris and relax in the enchanting Luxembourg Gardens. This park, commissioned by Marie de' Medici in the 17th century, is a lush oasis with manicured lawns, vibrant flowers, and serene ponds. As you wander through the gardens, discover beautiful statues, fountains, and the elegant Luxembourg Palace, now home to the French Senate.
The Luxembourg Gardens are a popular spot for Parisians and tourists alike to unwind, enjoy a picnic, or take part in leisurely activities such as playing chess or sailing miniature boats on the pond. Take a break from sightseeing and enjoy the picturesque surroundings, a perfect way to spend a leisurely afternoon in Paris.
Tuileries Gardens
Wrap up your day of royal splendor and beautiful gardens with a trip to the historic Tuileries Gardens. Located between the Louvre Museum and Place de la Concorde, these gardens are steeped in history and offer a peaceful haven amidst the bustling city. Stroll along the tree-lined pathways, past tranquil ponds, and admire the numerous sculptures that adorn the gardens.
As you explore the Tuileries Gardens, take a moment to appreciate the stunning array of flowers and plants, meticulously maintained by skilled gardeners. The gardens serve as a living testament to the artistry and vision of the French monarchy, providing a serene escape for visitors and locals alike.
Day 4: Hidden Gems and Local Experiences
On your last day in Paris, stray from the tourist trail to uncover hidden gems and authentic local experiences in quarters like Le Marais, the Latin Quarter, and Saint-Germain-des-Prés. From trendy boutiques and historic architecture to narrow streets and bustling cafes, these neighborhoods offer a unique glimpse into the authentic Parisian lifestyle.
Embrace the local culture and create lasting memories as you explore the lesser-known side of the French capital.
Le Marais
Begin your day with an exploration of the fashionable Le Marais neighborhood, known for its vibrant atmosphere, boutique shops, and historic architecture. Stroll through the charming streets, discovering hidden courtyards and picturesque squares, such as the Place des Vosges, the oldest planned square in Paris.
Le Marais is also home to numerous art galleries, museums, and unique dining experiences. Be sure to stop by the National Archives and the Carnavalet Museum to delve into the history of Paris, or grab a bite to eat at one of the many delightful cafes and restaurants that line the narrow streets of the neighborhood.
Latin Quarter
Then, journey to the vibrant Latin Quarter, a bustling area with narrow streets, historic sites, and a vibrant nightlife. This neighborhood is home to the prestigious Sorbonne University, as well as numerous bookshops, cafes, and bars that cater to the student population. The charming cobblestone streets and lively atmosphere make the Latin Quarter a perfect destination for those seeking a taste of authentic Parisian life.
While exploring the Latin Quarter, don't miss the chance to visit historic sites such as the Roman Forum, Les Arènes de Lutèce, and the Roman Baths of Cluny Museum. After a day of sightseeing, unwind at one of the bustling cafes or indulge in some delicious French cuisine at a local restaurant.
Saint-Germain-des-Prés
Finalize your Parisian escapade in the stylish Saint-Germain-des-Prés district, a district known for its upscale boutiques, art galleries, and iconic cafes. Wander the elegant boulevards and narrow streets, discovering hidden gems and local experiences that showcase the true essence of the city.
While you're in Saint-Germain-des-Prés, be sure to visit the Church of Saint-Germain-des-Prés, the oldest church in Paris, and the literary cafes of Boulevard Saint-Germain, where famous writers such as Ernest Hemingway and Jean-Paul Sartre once gathered.
End your day with a visit to one of the many art galleries or indulge in some delectable French pastries at a local patisserie.
Parisian Dining and Nightlife
A Parisian jaunt isn't complete without a taste of the city's vibrant dining and nightlife. Throughout your stay, be sure to experience traditional brasseries, cozy wine bars, and dazzling cabaret shows to fully immerse yourself in the Parisian lifestyle.
Traditional Brasseries
Relish in the tastes of quintessential French cuisine at an authentic Parisian brasserie. Here, you'll find an array of delicious dishes such as:
Foie gras
French onion soup
Oysters
Steak frites
These establishments offer a relaxed atmosphere and a glimpse into the culinary heritage of France.
Many brasseries also feature beautiful vintage decor and a convivial atmosphere, making them the perfect setting for a leisurely meal with friends or a romantic dinner for two. While exploring the city, be sure to stop by one of these charming establishments for an authentic taste of Paris.
Wine Bars
A visit to the French capital isn't complete without savoring the country's globally-acclaimed wines. Cozy wine bars can be found throughout the city, offering a curated selection of regional and international wines, often accompanied by delicious food pairings.
Whether you're a wine connoisseur or a casual enthusiast, visiting a Parisian wine bar is a delightful way to unwind after a day of sightseeing. Savor the unique flavors and aromas of French wines while enjoying the warm and inviting atmosphere of these charming establishments.
Cabaret Shows
Inject some glitz into your Parisian journey with a captivating cabaret show at legendary venues like the Moulin Rouge or Le Crazy Horse de Paris. These shows offer a captivating combination of singing, dancing, comedy, and sometimes even poetry readings, providing a night of unforgettable entertainment.
To fully immerse yourself in the cabaret experience, consider booking a dinner and show package, which often includes a sumptuous meal created by an award-winning chef. Whichever cabaret you choose, you're guaranteed a night of glitz, glamour, and unforgettable performances.
Summary
From iconic landmarks to hidden gems, your 4-day Paris itinerary offers a spectacular array of unforgettable experiences. As you explore the City of Light, immerse yourself in its rich history, artistic masterpieces, and vibrant neighborhoods. Savor the flavors of French cuisine, discover local boutiques, and indulge in the city's dazzling nightlife. Bon voyage, and may your Parisian adventure be filled with unforgettable memories.
Frequently Asked Questions
Is it worth going to Paris for 4 days?
4 days in Paris is the perfect amount of time to explore the city's major sights, attractions, and enjoy some people-watching! Take advantage of this great opportunity to experience the City of Lights for a few days.
What is the best way to spend 4 days in Paris?
Embark on a 4 day adventure in Paris and explore the best that the city has to offer! Visit The Louvre, Jardin des Tuileries and the Latin Quarter on Day 1. On Day 2, check out Saint-Germain, the Eiffel Tower and the 15th arrondissement, followed by an excursion to Versailles on Day 3. Conclude with Le Marais, the 11th arrondissement and Montmartre on Day 4.
How many days is ideal for Paris trip?
For a first-time visit to Paris, I'd recommend planning 4-5 days in the city. That way you'll have enough time to enjoy some of the classic highlights and explore some of the neighborhoods without feeling rushed.
How much money should I bring to Paris for 4 days?
Prepare to be pampered with luxurious meals and activities in Paris – bring at least $280 for a 4-day trip, but budget up to $520 per day if you're feeling fancy!
What is the best way to prioritize attractions in Paris?
Make sure to prioritize attractions in Paris based on your personal interests and location, ensuring to visit the must-sees that are close by during your stay!
Want to Make Extra Money Now?
KashKick: Want to make an extra $500 this month? KashKick rewards you for downloading apps, playing games, testing offers, and more. Over 2M+ users get paid daily.
Arrived: If you want a simple way to earn extra cash on the side from your phone, look no further than the best real estate platform that pays you passive income.
Survey Junkie: Need a $5 gift card daily? Survey Junkie pays users in cash or free e-gift cards. The amount you earn depends on the number and length of surveys you qualify for and complete.