Whether you want to recline on a white-sand beach sipping a $1 umbrella drink or test your courage by trekking through the Andes, South America is full of unique experiences and vibrant culture. While each nation has something to offer, in this article we'll give you our take on four of the best countries to visit in South America. 
1. Brazil: A Country of Unmatched Beauty 
Brazil is blessed with cultural diversity and lush natural wonder. From massive waterfalls in Iguazu to the famous beaches of Rio, you're sure to fall in love. 
Iguazu Falls
Iguazu Falls is a system of over 250 waterfalls on Brazil's border with Argentina. Together, they make up the largest waterfalls in the world. 
You can access Iguazu Falls from either the Brazilian or Argentinian side. We recommend taking the time to spend a day on each side of the border. The Argentinian side offers views of more waterfalls, but the Brazilian side has one truly unreal viewpoint that makes it feel like you've just found El Dorado. 
Plus…you can catch a helicopter ride from Brazil which takes you over the Falls for an unforgettable experience. 
São Paulo
The financial heart of Brazil, São Paulo is a metropolis with over 12 million residents. The city has a buzzing nightlife, especially Vila Madalena, a trendy neighborhood in the northwestern part of São Paulo. Vila Madalena is home to Batman Alley, an area densely filled with street art and graffiti. Make sure it's on your list. 
If the big city has you missing nature, find refuge in Ibirapuera Park, an urban oasis filled with trees, ponds, and serenity. The park is also home to art galleries and a planetarium. You could spend a whole day taking a break from the metropolis. 
Rio de Janeiro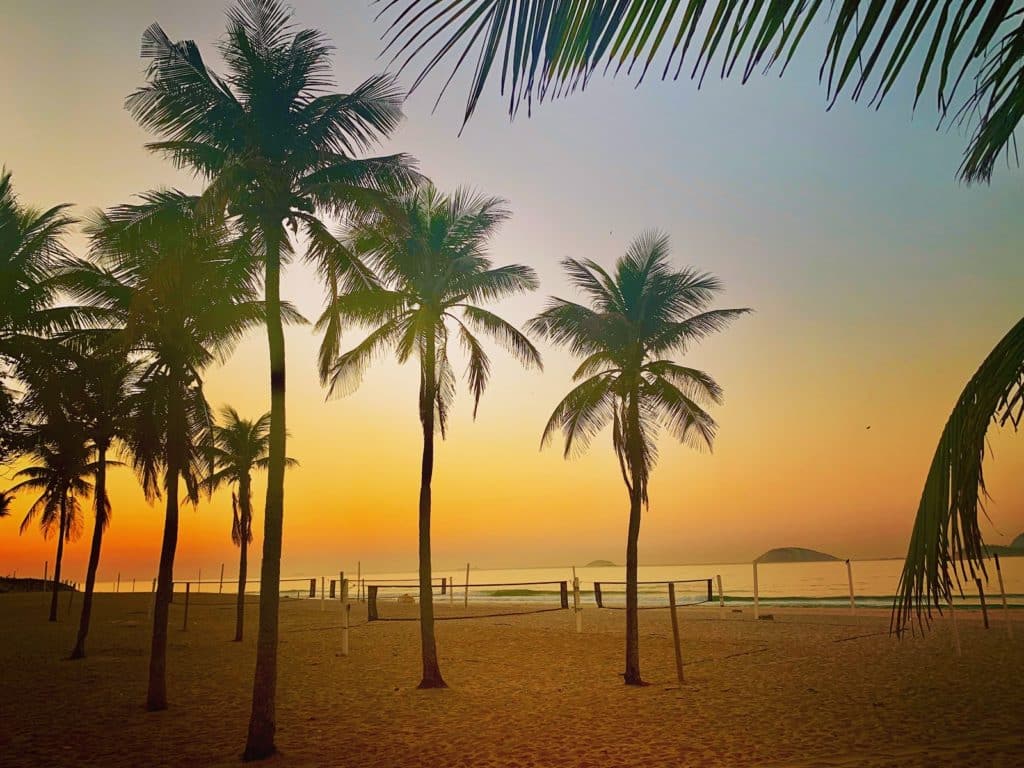 Rio might just claim the title of "most beautiful city in the world." With pristine beaches, lakeside parks, and towering hills, the views are unparalleled. 
If you're looking to sit back and relax, go to Ipanema Beach and set up camp underneath an umbrella. Someone will come by quickly to take your order. Try a caipirinha—a local favorite made with cachaça, sugar, and lime.
If you're looking for a party, you're in luck. Head to the Lapa district after dark to find the streets filled with drinks, music, and dancing. You can't help but smile as the energy takes you over. 
As far as touristy things to go, check out Christ the Redeemer (one of the Wonders of the World) and Sugarloaf Mountain. You'll get unforgettable views of the gorgeous city. 
Note: United States citizens need to get a tourist visa before entering Brazil. Plan ahead! 
2. Colombia: One of the Best Countries to Visit in South America for Natural Diversity 
Colombia has it all. Tropical beaches, beautiful valleys, and Andrean volcanoes all fit within this wonderful country. 
Tayrona National Park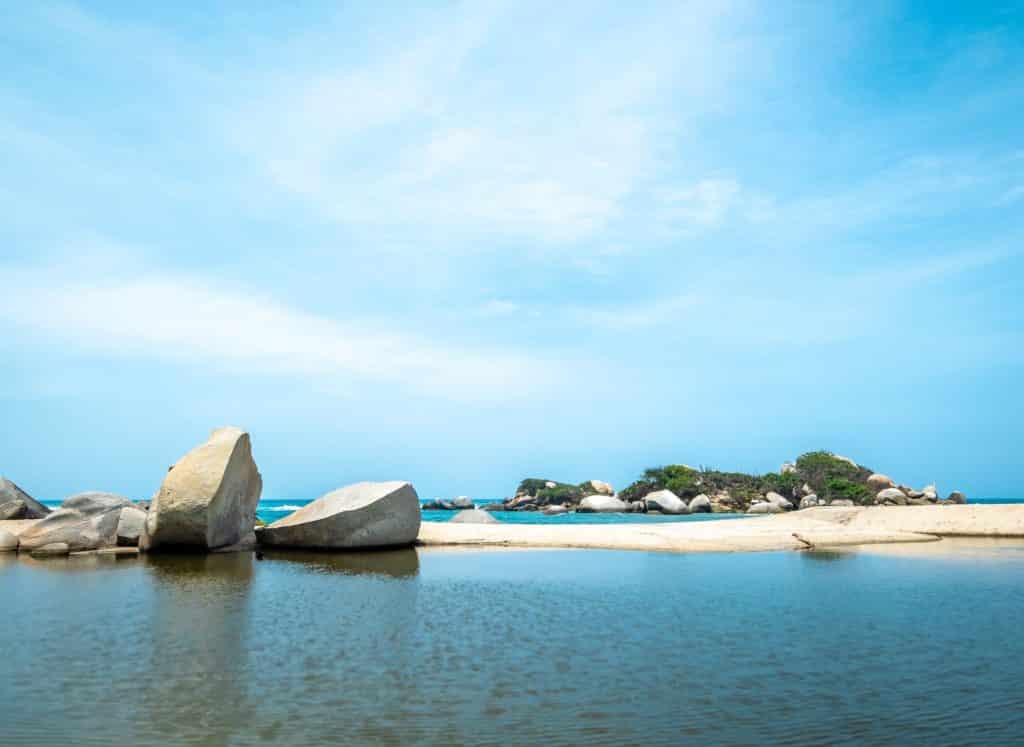 When you think Caribbean getaways in Colombia, you may have heard Cartagena is the place to go. Well, we're here to show you there's something better. 
Tayrona National Park is northwest of Cartagena and is easily accessible from nearby Santa Marta. You can either hike in or take a boat, though we recommend the hike⁠—the trail is gorgeous and there are great spots to swim along the way. Once inside the park, you can choose to stay the night sleeping on a seaside hammock instead of going back to your hotel. The sand is soft and the water is warm. 
Medellin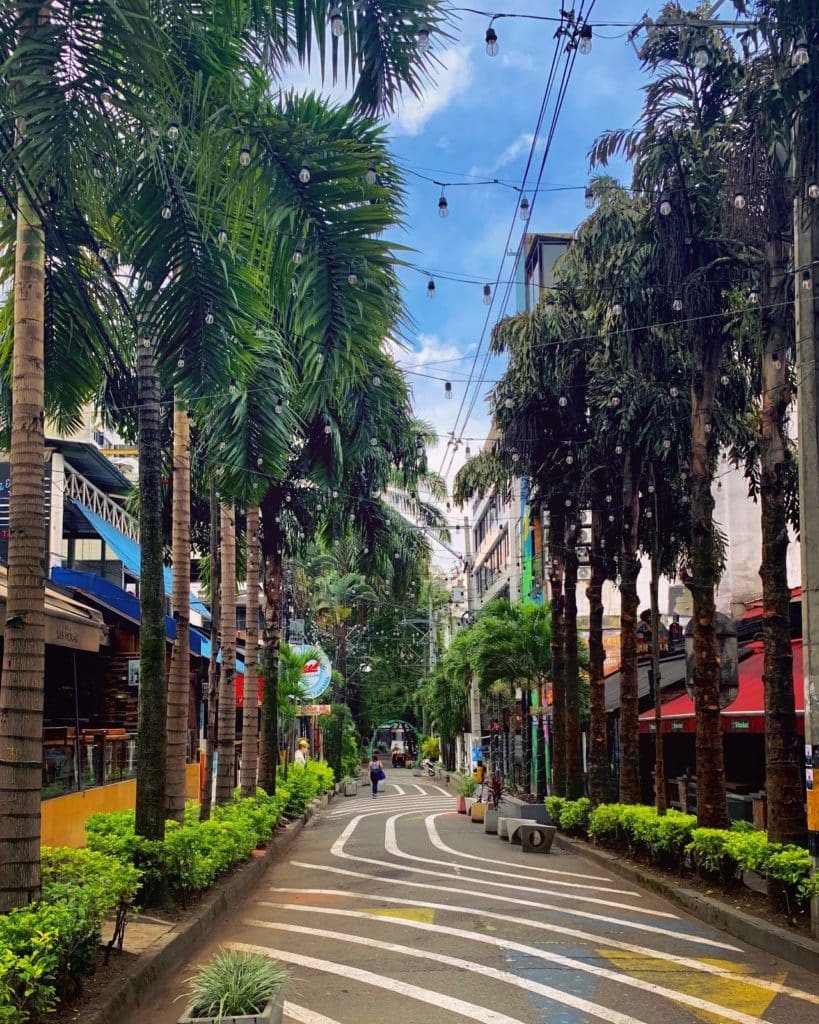 Once considered too dangerous, Medellin is now one of Colombia's most exciting cities. Known affectionately as "The City of Eternal Spring," Medellin sits in a valley surrounded by vegetation. 
Take a day trip to Guatape and climb "Piedra del Peñol"—a giant rock that offers a 360-degree view of winding lakes below. Or, test your bravery by parasailing above the valley and take spectacular airborne photos. 
At night, make your way to the El Poblado neighborhood, which is lined with bars and restaurants. Practice your dancing ahead of time. It'll be a night to remember. 
The Coffee Region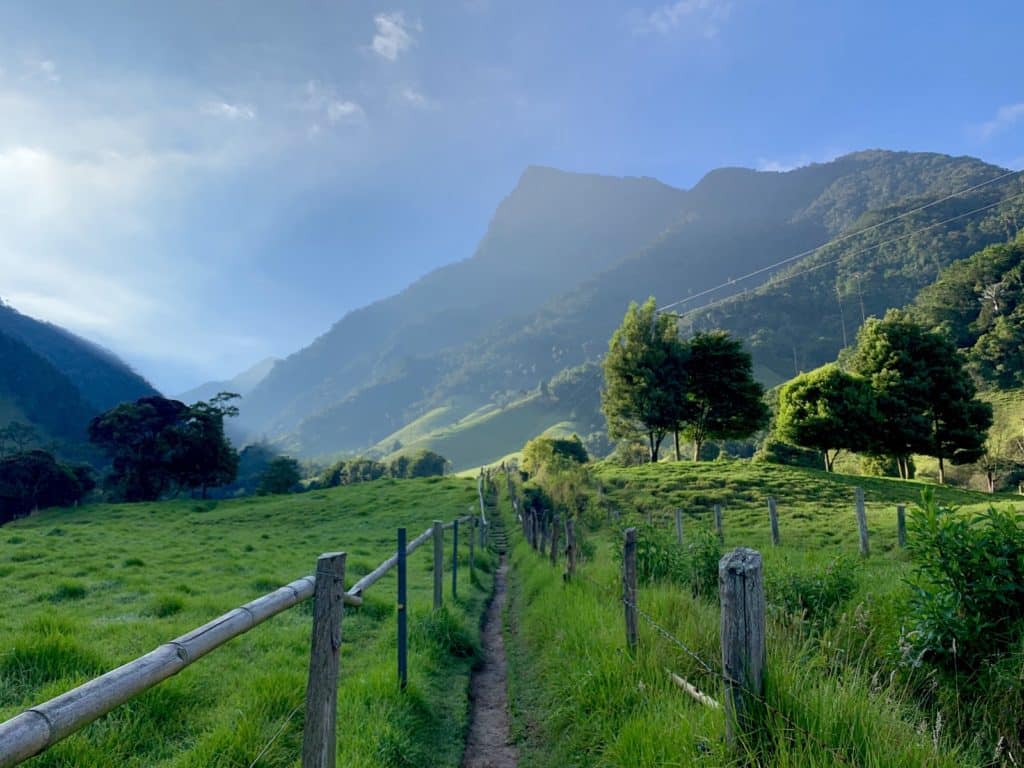 La Zona Cafetera (the "Coffee Region") is a little off the beaten path but certainly worth visiting. This is where you can hike Nevado del Ruiz, an active volcano roughly 80 miles (130 kilometers) west of Bogota. 
You can also visit the three cities in the "Coffee Triangle," Manizales, Pereira, and Armenia. Armenia has a coffee-themed amusement park with a gondola that offers views of purple sunsets. 
Don't forget to visit Salento. From the town center, you can hop on a truck that will take you to nearby Valle de Cocora, where you can hike among giant palm trees. The first truck leaves at six in the morning. The best weather is usually before noon, so setting your alarm is worth it. 
Note: Make sure to get your yellow fever vaccine ahead of time. Some travelers may be required to show evidence of vaccination to enter Colombia.
3. Peru: The Land of the Incas
Peru is one of the most popular tourist destinations in South America, and for good reason. From mountaintop ruins to bustling cities by the sea, Peru has it all. 
Cusco (And Surrounding Areas)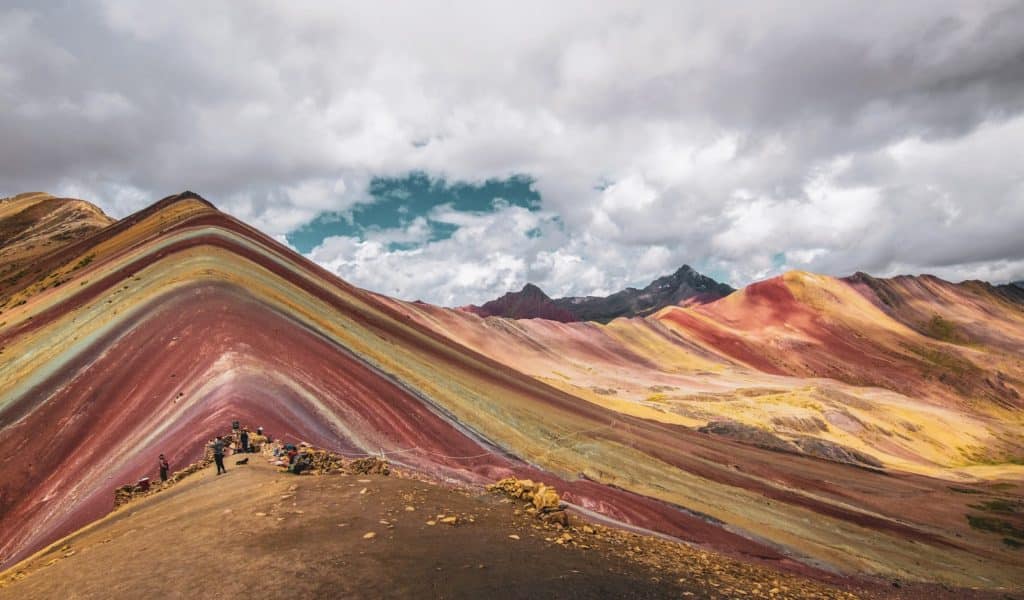 Cusco is the gateway to Machu Picchu, but don't let that fool you. There's a lot to see in and around the former Inca capital. 
If you're up for an adventure, take a trip to nearby Rainbow Mountain, which is quickly becoming a popular tourist destination. The multi-colored sediment stands at 17,000 feet (5,200 meters) above sea level. Make sure to spend a few days getting acclimated in the Cusco before venturing out. You don't want to start your trip with altitude sickness. 
Take a tour of the Sacred Valley to see Incan ruins set in the idyllic Peruvian landscape. You can stop by to visit the ancient salt mines, which are still operated to this day. 
Cusco itself is home to Plaza de Armas, museums (including the Inca Museum), and some ruins of its own. It's definitely worth it to spend some time exploring the city while you get used to the altitude. 
Machu Picchu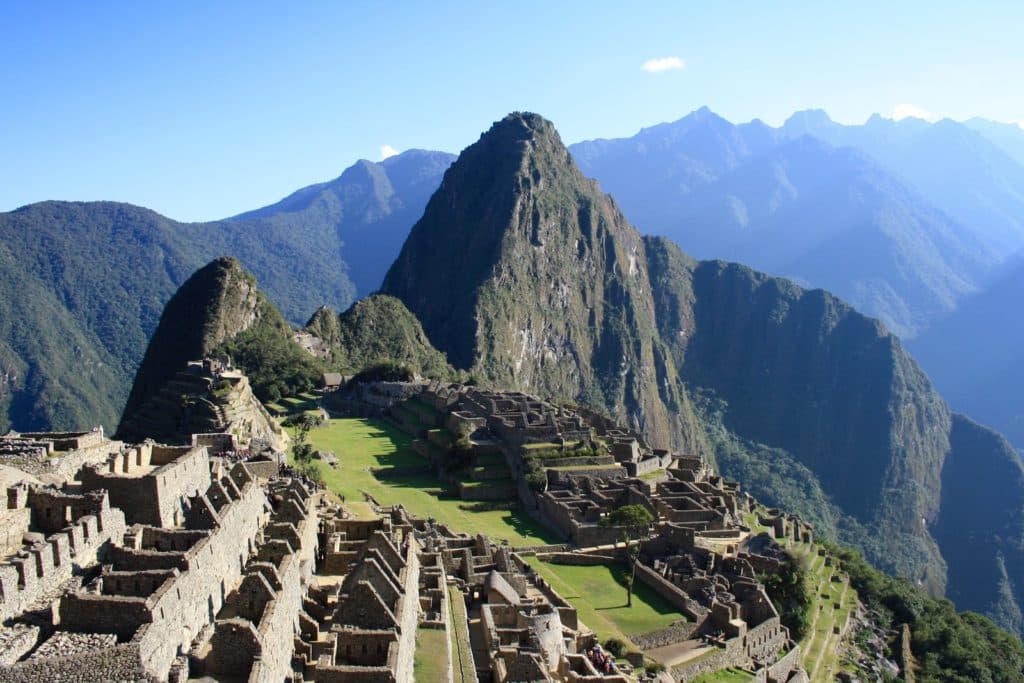 No guide to South America would be complete without the historic Incan ruins. While Machu Picchu is one of the most spectacular places in the world, getting there can be just as amazing. 
Consider trekking into the ancient city by hiking the Inca Trail. Be sure to plan far in advance—spots fill up quickly. If they do, never fear. There are many other amazing routes like the Salkantay Trail, which takes you past snow-capped Andean peaks and blue-green lakes on your way to the ruins. 
When you finally get to Aguas Calientes (the town right next to Machu Picchu), there are two ways to finish your journey. You can take a bus from town up to the ruins, or you can walk up the stairs. The gate open before sunrise and eager travelers start lining up before five in the morning. 
Getting to Machu Picchu early is strongly recommended. You want to get there before everyone else so you can feel the magic before all the tourists arrive. 
Lima
Many people just pass through Lima on the way to get to Cusco, but there's a lot to see in Peru's capital. Right on the west coast, Lima offers views of spectacular sunsets over the ocean. 
Lima also has some ruins of its own. Huaca Pucllana is a pyramid found in the popular Miraflores district. The locals had no idea the ruins existed until a few decades ago. Until that time, it was just a hill of dirt that motocross riders used for practice! 
If you're looking for exquisite cuisine, Peru is one of the best countries to visit in South America. Foodies flock to Lima for its world-class cuisine. It's home to Michelin Star restaurants that are sure to impress. 
4. Bolivia: Where Deserts Touch the Sky 
Bolivia is probably the least-visited of the countries on our list, but don't let that fool you. From fascinating local traditions to unbelievable salt deserts, Bolivia will capture your imagination. 
Copacabana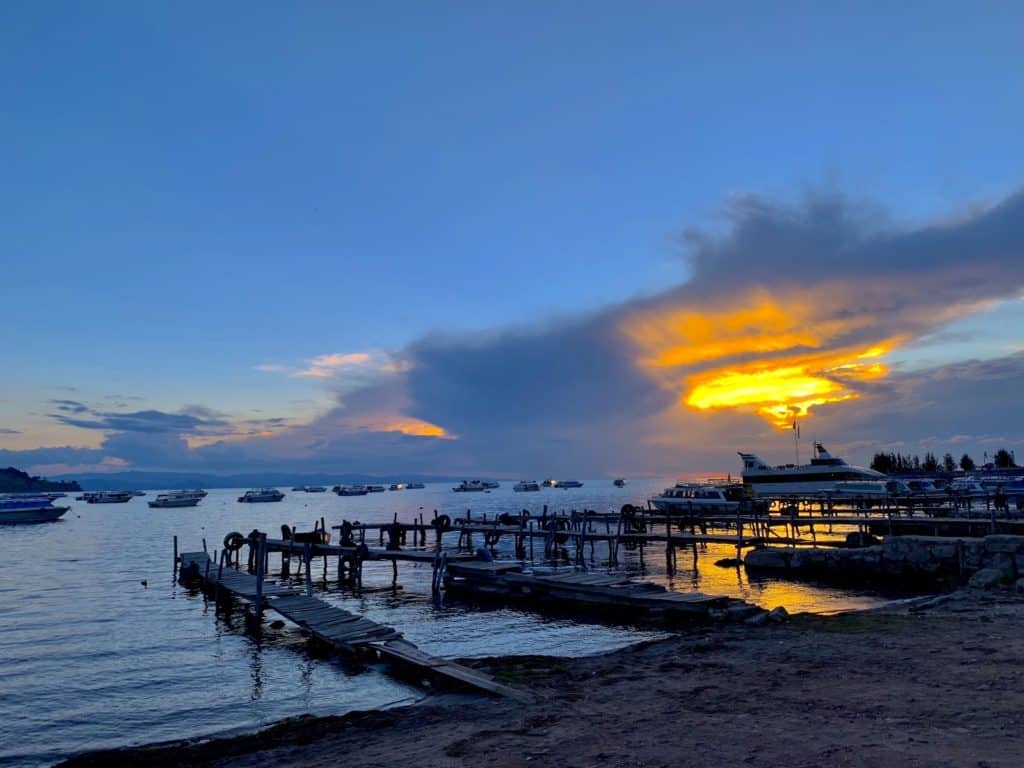 Right on the border between Peru and Bolivia, Lake Titicaca is on the way from Cusco to La Paz. If you're traveling by bus, we strongly recommend stopping off at Copacabana, which is right on the lake's shore. Take a quick boat ride to Isla del Sol and walk around the island before continuing your way through Bolivia. 
La Paz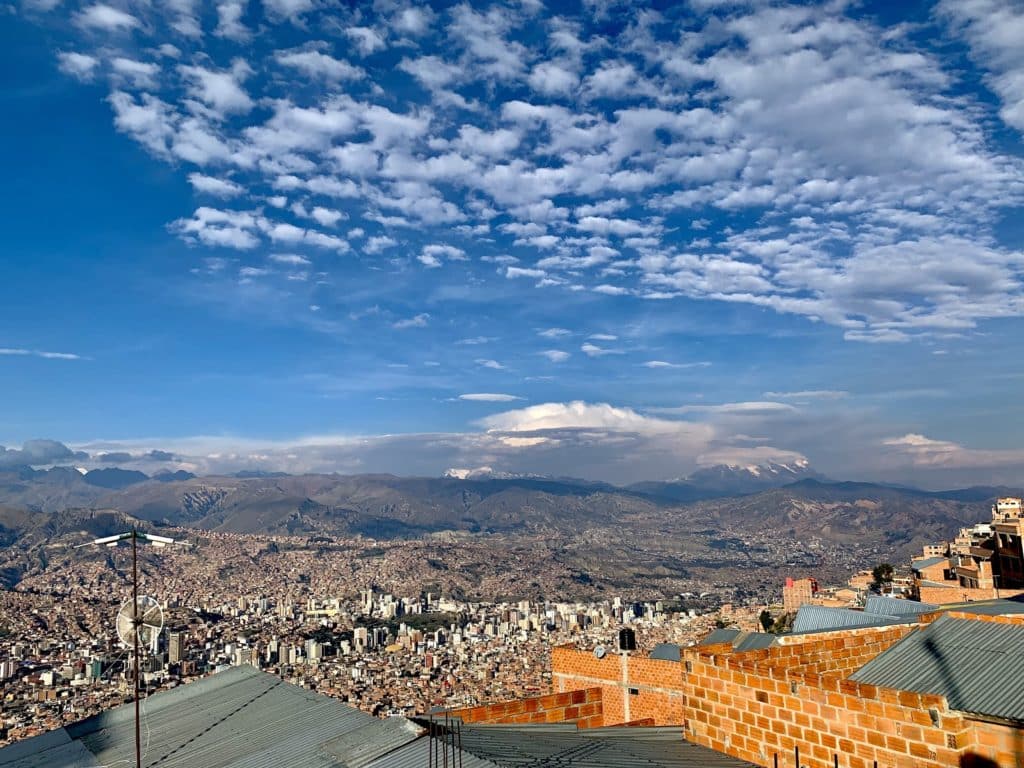 Sitting at 3,650 meters (11,975 feet) above sea level, La Paz is the world's highest national capital. While you're in town, consider riding a bicycle down the "death roads." What used to be a dangerous path for cars has now been converted into a bicycle-only zone. Don't worry, you'll be fine. 
Assuming you're alive after your bike ride, take a tour of the cemetery and the Witch Markets. We don't want to give too much away, but you'll see some pretty unusual things and learn about indigenous customs you'll never believe. Some involve dead llamas. Others involve stolen skulls. If you're looking for a unique perspective on native cultures, Bolivia is one of the best countries to visit in South America. 
Salar de Uyuni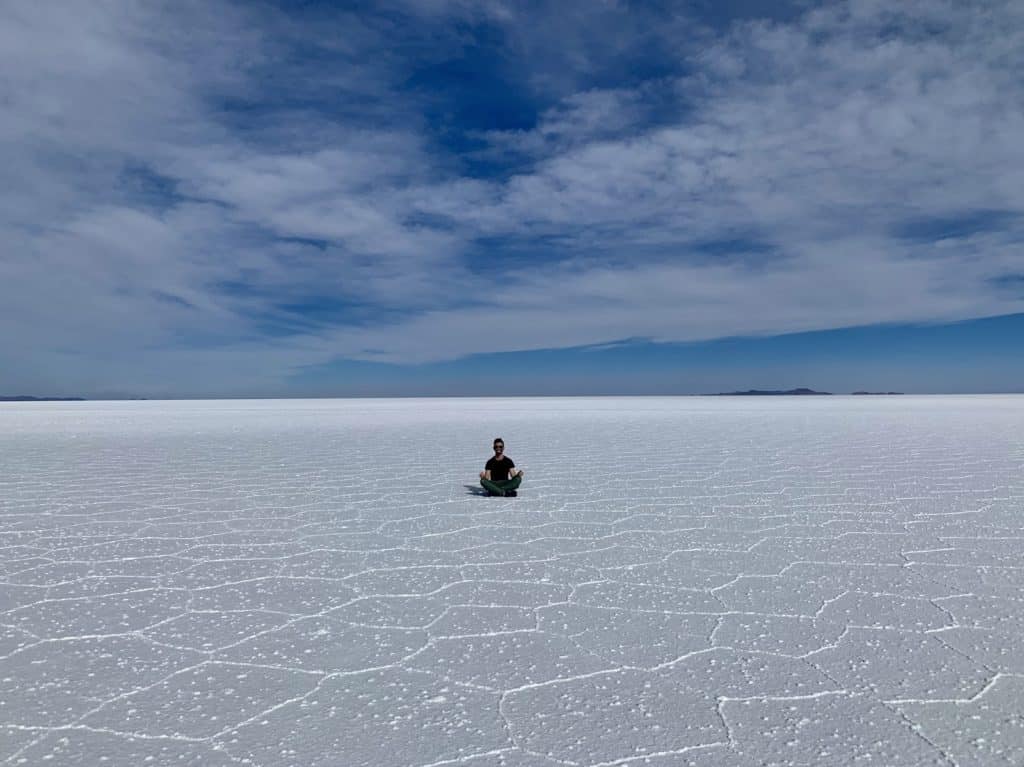 If you've seen pictures of Bolivia on social media, they're likely from Salar de Uyuni. Visit the salt flats to see endless deserts covered in salt. The neverending horizon can result in some pretty unique pictures! 
Consider taking a three-day tour through the desert, where you'll see geysers, flamingos, and red lagoons. Just be sure to bring a jacket. It gets pretty cold in the highest desert in the world. 
Note: United States citizens need to get a tourist visa before entering Bolivia. In some cases, you can get a visa at the border, but we suggest planning ahead and avoiding the uncertainty. 
Conclusion
With so much diversity and history, choosing the best countries to visit in South America is no easy task. The continent is filled with magic. 
But if you have limited vacation time, check out these four countries and you're sure to have a great experience. From the mountaintops to the sea, you'll have a trip to remember. Happy traveling! 
Author Bio: Michael Bjorn Huseby is a freelance writer who writes about health, wellness, and travel. Currently living in Colombia, he enjoys learning about new cultures and perspectives. He loves yoga, music, and attempting to speak foreign languages. If you want to learn more, visit bjorn2write.com.
Up next:
How to Get Money Right Now
No credit check
Albert Instant Cash
They don't believe in charging overdraft fees. Rather, they offer to lend up to $250 to their customers in order to help them cover their expenses. This service does not come with any late fees, interest rates, or credit checks.