Looking for the best coffee shops in Barcelona? Great coffee can be found all over Spain, and Barcelona is no exception, as long as you know where to look.
Even if coffee isn't your thing, most cafes in the city serve tea, juices, and brunch– there's something for everyone to discover and enjoy.
Here's a list of eight cafes you need to visit during your trip to Barcelona. Whether you're looking for a place to sit down and get some work done or searching for somewhere to hang out with a friend, you're sure to fall in love with at least one of these spots!
8 Best Coffee Shops in Barcelona
1. Satan's Coffee Corner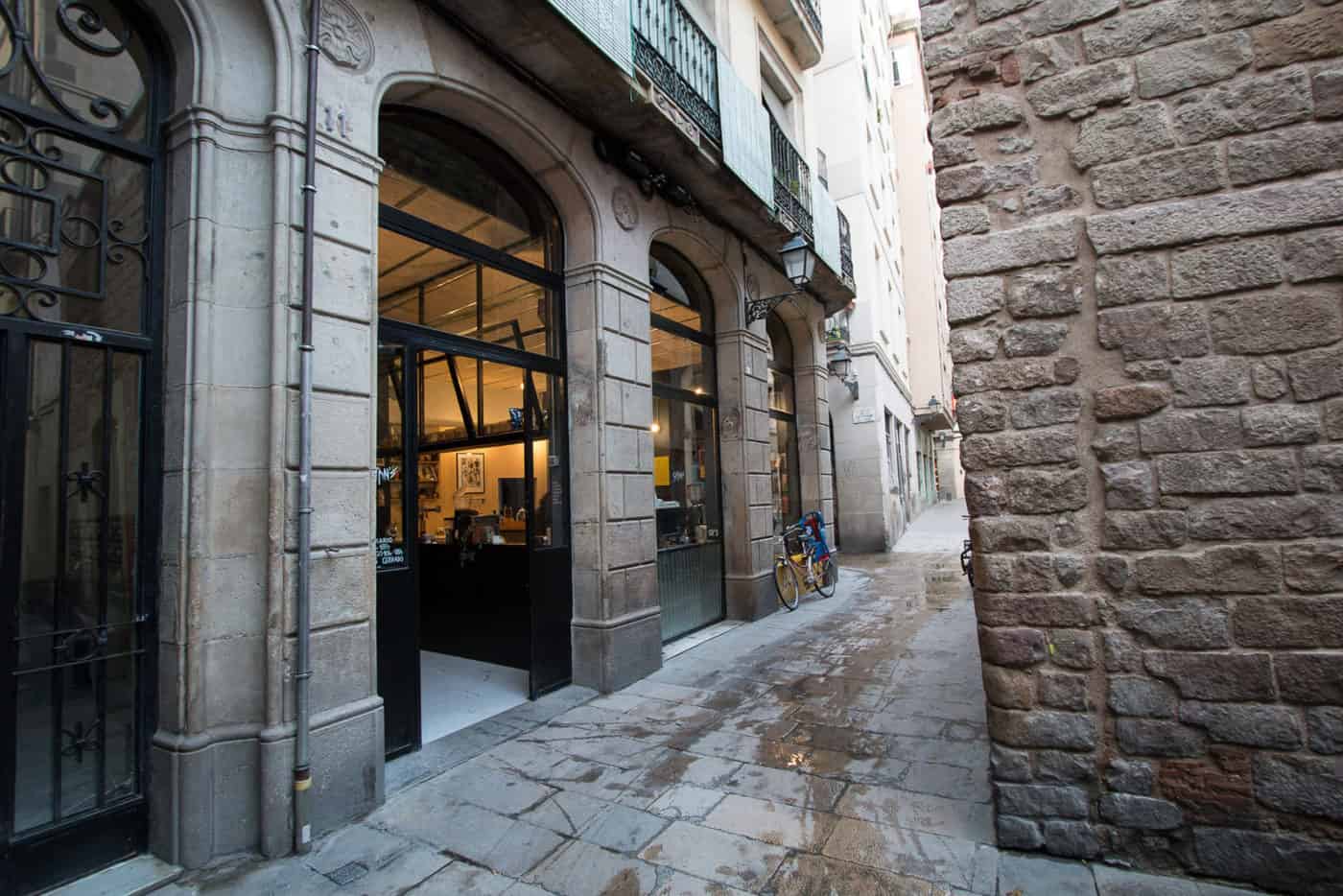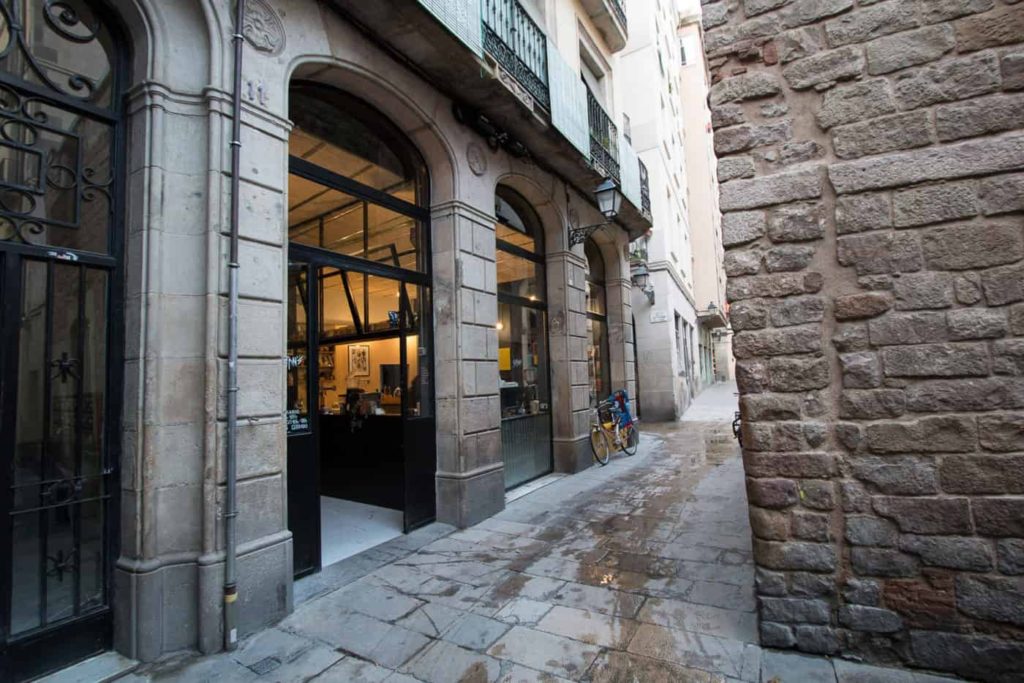 Follow the unmissable sounds of punk rock music and smells of freshly roasted coffee beans and you'll find yourself at the door of this alternative cafe that's always filled with local musicians and creatives. Located near the iconic Barcelona Cathedral, this unique spot serves up some of Barcelona's best locally sourced coffee, cold-pressed juice, and pastries.
If you're in the mood for breakfast or brunch, Satan's head chef, a Tokyo native, is ready to whip up a Japanese-inspired dish that will leave you wanting more…and more. Head over to Satan's Eixample location, located on the first floor of the Casa Bonay hotel, for a more low-key experience with the same delicious coffee– the flat white is a must-try. You might want to skip out on bringing the kids here, though! Satan's Coffee Corner has a list of irreverent albeit humorous company policies, including:
Want free money?
Aspiration: Want to get spotted a $100 for free? Simply sign up for Aspiration, and the free banking app will give you cash for free, you just relax while it gives you $100 just for opening a new debit card. There's no catch. This bank account is legit and only takes two minutes to sign up for an account.
"No decaf"
"No vanilla"
"No baby strollers"
"No fun for children"
"F$%# Yelp"
Carrer de l'Arc de Sant Ramon del Call, 11, 08002 Barcelona, Spain
Facebook
Instagram
2. Little Fern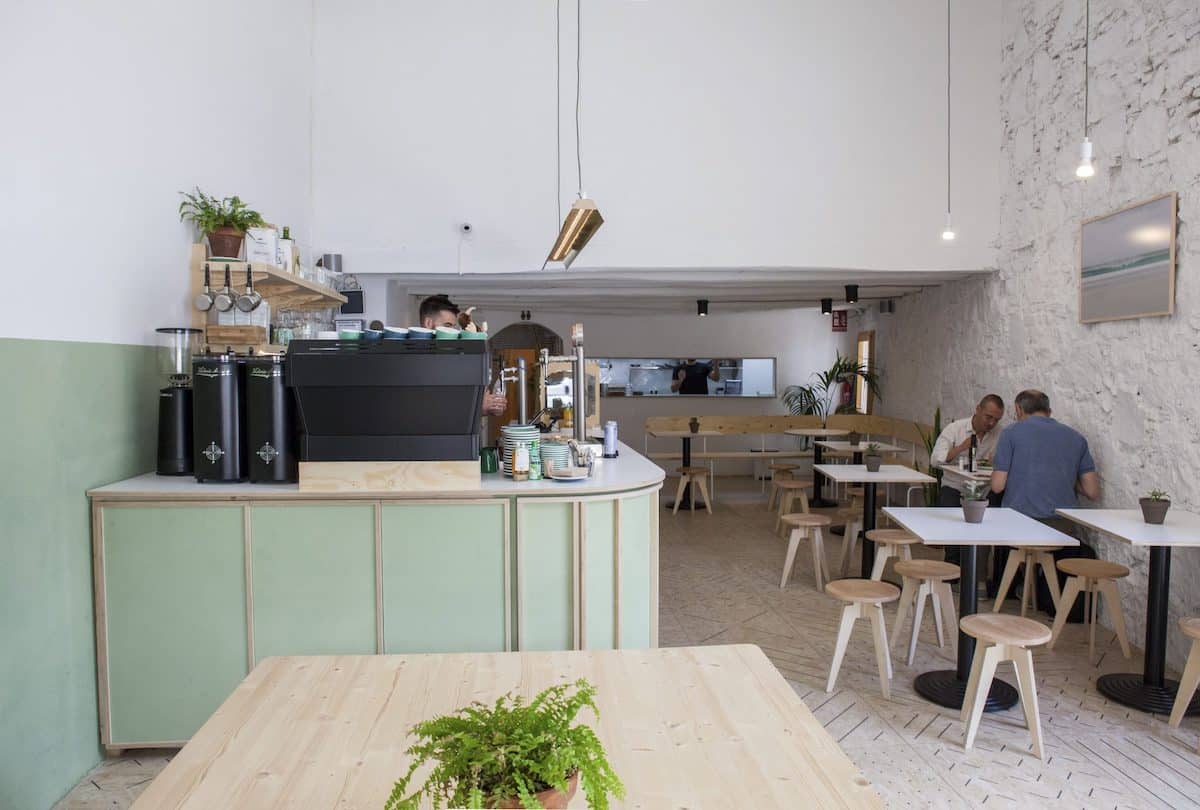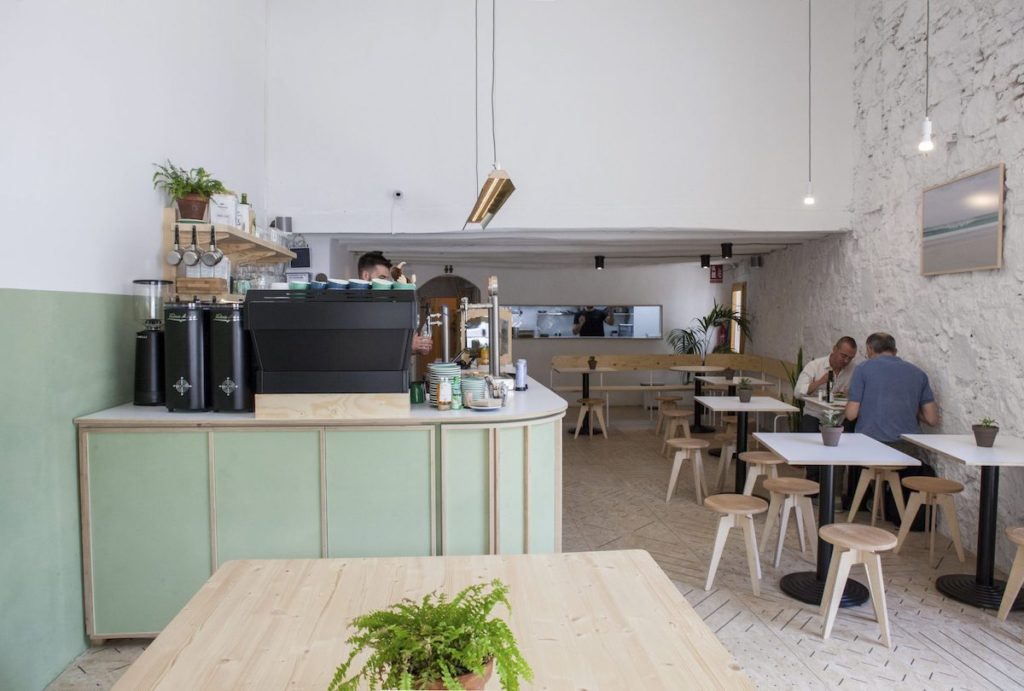 Little Fern is a delightful little brunch spot and cafe in Barcelona's Poblenou district. This cafe's offerings reflect the tastes of its Kiwi owners– you can find a few New Zealand favorites on the menu.
Try the Pea and Avo Smash, the Kimchi Pancakes, or the Corn Fritter Stack for a little taste of something different. If you're feeling a little less adventurous, you can't go wrong with Little Fern's selections of pastries, specialty coffees, and breakfast cocktails. Their banana bread is a favorite among locals and tourists!
There is plenty of vegan and gluten-free options on the menu, too, so you're sure to find something you love. Plus, they offer Wi-Fi! What's not to love?
Carrer de Pere IV, 168, 08005 Barcelona, Spain
Facebook
Instagram
3. Skye Coffee Co.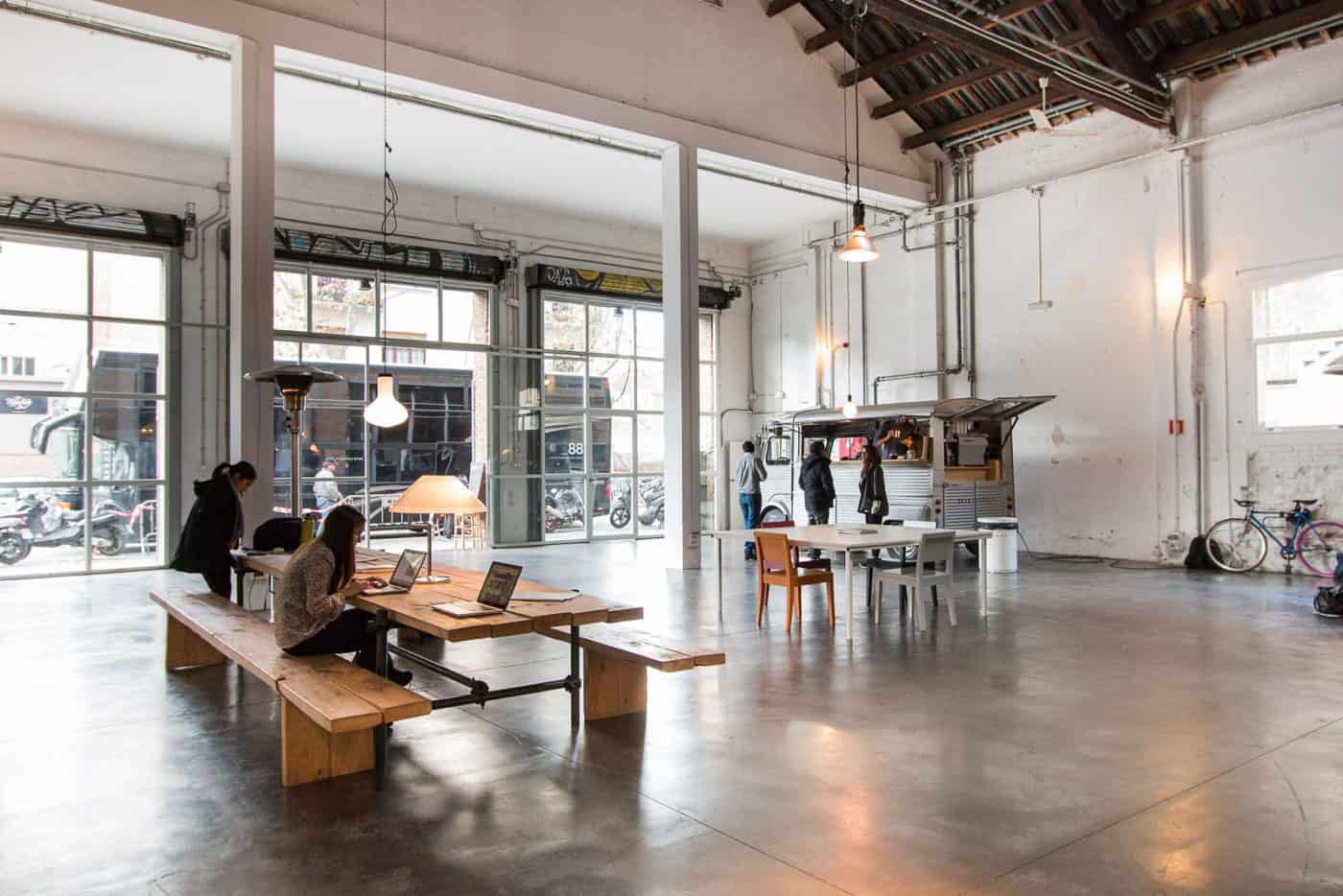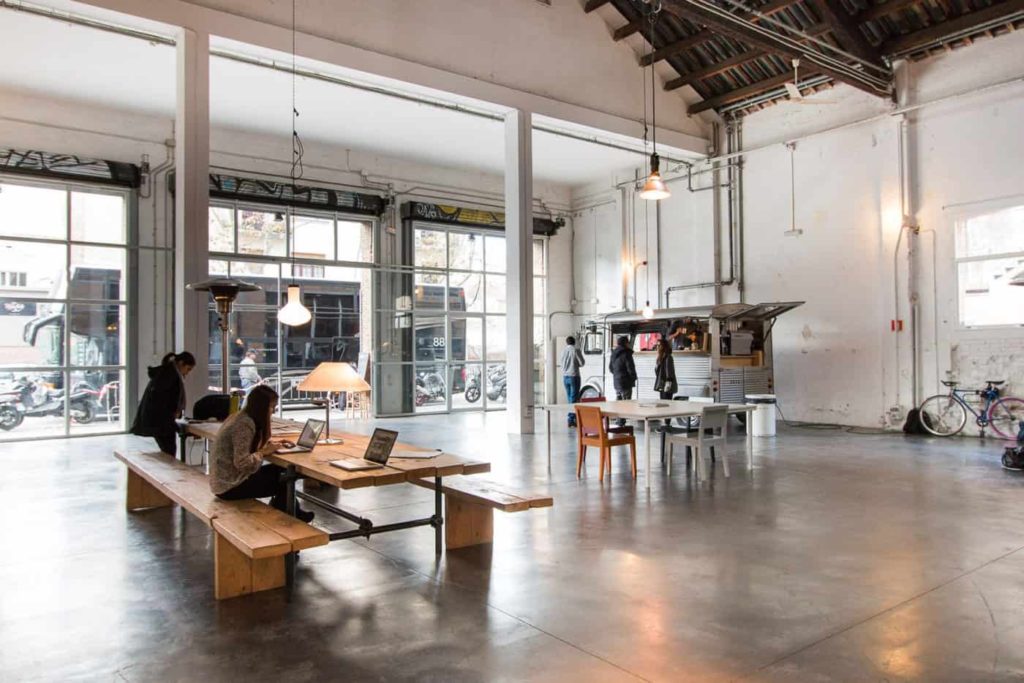 Skye Coffee might look unassuming, but their brews pack a punch. If you're looking for a simple coffee-drinking experience (think coffee or coffee with milk simple), place an order at Skye Coffee's converted 1972 Citroen HY van and take a seat at one of the many tables available in Espacio 88, an industrial warehouse space designed for hosting events and facilitating creative collaboration.
Skye Coffee sources most of their beans from Right Side Coffee, a roaster located right in Barcelona. If you're looking for a place to have a simple cup of coffee and listen in on what Barcelona's creative community is up to, then Skye Coffee Co. is the place for you.
Bring your laptop and take advantage of this roomy co-working space and their fast Wi-Fi!
Carrer de Pamplona, 88, 08018 Barcelona, Spain
Facebook
Instagram
4. Nømad Coffee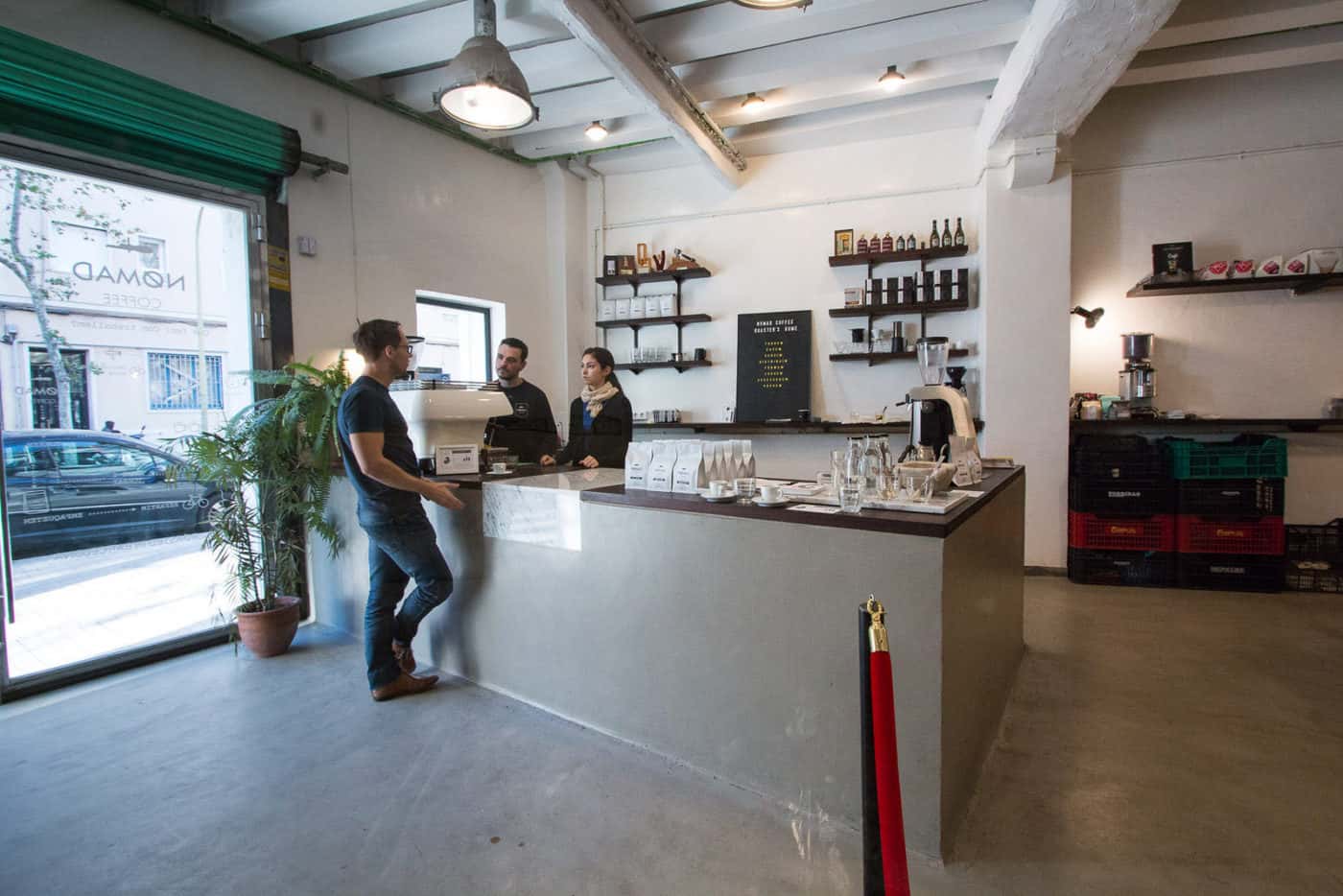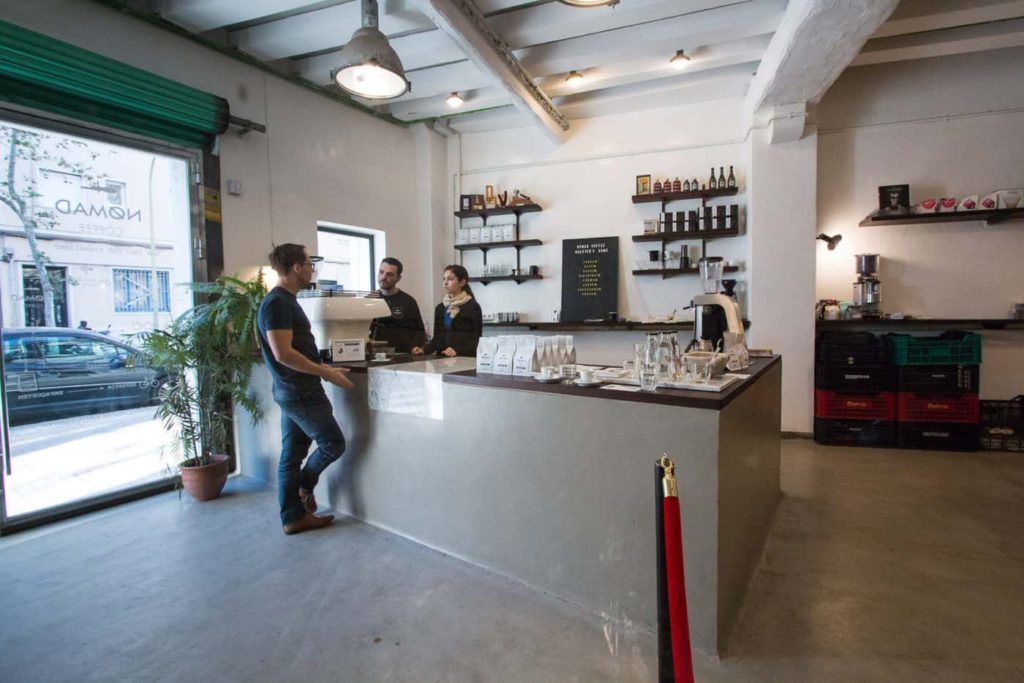 What started as a street cart in London is now a bustling enterprise in one of Barcelona's trendiest areas. Nømad's founder is a two-time competitor in the World Barista Championships, and it definitely shows.
Nømad roasts their own coffee beans, sourced from some of the best countries in South America like Colombia and Peru, at their very own roastery: Roaster's Home.
Make sure to stop in and visit Roaster's Home to see where the magic happens and grab a cup of joe to go. If you're interested, ask about Nømad's cupping sessions and educational courses. You just might be able to get an even more behind-the-scenes look at the science of coffee!
Nømad's token location is the Coffee Lab, where customers can take a seat at the bar and taste their championship coffee blends. If you're in the mood to sit down and relax with your coffee, head to Nømad Every Day for a more laid back atmosphere and a chance to try Nømad's signature affogato. This location also serves cold brew, kombucha, pastries, and more. If you happen to be hosting an event in Barcelona, Nømad offers coffee catering, too!
If you've decided that you just can't get enough of Nømad's coffee, you can purchase any of their beans to take home. They even have a convenient subscription service, so you'll never be left without your favorite brew.
Carrer de Pujades, 95, 08005 Barcelona, Spain
Facebook
Instagram
5. Galeria Cosmo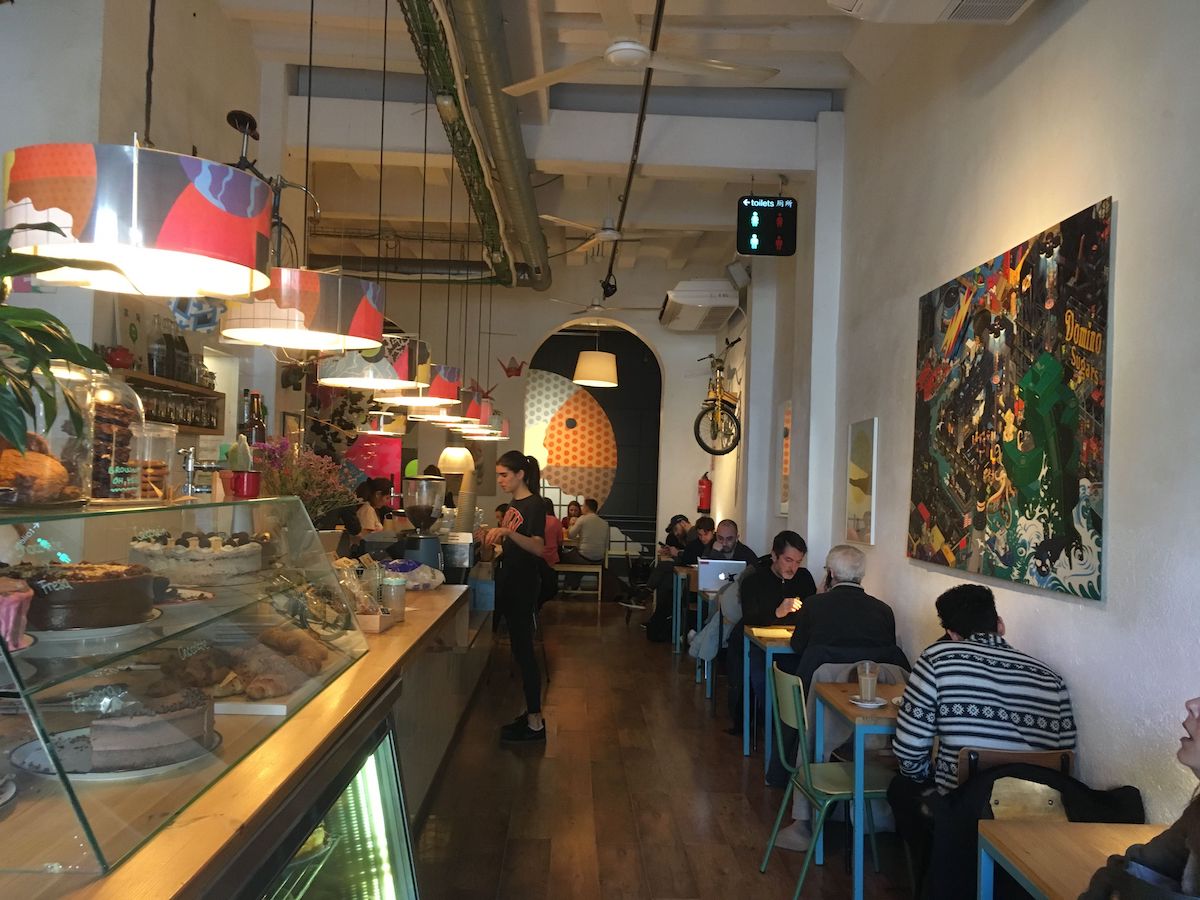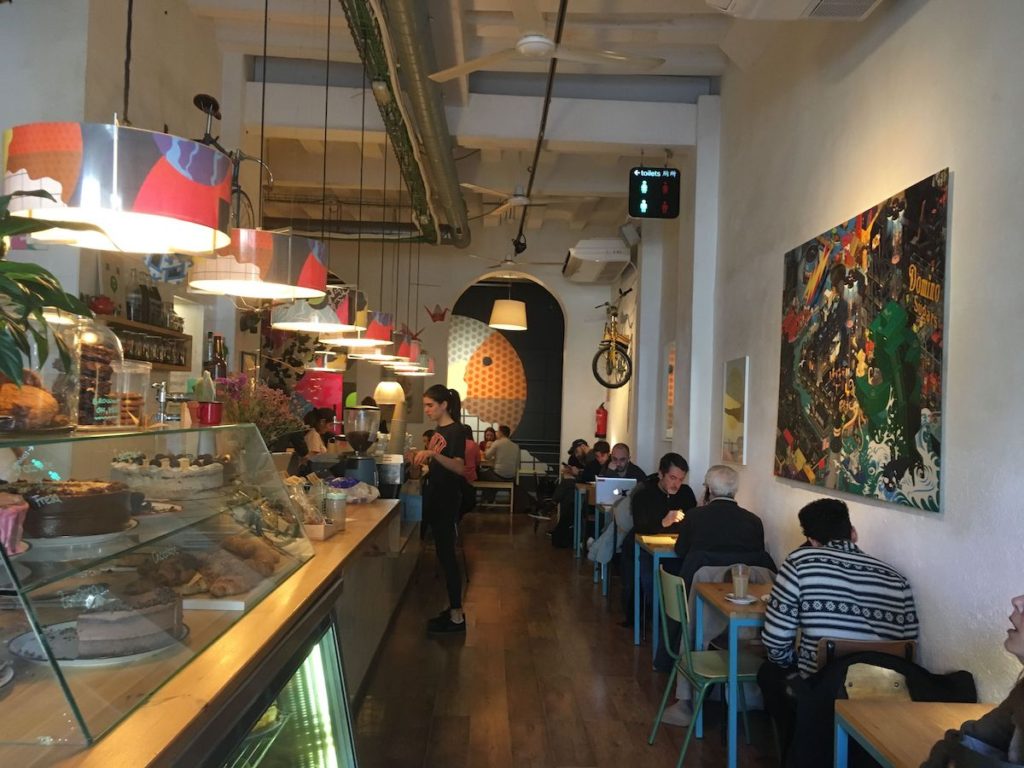 If you want to get a true taste of Barcelona's contemporary art scene, along with a fresh cup of joe, you need to pay a visit to Galeria Cosmo. It's right near the Universidad de Barcelona, and it's a great place for a meeting, a date, or just a visit.
The walls of this cafe are adorned with an ever-changing collection of eclectic pieces from local artists. Order an espresso or a fresh juice and bask in the talent Barcelona has to offer.
If you're lucky, you'll catch a pop-up event or a concert at Galeria Cosmo. Even if you don't, you'll definitely leave this cafe with a few Insta-worthy pictures.
Carrer d'Enric Granados, 3, 08007 Barcelona, Spain
Facebook
Instagram
6. Espai Joliu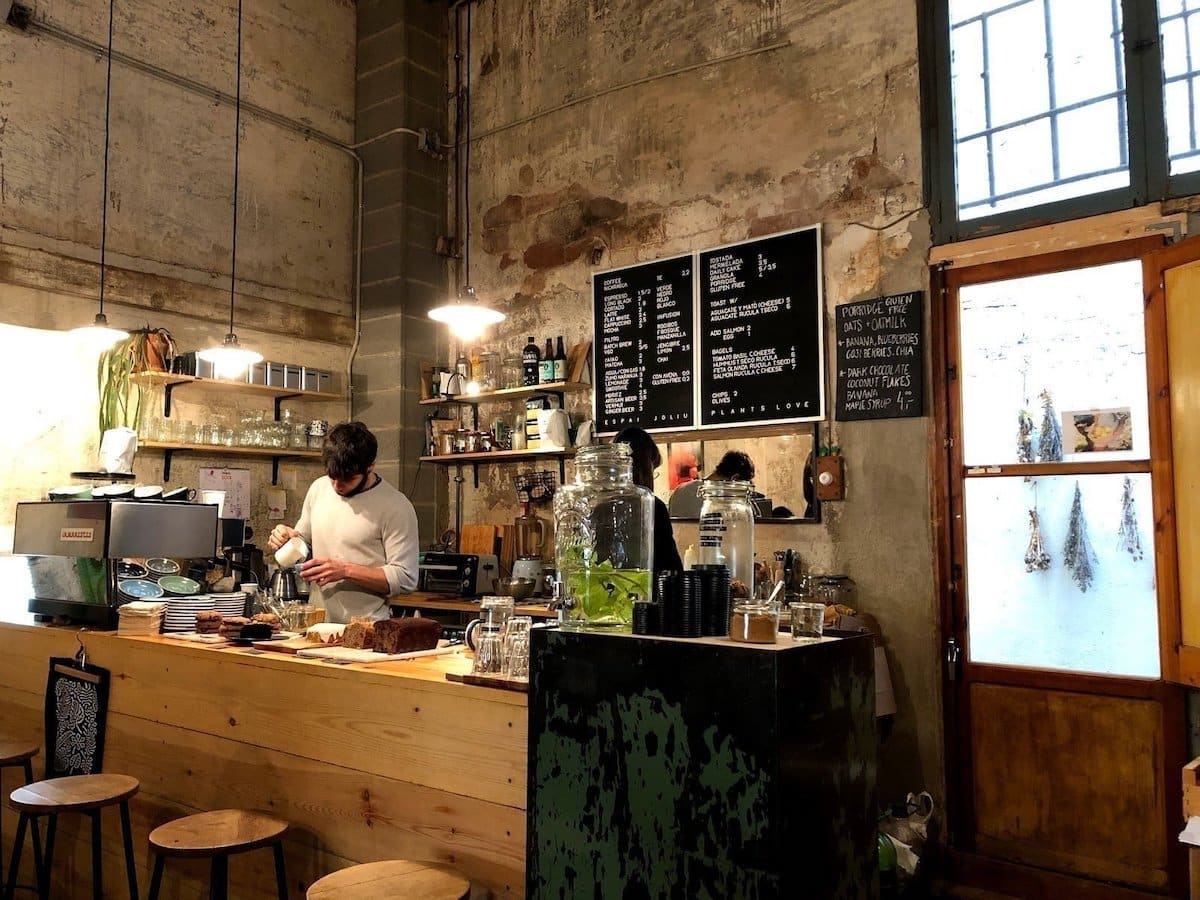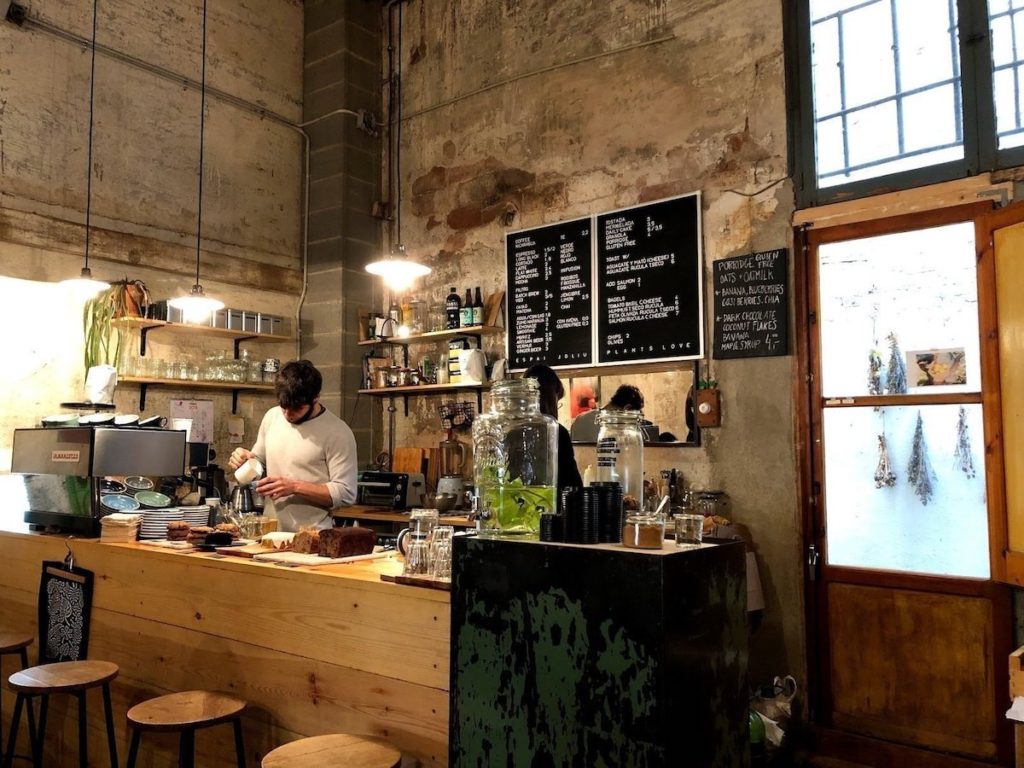 When you walk into Espai Joliu, you might find yourself wondering if you've entered a cafe or a botanical garden.
This airy, Bohemian spot is filled to the brim with aesthetically pleasing plants and greenery– some are even available for purchase.
Espai Joliu serves coffee from Nømad and other local roasters, so you can be sure you'll be getting a high-quality brew. If you're not in the mood for coffee, there's a great selection of teas, bagels, donuts, and pastries you can choose from.
Feel free to sit back with your drink and get to work on your laptop– Espai Joliu has great Wi-Fi for travelers and is a popular spot frequented by creatives and professionals alike. One of the coolest things about Espai Joliu is their mini-shop filled with art, jewelry, and other wares from local artists– all available for purchase.
Carrer de Badajoz, 95, 08005 Barcelona, Spain
Facebook
Instagram
7. Nappuccino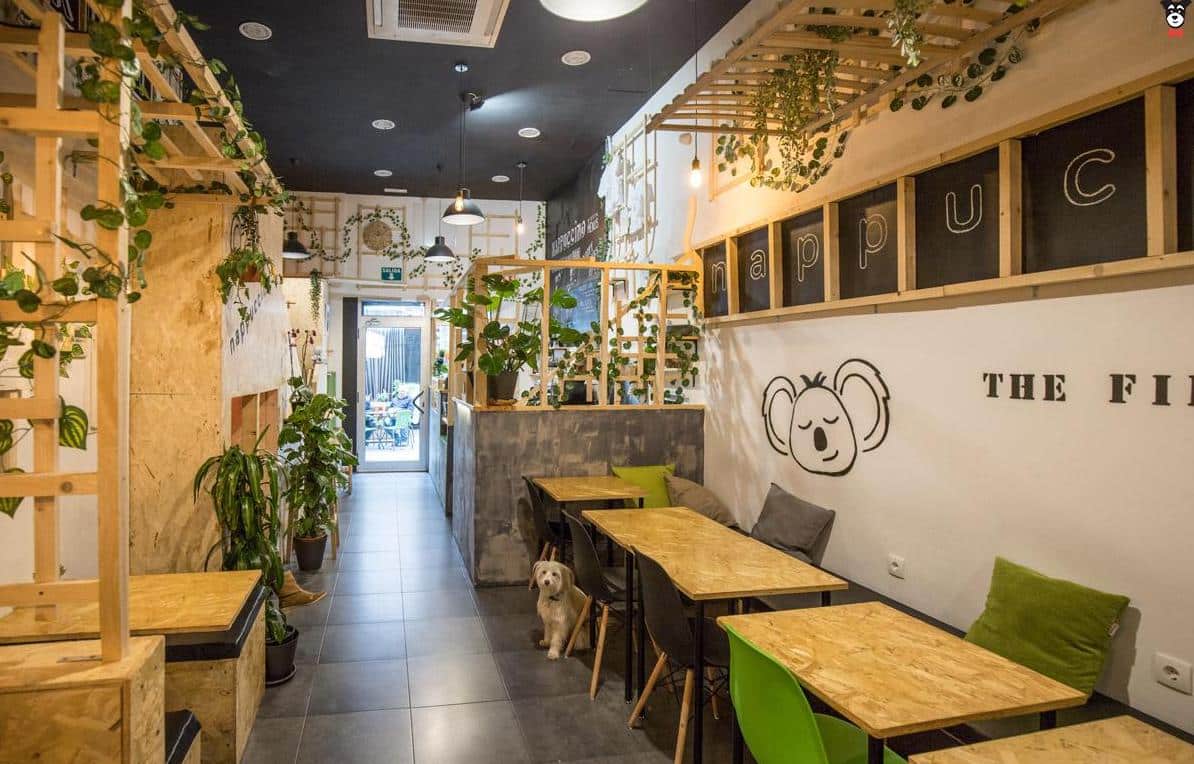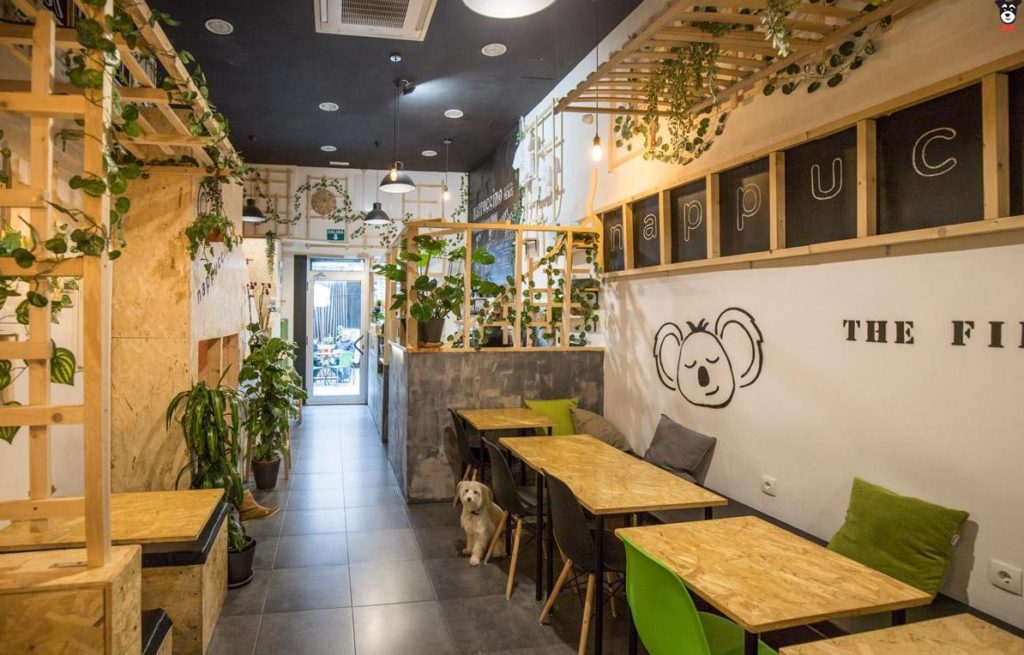 Imagine this: You've had a long day walking around Barcelona and taking in the sights. All you want is some coffee and a nap. Your hotel is so far away, though. What are you going to do?
Enter Nappuccino, one of the world's first siesta cafes. Nappuccino offers its customers the opportunity to enjoy a nice cup of liquid gold before (or after) napping in a private, comfy nook, complete with pillows and charging ports.
You can buy a drink and receive an hour of snoozing, or purchase a meal off the lunch menu and receive unlimited nap time.
Even if you aren't ready for a nap, you can still stop by for a coffee, a craft beer, a glass of wine, or a quick lunch. Nappuccino is truly revolutionary!
Carrer de Muntaner, 22, 08011 Barcelona, Spain
Facebook
Instagram
8. Granja M. Viader
History buffs: You don't want to miss this one. Founded in 1870 as a dairy shop, Granja M. Viader has become a favorite for both locals and tourists because of their delicious churros and hot chocolate.
It's rumored that Pablo Picasso himself paid more than one visit to this cafe and spent some time musing over his next piece!
Granja M. Viader is a must if you're looking for a spot with a vintage feel, authentic Spanish churros, and a great selection of artisanal cheeses and meats. Don't leave Barcelona without trying their Crema Catalana– your tastebuds will thank you.
Carrer d'en Xuclà, 4, 08001 Barcelona, Spain
Facebook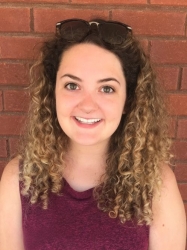 Latest posts by Savanna Pruitt
(see all)