If you enjoy playing bingo on your phone, why not use your skills to win some real money? There are numerous bingo apps available that offer cash prizes or free gift cards to players. However, it can be challenging to determine which ones are worth your time.
Continue reading to discover the most lucrative and enjoyable bingo apps currently available. With these apps, you can have fun on your iPhone or Android device and earn some actual cash in the process.
9 of the Best Bingo Apps to Win Real Money
Of all the game apps that pay real money, bingo is perhaps one of the more addicting. After all, in two minutes, you could win a sizable cash pot.
The apps below incorporate many opportunities to win real cash. Some of them work in points, gems, or coins, but those can easily be redeemed for cash prizes.
Are you ready to learn more about the best bingo apps to win money? Let's get started!
1. Blackout Bingo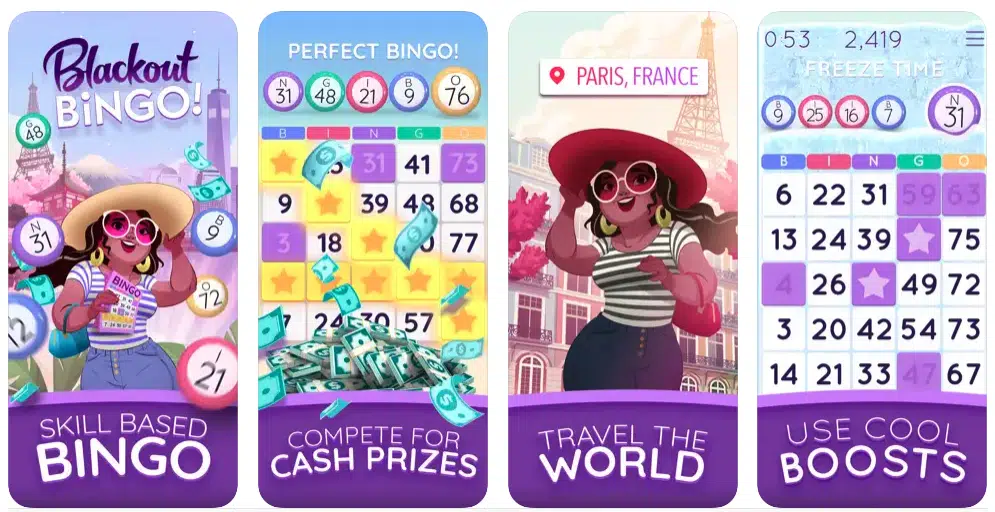 Apple iOS: 4.5 / Galaxy Store: 4.5
This popular bingo game, which is part of the Skillz network, gives players the chance to compete head-to-head or against several players at once. Plus, there are no ads to contend with.
Android and Apple users alike will delight in the low entry fees (as little as $0.60), cash tournaments, and loyalty perks. Play more games to earn more tickets and gain rewards for your efforts.
As is typical with any bingo game, Blackout Bingo requires that you complete a pattern of daubed squares in a horizontal, vertical, or diagonal pattern. You can also win if you daub all four corners.
During gameplay, you can earn power-ups and boosters to help you gain bingo status. Blackout Bingo even lets you play up to four cards in one round with the Skillz version.
There's no minimum redemption amount for Blackout Bingo, allowing you to cash out when you like. You can also win Skillz tickets to redeem.
DOWNLOAD NOW:
2. Bingo Cash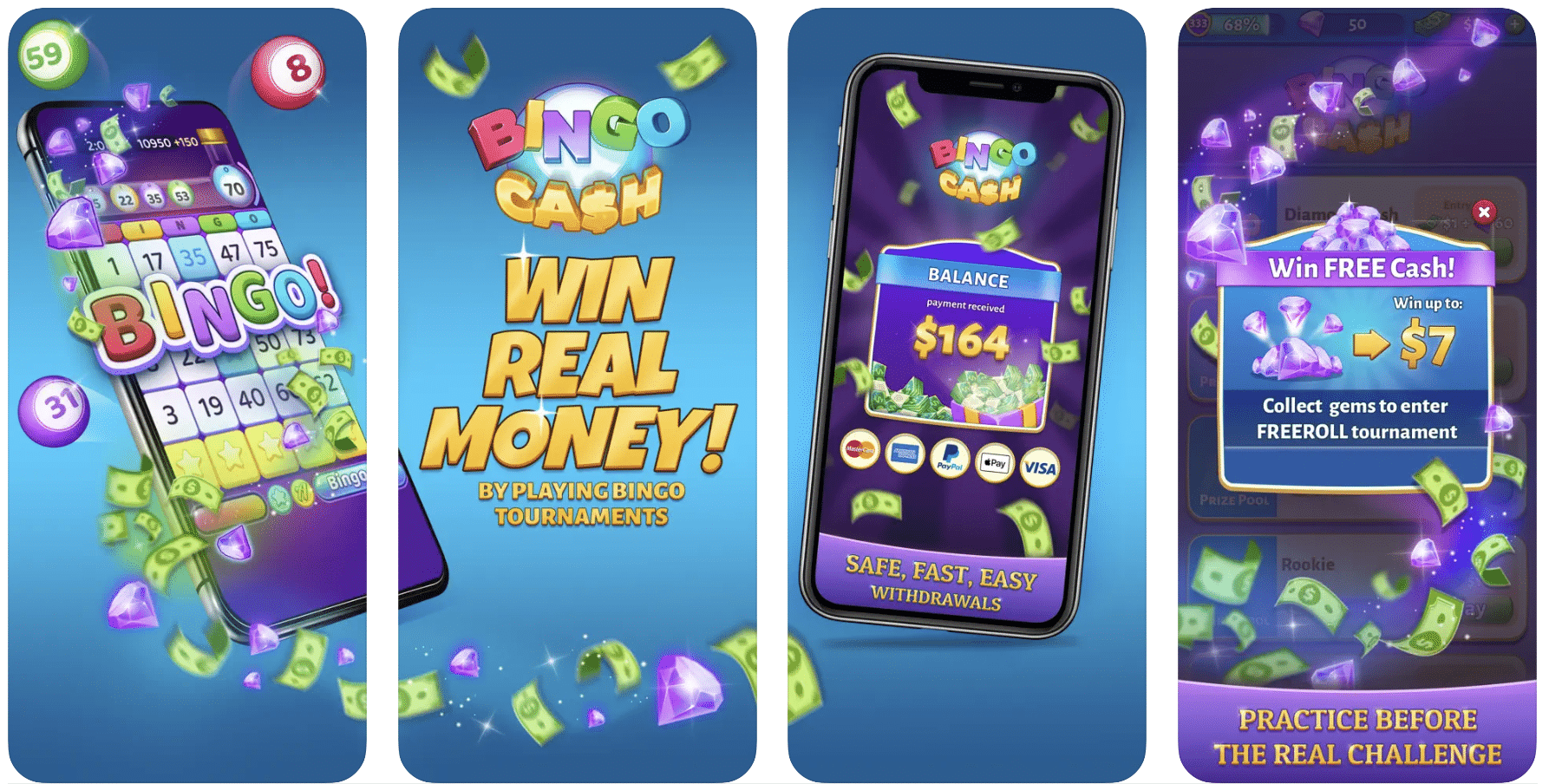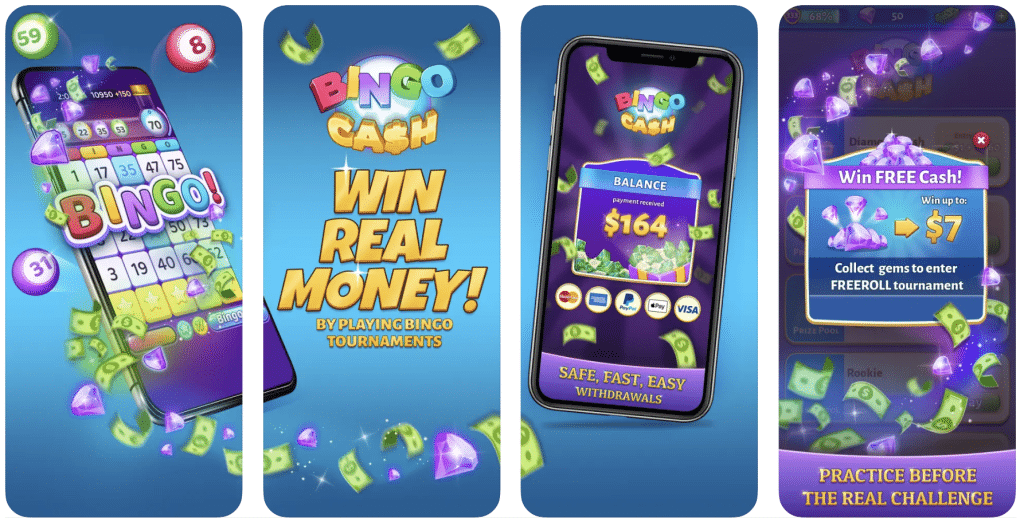 Does traveling to over 50 cities worldwide sound like a great way to spend your downtime? If so, you might want to download Bingo Cash. This Android and iOS gaming app lets you play up to four cards as you visit towns across the globe, winning souvenirs and puzzle pieces along the way.
You can play head-to-head against another player or participate in multiplayer tournaments with Bingo Cash. Games are ad-free and addicting.
Besides traditional rules, Bingo Cash incorporates speed bonuses and jackpots. These can easily increase your earnings should you do well.
Customer service is easily within reach should you need assistance. Bingo Cash also offers mini-games you can play to win additional prizes.
Cashing out with Bingo Cash is easy. Simply redeem your rewards for cash via PayPal.
DOWNLOAD NOW:
3. Bingo Clash
Apple iOS: 4.4

/

Galaxy Store: 4.5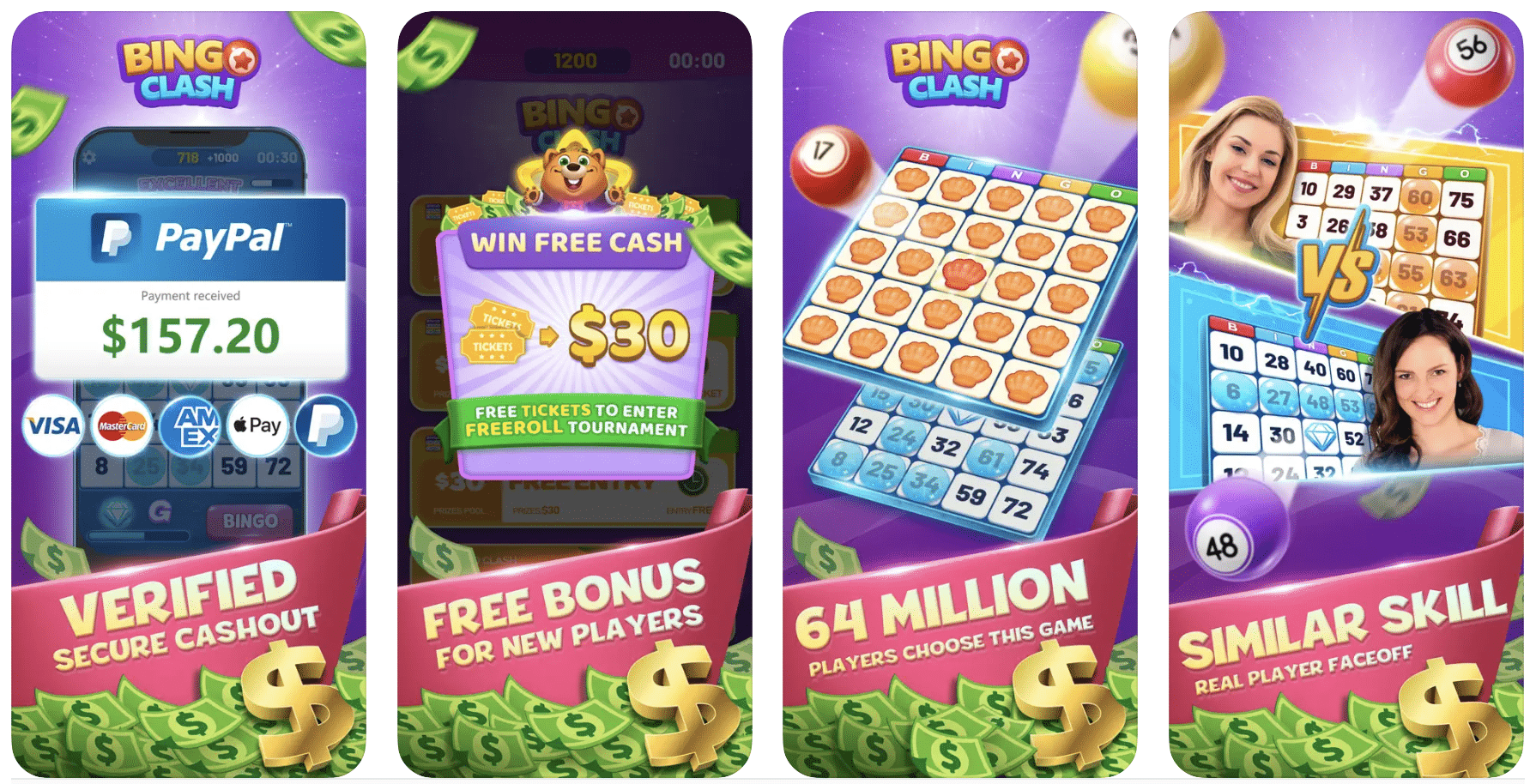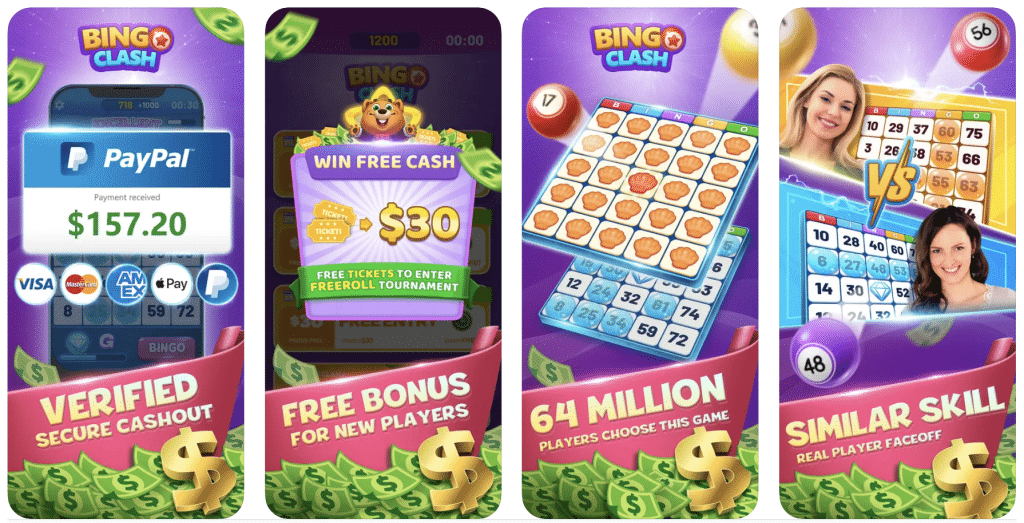 Want to make a dollar a day by playing bingo games? Bingo Clash is a bingo app you can download from the App Store and the Google Play Store to do just that.
Bingo Clash comes from AviaGames, a developer that created many similar paying gaming apps. In this bingo game, players are pitted against one another or several players at a time to strategize and daub for the chance at the cash prize.
Entry fees for Bingo Clash tournaments start at $0.60 and go up from there. However, some paying tournaments are free to enter as well.
Each match features a single card, with speed bonuses awarded for collecting points. You can also earn in-game boosts to get you closer to a bingo.
Bingo Clash also offers free practice rounds and daily bonuses. When you deposit money from a linked account, you'll also get something for your efforts.
You'll need at least $10 in rewards to cash out via PayPal. The more levels you complete on Bingo Clash, the more rewards you'll earn.
DOWNLOAD NOW:
4. Bingo Go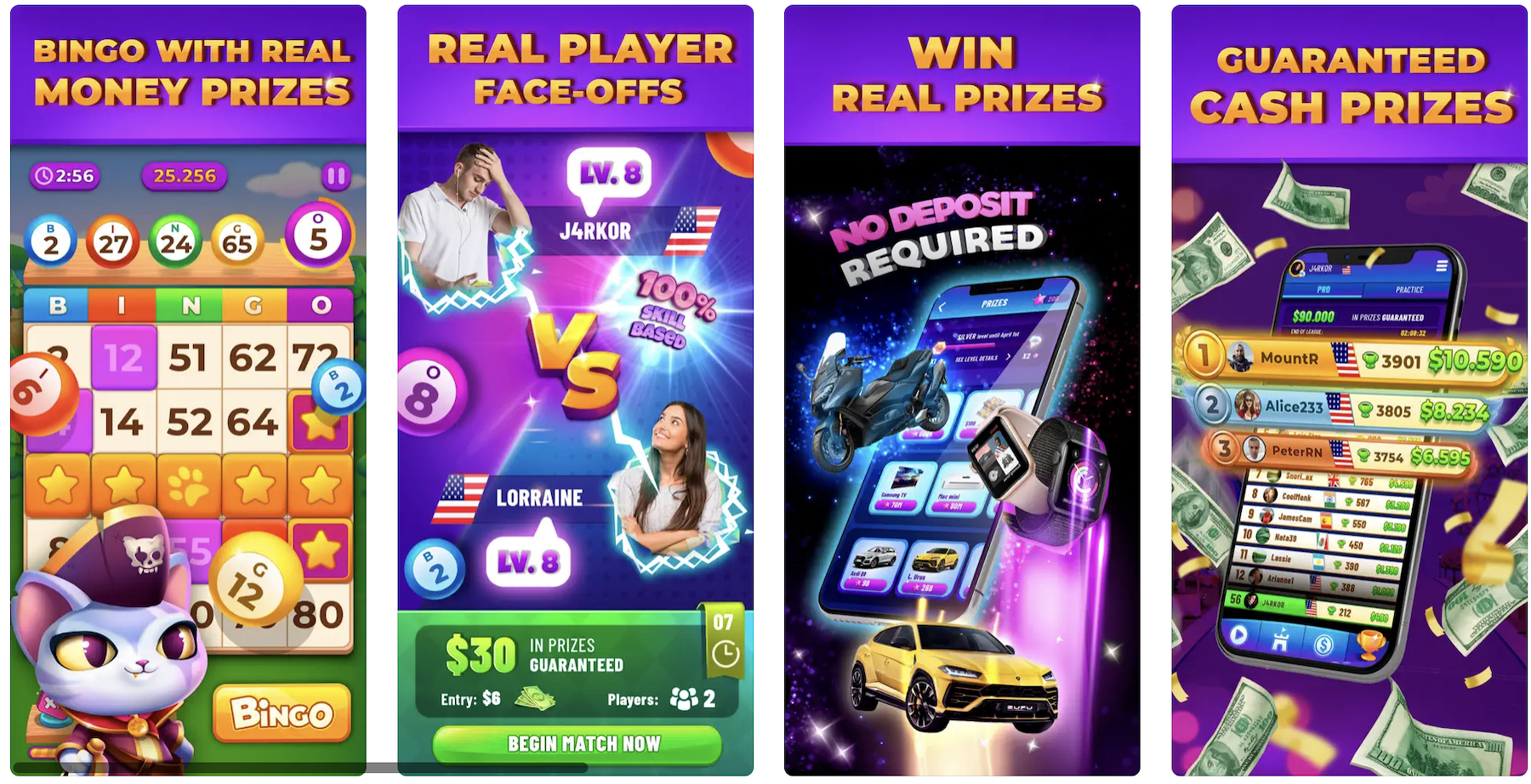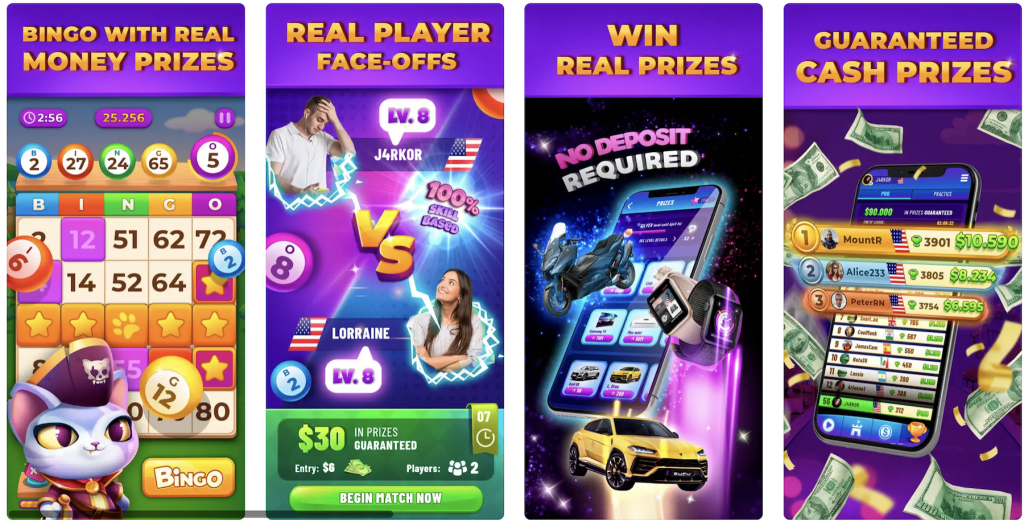 Apple iOS: 4.2

/

Google Play: 4.0
How does free PayPal money sound? All you have to do is download Bingo Go and win a cash tournament.
EgoGames developed Bingo Go for Android and Apple devices so that bingo players could compete worldwide. The app is available in Spanish, English, and French.
When you play a bingo game on Bingo Go, you're competing against another player or many players at once. While some games award virtual currency for claiming bingo, others award top players with cash.
Bingo Go runs weekly and monthly challenges. You can also create custom tournaments to compete with friends if you share a passion for bingo.
Unlimited free practice rounds will help you hone your skills, but in-game boosts can help you earn more points as well. You'll need to participate in at least 40 cash tournaments before you can withdraw your earnings through PayPal, but there is a minimum of $20 required.
DOWNLOAD NOW:
5. Bingo Travel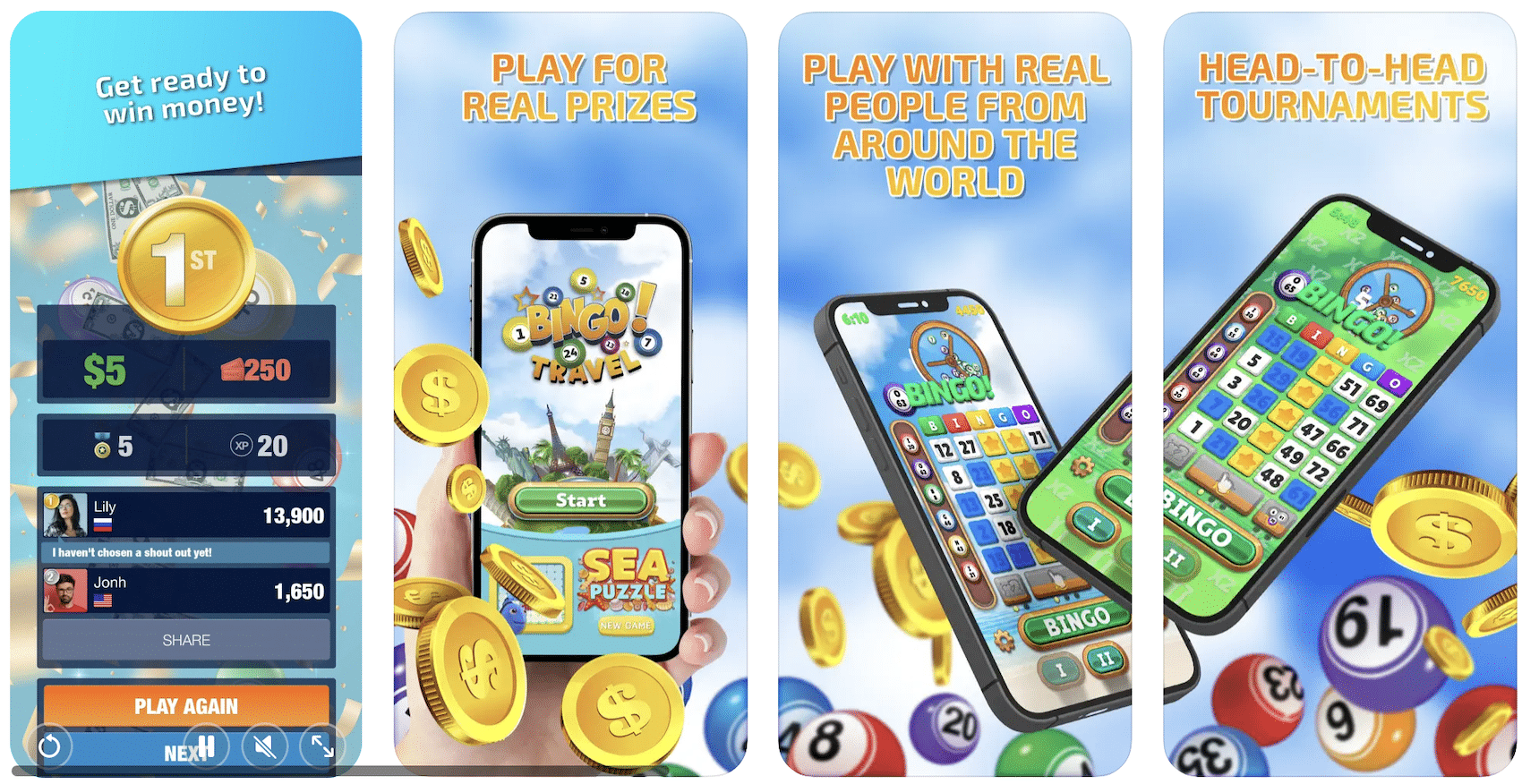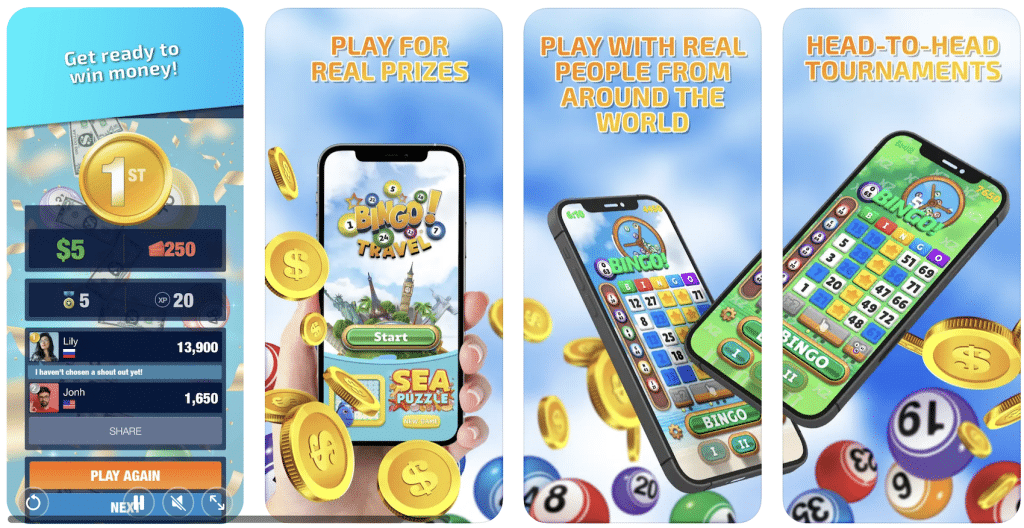 Playing a simple game of bingo can become tedious at times. With Bingo Travel, you can easily change the difficulty settings and potentially earn larger prizes, including cash.
This bingo gaming app from Owlab Travel can be downloaded from the Google Play Store and the App Store. You can cash out via PayPal or your linked credit card you can also use to add funds to enter cash tournaments. 
Most matches are two minutes long, with power-ups and bonuses along the way. Note that higher difficulty levels include bingo boards with more squares that take longer to fill up.
Bingo Travel even lets you play up to four bingo cards at one time. Talk about time management!
6. Bingo Tour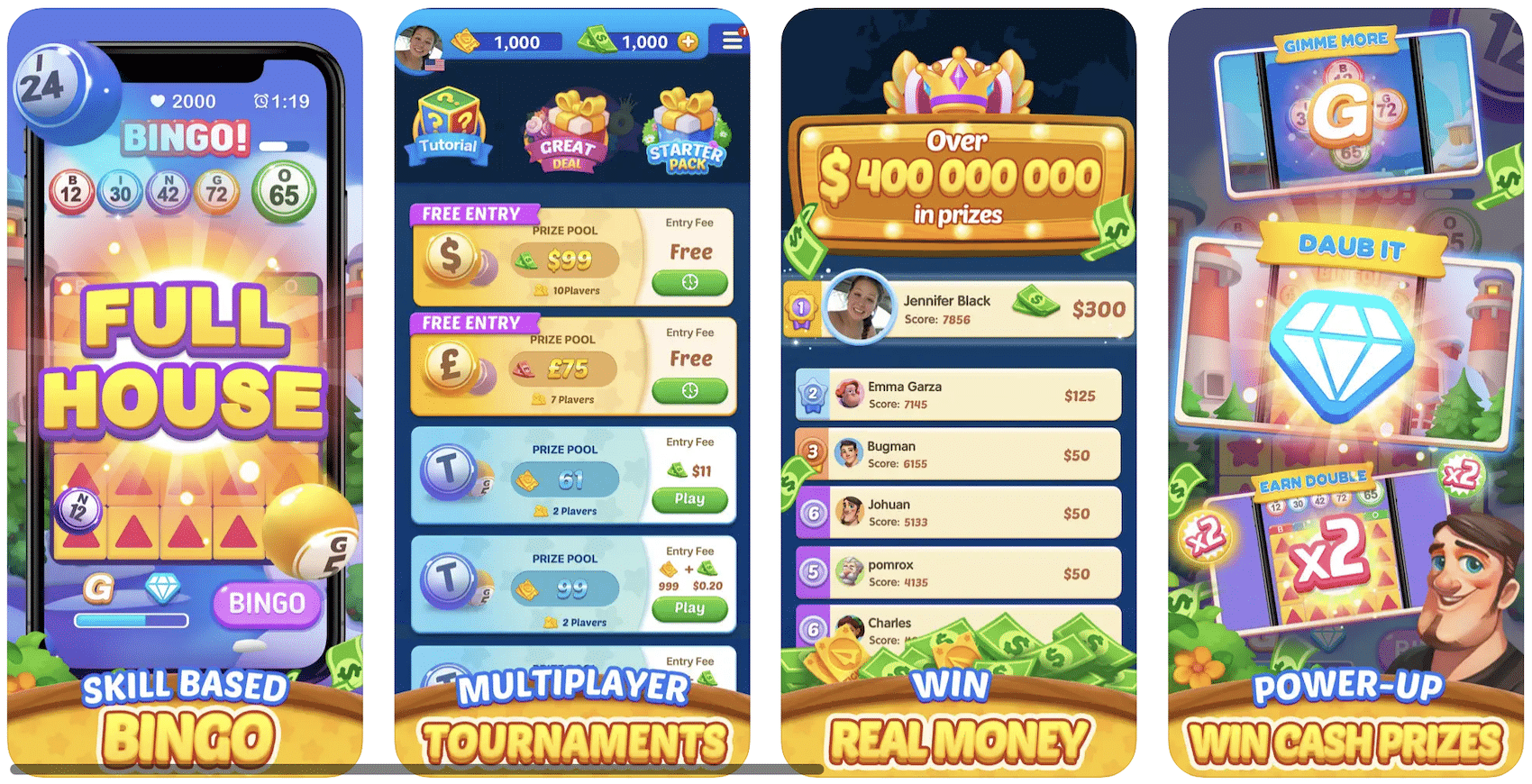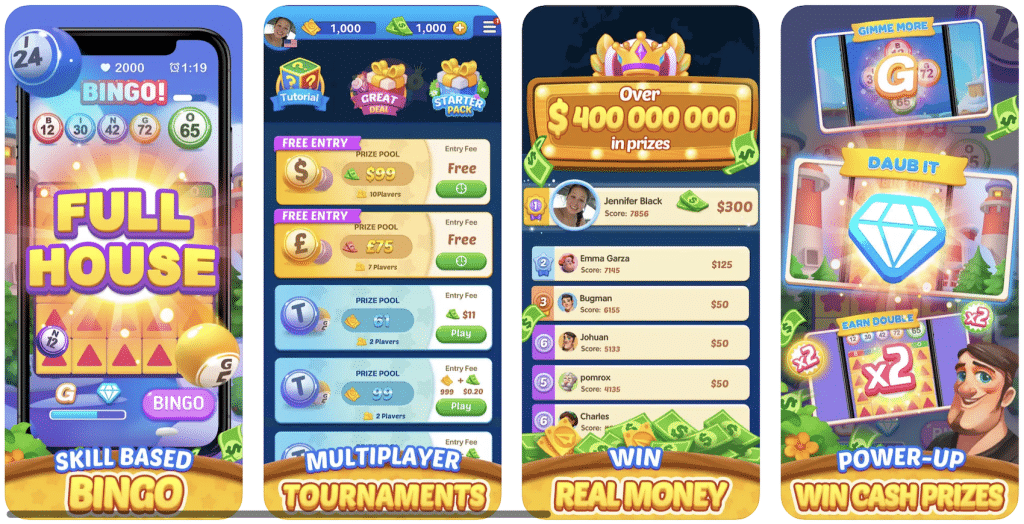 Only for iPhone users, Bingo Tour lets you fund and cash out your account via PayPal, Apple Pay, or Visa. You can also participate in free and paid tournaments to put extra cash in your bank account.
Bingo Tour comes from AviaGames, just like Bingo Clash. This developer offers 24/7 assistance in helping you resolve gameplay issues, including tracking any rewards you did not rightfully receive.
Classic bingo rules apply in Bingo Tour. Daub open squares as they are called and match a pattern to be declared the winner.
Bingo Tour also incorporates boosts and power-ups, such as "Gimme More," which lets you see uncalled numbers. You can also take advantage of "Earn Double" to do just that, or "Daub It" to daub an empty square.
Enter giveaways and earn bonus tickets with Bingo Tour to increase your earnings. Whether you enter paid tournaments or just play for free, it's easy to win with Bingo Tour.
7. Bingo Paradise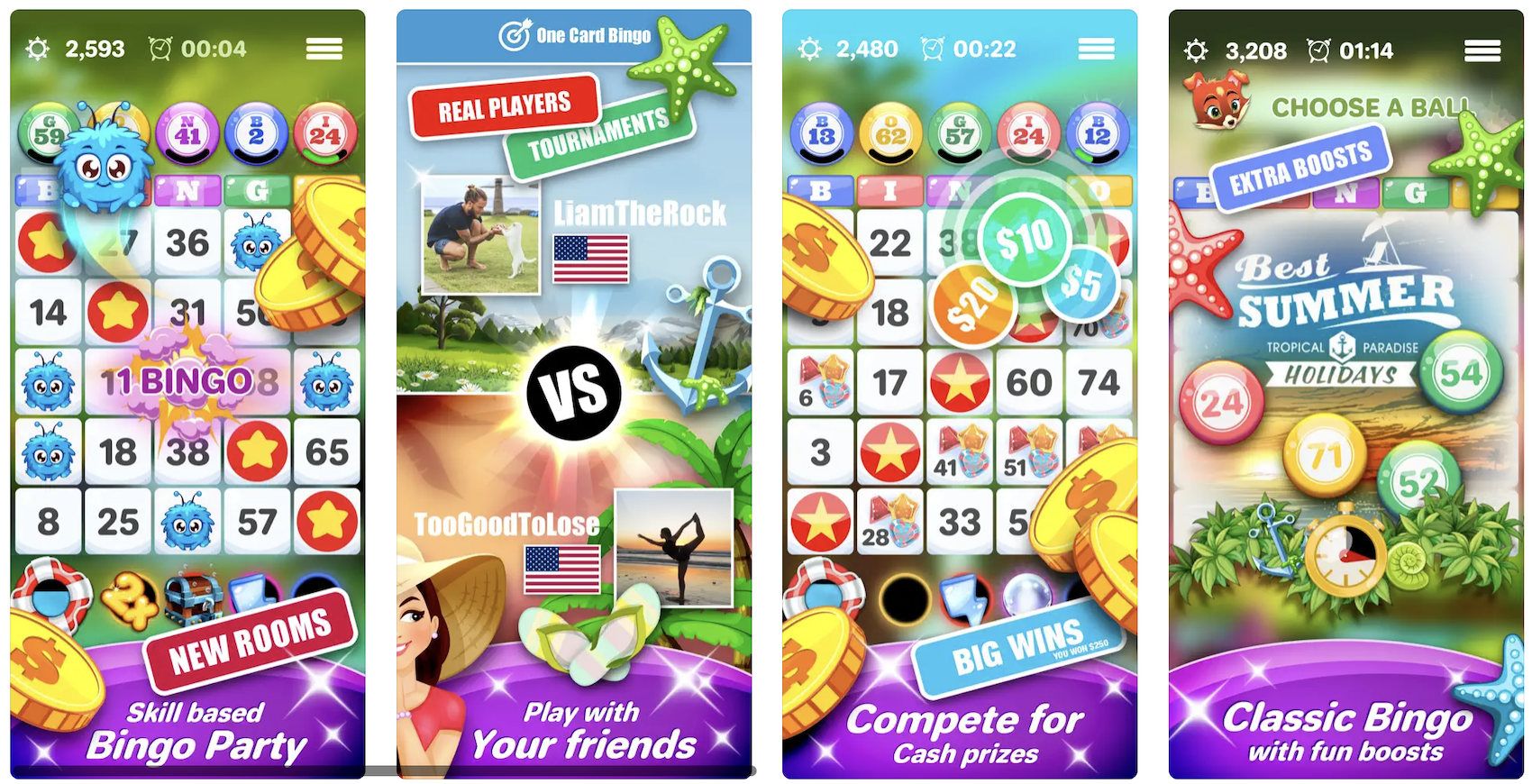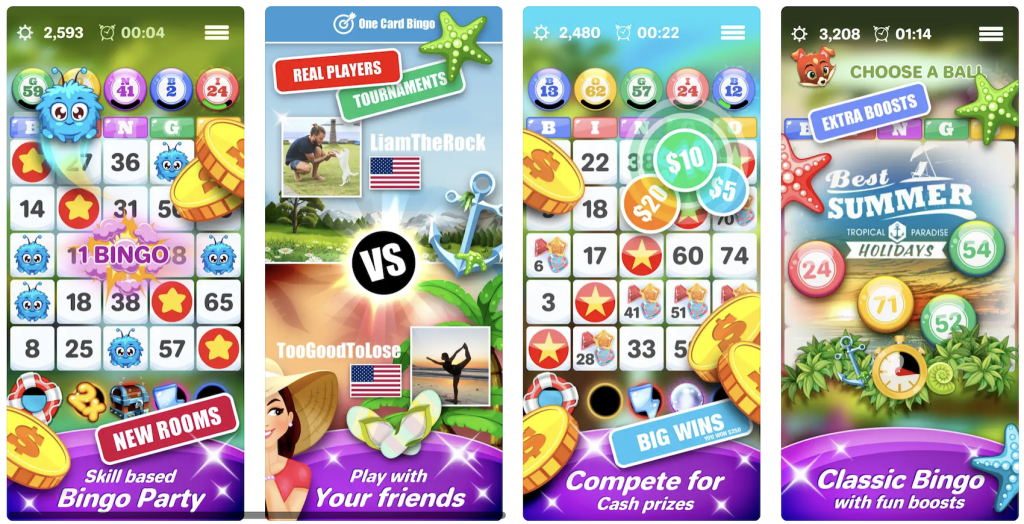 If four bingo cards sound like too much, Bingo Paradise lets you play up to three cards at a time. You can play free practice rounds with Bingo Paradise to implement various strategies.
Compared to many other bingo games on our list, Bingo Paradise offers more power-ups and boosters. However, players must complete the same card with the same power-ups to establish a fair match.
Super Boosters include Double Speed, Extra Time, Two Choice, and Prophecy. Each power-up can help you earn bingo in various ways.
Download Bingo Paradise from the Google Play Store or the App Store to play today. You might even win a few tournaments!
8. Yatzy Bingo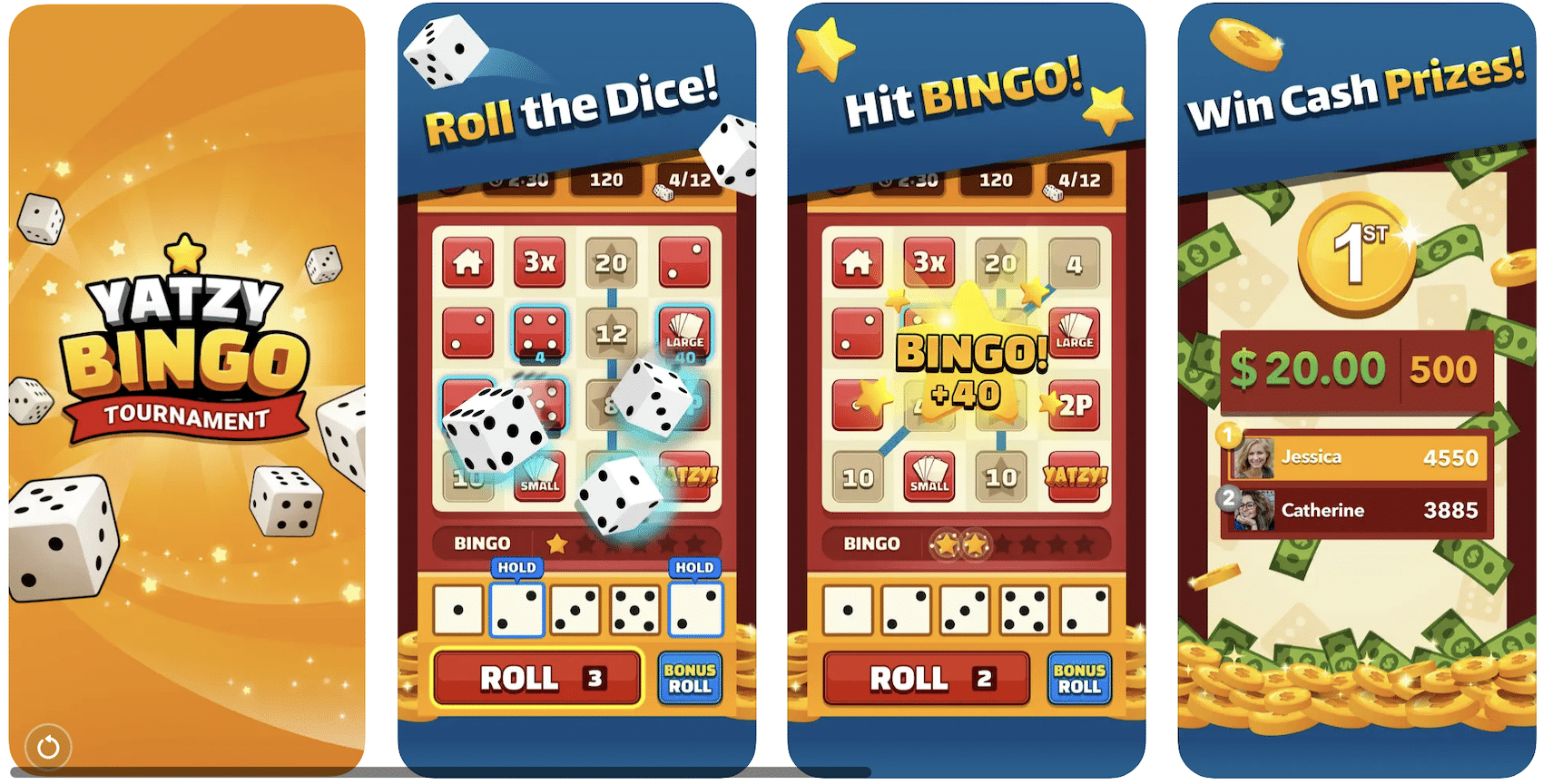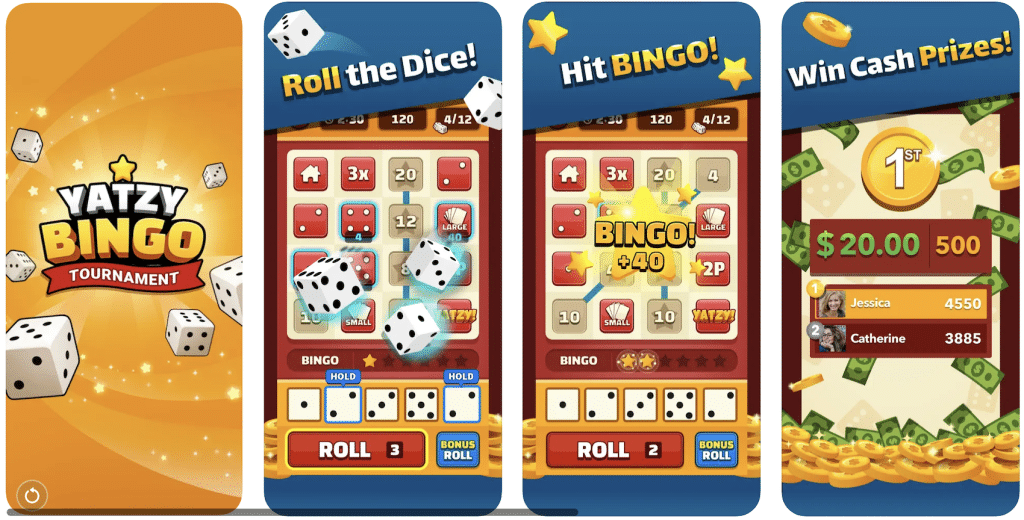 Yahtzee is another game of chance you can play to earn money, at least when it's incorporated into playing bingo through the Yatzy Bingo gaming app. The mash-up between the two games can be a bit confusing at first, but after a few games, you'll get the hang of it.
Yatzy Bingo comes from Monster Planet Corp. and is available for download for Android and Apple devices. The game mirrors classic bingo, but instead of waiting for numbers to be called, you roll the dice and earn points by daubing squares.
For example, you'll roll the five dice and fill in your score sheet as you go. Complete a pattern of four linked squares either diagonally, horizontally, or vertically to win.
This new take on Yahtzee can be exciting for many players. Plus, if you fill all your cells, you can score a Yahtzee and win bonus points.
Yatzy Bingo does take more strategy than most bingo games. However, you can easily play as many practice rounds as you like before you compete head-on in cash tournaments.
Withdraw your earnings via your linked credit card or PayPal. While you can request a paper check, the earnings will take longer to get to you and additional fees may apply.
9. Bingo Crush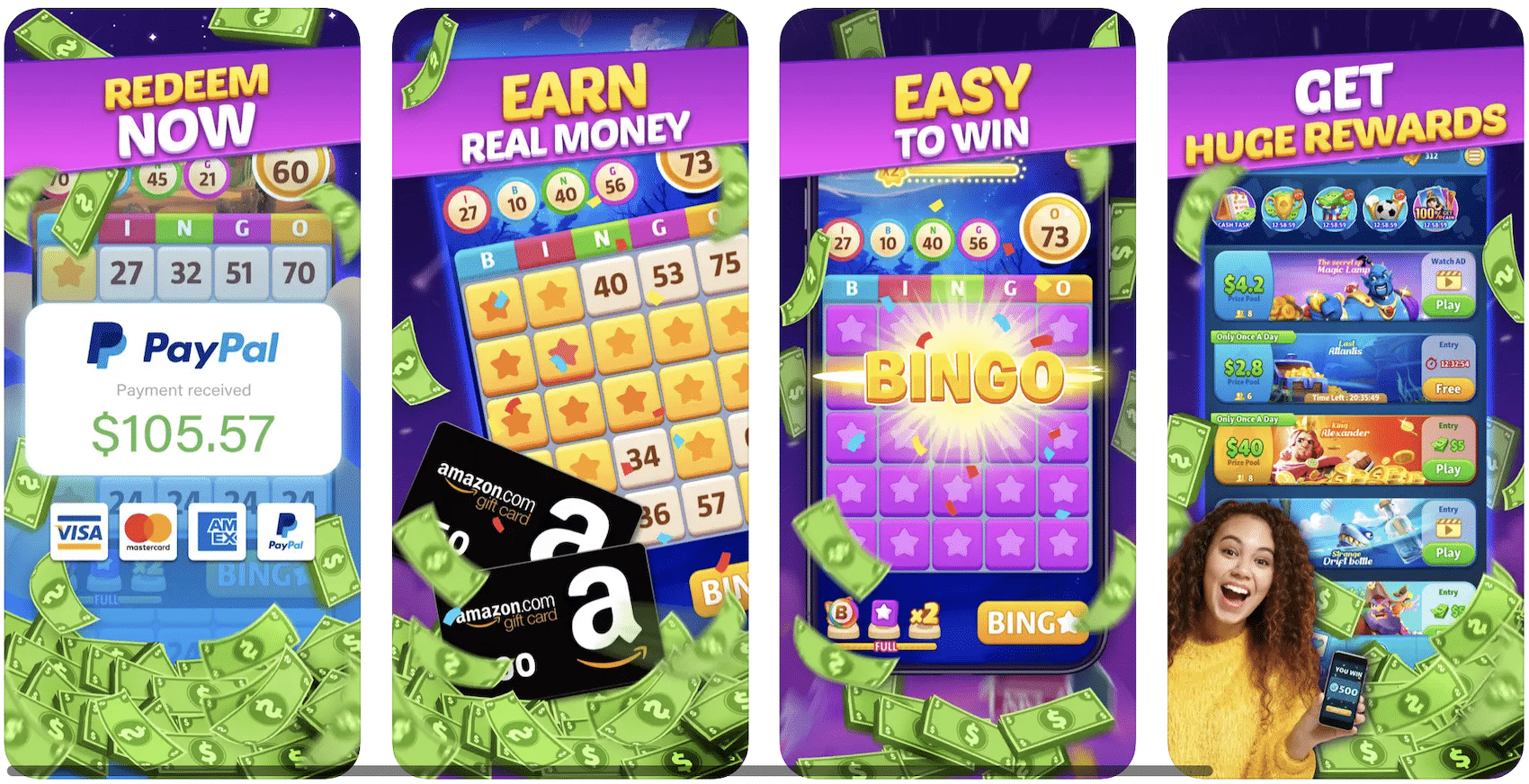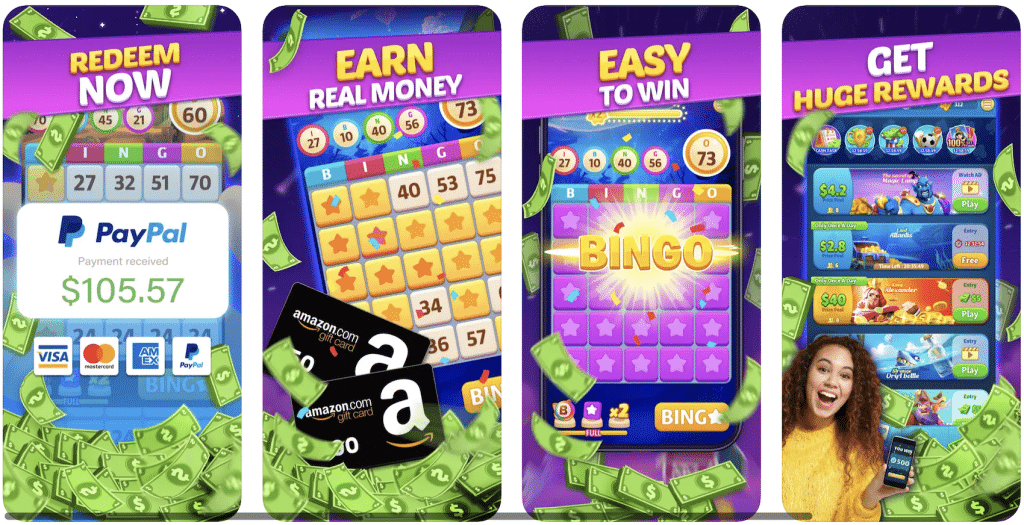 Mobile Fox Limited developed Bingo Crush, an iOS-only bingo gaming app you can download to earn cash for daubing squares. You can play against single or multiple players, but some tournaments only run once per day.
Bingo Crush allows you to store up to three boosters at a time. After that, you'll have to use them in your quest to get a bingo.
Join the Bingo Crush loyalty program and rank on monthly leaderboards to win additional prizes. Withdraw your earnings via PayPal or Amazon gift cards.
How To Earn With Bingo Games That Pay Real Money
When it comes to bingo apps for real money, there is no shortage of fun and exciting games to choose from on your mobile device.
With the right approach, the more you play, the more you can earn. Here are some tips to help you make the most out of your mobile gaming experience:
Monitor Your Spending
Many bingo apps blur the line between gaming and gambling, so it's crucial to watch your spending and avoid going overboard, especially with pay-to-play apps.
Stick to free games as much as possible and be cautious of apps that offer paid card games or similar activities.
Remember, it's safer to invest in the stock market than to gamble with online games that can be risky and harmful to your well-being if you become addicted.
Maximize Your Earnings
While most bingo apps don't offer substantial rewards, you can be smart about how you manage your earnings to maximize your revenue.
Invest your money in high-yield savings accounts or taxable or tax-friendly brokerage or retirement accounts, and view each payment as a seed that needs nurturing through smart financial decisions.
Keep Taxes in Mind
When you earn money from bingo apps, you still need to pay taxes. Set aside money for taxes to avoid a surprise bill from the IRS.
Consult a tax advisor to ensure you're in good standing and consider paying estimated taxes if you're earning a lot from side hustles in addition to your full-time job.
Alternative Games That Pay Real Money
Still curious about how to get free money? Check out these gaming opportunities that can bring in some extra cash if you win:
While these aren't bingo games, they can help you increase your cash flow, if even by just a little bit.
Play Bingo for Real Money FAQs
Time is running out; you've got one square left. You anxiously hover over it and daub it with a stab, yelling, "BINGO!"
Who knew that daubing squares on a simple oversized grid could be so fun? It's hard to argue the thrill of bellowing out "BINGO!" when you complete the pattern on your bingo card!
Research has found that most people play bingo for the excitement, with winning the game a few pegs down the list. Unfortunately, most bingo games cost money to play.
What if there was a way you could play bingo for free and still take home a cash prize? Our list of the best bingo apps to win money includes several games you can download to play bingo for free right now.
Bingo works well for playing a few games at your leisure or practicing a strategy and winning big. Use those strategies in these bingo gaming apps and you could win some extra cash for your time. But if you have more questions, here are some frequently asked questions regarding bingo apps for real money:
Do bingo apps pay real money? 
Yes, bingo apps pay real money if you participate in cash tournaments and rank among the top three. You can then redeem your in-game currency for real cash. 
What are the best bingo apps to win money? 
The best bingo apps to win money are Bingo Cash, Bingo Travel, Blackout Bingo, and Yatzy Bingo, among many others. These apps let you participate in bingo games and reward bingos with cold hard cash. 
Can you play bingo apps and win without paying any money?
Yes, you can play bingo apps and win without paying any money. Some paid tournaments offer free entries to entice players to join the game. 
How much can you earn with bingo apps that pay money?
You can earn anywhere from nothing to several hundred dollars or more with bingo apps that pay money. It all depends on what tournaments you win, how often you play, and what your strategy is. 
Daub a Few Squares For Real Cash
Playing bingo can be addicting yet exciting, especially if you're playing multiple cards at one time. With the best bingo apps to win money, you can turn that effort into money you can spend however you like.
We hope this article has helped you to see that playing bingo can be rewarding in more than one way. When you download and play these bingo apps, you'll increase your chances of winning a bingo game—and maybe even walk away with some prize money.
If you find you get bored with one bingo app, the good news is that there are a handful more waiting to be tried or even games that pay instantly to Cash App.
Which bingo app will you download to win money?
How to Get Money Right Now
No credit check
Albert Instant Cash
They don't believe in charging overdraft fees. Rather, they offer to lend up to $250 to their customers in order to help them cover their expenses. This service does not come with any late fees, interest rates, or credit checks.