Want to earn free PayPal money? You can learn how to get free PayPal money fast and easy with these 13 legit ways.
Earning easy money in your PayPal account by spending some time completing surveys and playing games is like the cherry on the top of the cake. Getting paid for playing games may sound like a joke but it isn't.
You can earn PayPal money legitimately by doing small tasks for certain websites. No organization provides you free money but devoting a little time to complete tasks you can legitimately passive income.
The world is changing rapidly and people are looking for different ways to earn because everyone could benefit from PayPal money. Money is king and what better way to utilize your free time than to earn points doing fun tasks and redeem to get easy cash in your Paypal account.
In this article, I'll share the best list of ways to make money through game apps, online surveys and watching videos that let you make $50 fast or more in PayPal money (here's a quick peek if you're in a hurry):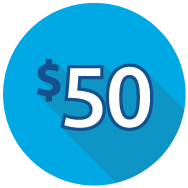 Want more ideas? See the full list of ways to get free PayPal money below.
Best Apps to Make Money and Get Paid Through PayPal
1. Swagbucks
Started as a survey site, Swagbucks expanded out over the years and offers diverse ways to earn free PayPal money by watching videos, answering surveys and playing games. It is addictive for new users as they get fond of earning points by completing the different tasks and keeping track of daily progress. 
A soon as you sign up for an account, you get some amount of money. In Swagbuck, there are 7, 14, 21, and 31-day targets that allow the people to earn extra points through consistent usage of the site. Try to use the site during your free time and avoid using it for long periods of time as it is not ideal to earn money by neglecting your work and other duties.
The money can be earned by redeeming your points through a number of methods. You can either get the money directly in your PayPal account or you can select an e-gift card. 
2. Ibotta
Ibotta is an app that allows you to earn money by offering you cash backs for your purchases.  There are several of offers inside the app and you need to select a particular offer and click on 'Add' to apply it and get the benefits. Or You open the app and then upload a picture of the purchase receipt to receive cash-back in your Ibbotta account or you could shop online through the app or connect your debit or credit card to make payments
The points earned through cashback get added to your account and take some time to show up. Once they appear in the account, you can click on the redeem button and the money will come in your linked PayPal account.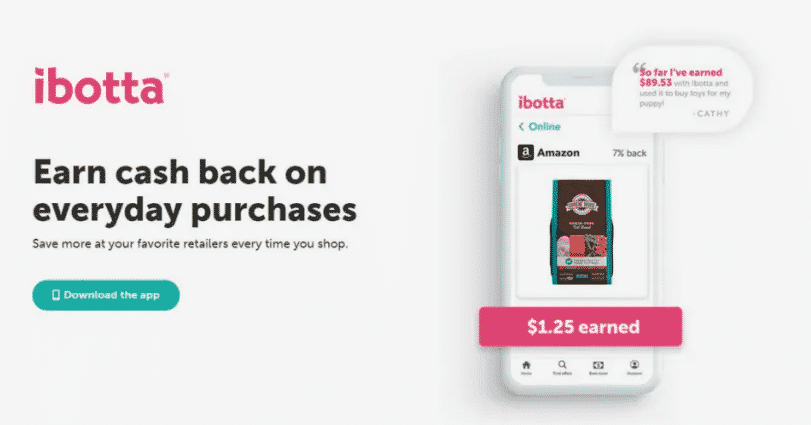 Ibotta Tips
If you want to get a double advantage, it is better to link a loyalty account to Ibotta. This way you will earn both loyalty and Ibotta points at the same time, Ensure that you avoid gift cards and always prefer cash. It is better to save your points and earn cash as nothing can replace its worth.
3. Survey Junkie
A number of surveys are paid and Survey Junkie is that platform that collates all the legitimate ones where you get paid for every survey you take. You need to answer some basic questions related to consumer behavior to sign up and unlock the other questions. It is really a brilliant way to earn some extra money during the free time of your day.
The questions in the survey are not hard and revolve around a particular topic. For example, if you answer that you love to eat food, the next question can be whether you prefer veg or non-veg. The duration of the survey is available and once you complete it, you earn some points.
Survey Junkie Tips
Don't fall for the surveys offering more points and taking more time instead go for surveys that consume less time. 
For example, a 200-point survey will be finished in 10 minutes and a 500-point survey will consume 45 minutes. In this way, you will be able to earn more by spending time on shorter surveys, making a better deal.
A lot of organizations are linked with Survey Junkie and come up with a variety of surveys each day. Although, each survey has some limitations for the number of participants.
You need to go through the site more often and finish the surveys before the maximum limit is complete. Your PayPal account must be verified and you can redeem the points to earn cash or get the gift cards.
4. InboxDollars
InboxDollars is a platform to earn points through multiple ways which includes completing surveys, playing games, and watching videos. When you sign up for InboxDollars, you receive promotional emails from their service and earn points in exchange for it.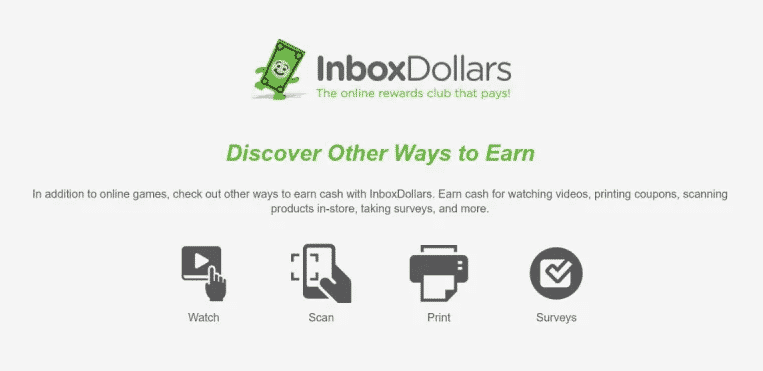 InboxDollars Tips
It is always good to earn money by investing some time. Surveys are one of the easiest methods to earn without pressurizing your mind too much.
 You should never log out of your account for more than 10 days because if you do your account will automtaically be deactivated and you won't be able to take up surveys or play games All the money that will be in the account will be lost and your efforts will go in vain. 
You can redeem the money in your PayPal account by gift cards but make sure that your account has a minimum amount of $30.  If the amount is less, you will not be able to redeem the points and always remember that money probably takes up to 16 days to come into your account.
5. Rakuten
Rakuten is an app offering you cash backs up to 40% from over 2500 stores for every purchase you make. It doesn't involve any complexities of uploading a receipt or making a request, you just have to make the purchase through Rakuten.com or the Rakuten mobile app. It has various coupons and cash backs to earn points without any risk.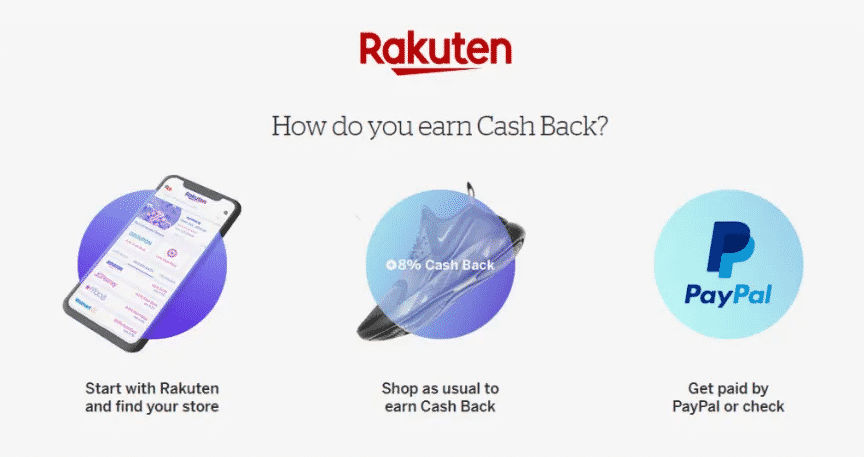 Rakuten Tips
You can earn promo codes and coupons with the help of cashback, add the Rakuten extension in your browser to save time, and search for a wide range of discount coupons on the internet. You can apply the coupons or add it to your cart so that you don't have to search again.
Rakuten's browser extension will send you an alert whenever you visit a site with a cashback offer
You have to wait for their four quarterly payments to redeem the points for PayPal money. The four quarterly periods are:
January 1 to March 31
April 1 to June 30
July 1 to Sep 30
Oct 1 to Dec 31
6. PrizeRebel
PrizeRebel is a site with a twist where you get paid for completing the online surveys depending on your account level.
You need to sign up and then complete the surveys to earn points. There are five types of tiers which include Bronze, Silver, Gold, Platinum, and Diamond, and your level increases depending on the time you spend completing it.
PrizeRebel Tips
Almost every survey site offers a bonus for referral, PrizeRebel is a bit different from the rest as your earning will mostly depend on your account level.
There are daily goals in PrizeRebel and you can earn extra by doing it.
PrizeRebel makes you tension free as there is no minimum amount to withdraw and you easily receive the amount in 24 hours. The people with gold level and above get the reward within 10 minutes by redeeming the points and receiving the money in the PayPal account.
7. Prolific
People usually get bored by doing the same type of survey. Everyone deserves a change in their work and this makes Prolific a bit extra-ordinary. Top companies and universities are linked with Prolific and people can find surveys relating to different types of products from diverse fields. You will earn a minimum of $6.50 for a survey which is better than many other sites. 
Prolific Tips
You will earn 10% of the first cash-out by referring it to someone.
You will be able to withdraw just after completing one survey
Your surveys go back to the companies for review and they need to reply within 21 days. Although the review mostly shows up in 3 days and if due to any chance it takes more than 21 days, then the amount will be automatically transferred in your PayPal account.
8. Grindabuck
Grindabuck includes 15 different ways to earn money by sitting at home like watching videos, trying a new product, and completing other small tasks. You need to finish the task and the points will be added to your account. You can later convert them into PayPal cash.
A small bonus is added in your account daily, attracting the users to be consistent and ensure they don't log out. 
It consists of three levels- Bronze, Silver, and Gold and you receive the amount based upon your level. The amount ranges between $1 and $10 and once you cash out, you receive your PayPal money.
9. Dosh
Dosh is an app that offers you cash-back when you link your debit or credit card to your dosh account and then make payments through it at various restaurants and stores. You receive a maximum of 10% cash back for a single payment and the amount gets added in your account.
It does not involve any complication of uploading a receipt or a bill and it helps you to earn cash just for making payments. A 1,000 points translate to $1 per day and you can win a maximum of $5 in a day.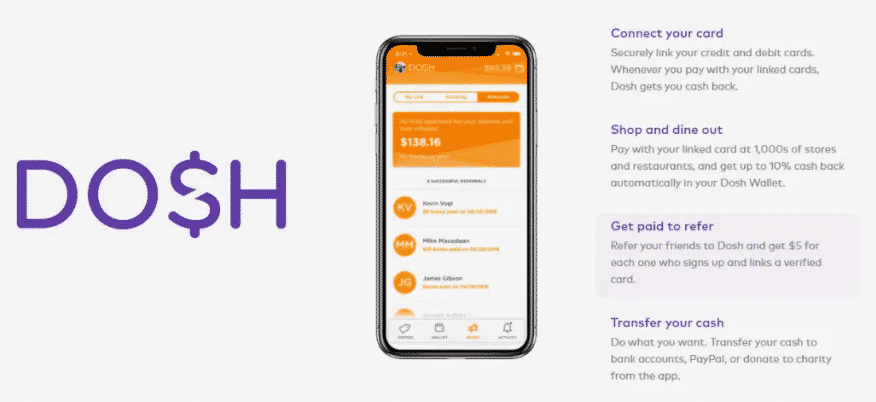 Dosh Tips
Link your credit or debit card through which you already receive cash-backs. Through this, you will be able to double up your cash-back and earn more.
A minimum amount of $ 25 should be in your account and it usually takes 10-30 days to be credited in your account. You can get the money directly in your Paypal account by transferring it through your Dosh account.
10. Pinecone Research
Pinecone Research is another popular survey site.  Surveys are the best as they take really less time when compared to watching videos or playing games. It also helps you to put your opinion.
There is a different amount allotted for various surveys but you usually earn $3 for a single survey. The surveys are really interesting and you get to know a lot about different topics.
Product testing opportunities by Pinecone are quite impressive. You will get a product to use for a few days and to receive a survey for the same. A specific time will be allotted to complete the survey and once you submit it, you also get to keep the product with you.
Pinecone Tip
Ensure that you visit the site in your free time and look out for new surveys. Complete the surveys before it gets removed to earn more points.
No minimum amount is required in your account and you can redeem the points and earn Paypal cash.
11. Sweatcoin
Sweatcoin is the most rewarding gift for the people who are physically active, especially those who love to walk. Sweatcoin allows you to earn points for walking outside. Have you heard of anything great like this to earn points?
You just need to sign up for the account and take some steps outside to receive Paypal money.
Sweatcoin tips
Remember to log in to your account before stepping outside and take a huge number of steps. If you are logged out of your account, you will miss the chance to earn points. The points get converted into money and you receive the amount in your PayPal account.
12. Honey
Honey is an online shopping app to earn points by providing you with some awesome deals for what you are buying. Once you log in your account and want to shop online, a small button will appear on your screen. On clicking the button, the app will provide you a number of discount codes and the details on how you can apply them to your shopping cart.
Paypal recently acquired honey in January 2020 for $ 4 billion, thus making the shopping platform one of the safest PayPal cashback mechanisms. You get honey gold in your account but they cannot be exchanged with PayPal money.
12. MyPoints
MyPoints is similar to Swagbucks. It started as an online survey site but later added various other features in different areas to ensure that people earn points. The survey is the basic feature but over time it included watching videos, signing up to read promotional emails, taking advantage of offers, referring friends to MyPoints and shopping online at various outlets.
There are a number of ways to earn points and you don't have to stick to just one method. 
13. User Testing
Usertesting.com is a website where people put up their test products so that they can get feedback on the same. People organize live chats and other events to hire you to give them feedback.
A feedback with the use of creative words and excellent english will help the particular person or organization to know about their product and eliminate the things which are not user friendly. You Can easily earn the points and redeem them in your paypal account.
Free PayPal Money FAQ
We've found some of the most frequently asked questions about getting free PayPal money, here are the answers.
How Can I Get Free PayPal Money?
You can't really get free PayPal money. However, the companies listed in this article can send you money to your PayPal account if you complete certain tasks completing surveys, watching videos or even playing games. You won't get rich, but you can make $20 fast via PayPal without much effort.
What is the Fastest Way to Get Free PayPal Money?
The fastest way to get free PayPal money is by claiming a welcome bonus and making $10 fast at Swagbucks or by using cash back apps like Dosh and Rakuten. These cash back apps allow you to earn up to 40% in cash back just for the shopping that you normally do. You can claim your earnings via PayPal for free PayPal money.
Are There Any Free PayPal Money Scams?
There are plethora of scams to avoid from illegitimate websites claiming to offer you money for signing up for a website or downloading an app.
If you Google, "how to get free PayPal money" some of the websites are even on the first or second page of Google as they are using paid advertisements. You only want to make sure you are spending your time using reputable companies like the ones listed in this article. Always refrain from disclosing personal information like your social security number, credit card information or passwords.
Conclusion
In order to maximize your gains from these free money sites, you would need to devote a few hours every day. You can do it during breaks in the office or between classes, with no time limitations and formal working hours the flexibility and ease of making money is what makes this method so popular.
The trick is to find the most suitable method for you – surveys, product reviews or online shopping, pick one or go with a homogeneous mix of all three. Don't worry about having cash checks or money orders with these options either, these money earning strategies will pay you straight up cash via PayPal.
Just take care not to get too consumed so as to lose track of your responsibilities. Either way, all of these sites are legitimate ways to earn free PayPal money in 2021.
Other Ways to Score Free PayPal Money:
Want to Make Extra Money Now?
KashKick: Want to make an extra $500 this month? KashKick rewards you for downloading apps, playing games, testing offers, and more. Over 2M+ users get paid daily.
Arrived: If you want a simple way to earn extra cash on the side from your phone, look no further than the best real estate platform that pays you passive income.
Survey Junkie: Need a $5 gift card daily? Survey Junkie pays users in cash or free e-gift cards. The amount you earn depends on the number and length of surveys you qualify for and complete.