Looking to find the best drone on a tight budget? Drones are one of the best tech gadgets as the drone industry is churning out more and more models for every taste every day, from entertainment and professional drones to racing and foldable mini-drones for kids.
There are also drones that can take the perfect selfie.
In this article, we will show some of the best-selling selfie drones that can be taken pretty much anywhere.
But before setting out, check this list of the best selfie drones for info on each drone's flight time, camera resolution, and Amazon rating.
Ready for liftoff? Here comes our list of top drones under $100:
Best selfie drones:
---
1. Holy Stone
This tiny, yet fierce drone is great for taking selfies when you go on vacation.
This affordable selfie drone has a 1080P full HD wide-angle camera that captures high-resolution photos and videos (1920 x 1080P).
It has a very sleek, compact design, which is perfect for indoor and outdoor flying.
It has the size of a phone, so you can carry it in your pocket. It also comes with a controller that has a special slot for your iPhone or Android phone.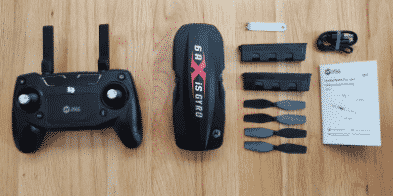 You need to use both the controller and the phone to fly the drone. You can see what your drone sees from your smartphone, and enjoy a live video feed up to 80m away.
It is a very affordable drone with a flight time of up to 10 minutes. The drone is easy to use even by newbie selfie enthusiasts.
Pros
Capture scenic photos and save them directly to your phone
Rise your hand and the HS160 will automatically take photos and videos
Foldable and portable
Easy to use
Cons
Flight time is only 10-12 minutes
Charging time is 110 minutes
---
2. JJRC H37 "Elfie"
This drone model is one of the best for selfies since it was specially designed for the job.
One of the most amazing features of this small drone is that it can be folded and stored easily almost anywhere. When it is folded it looks like an oversized smartphone.
You can control this drone with a simple app that is available for iOS and Android.
It comes with gyro sensors that change the direction of the UAV when you tilt the phone.
Unfortunately, this small drone does not support a memory card which means all your pictures and videos will be stored on your smartphone.
Pros
Smartphone WiFi remote control
Headless mode
Equipped with 3 speed modes
Aerobatic flight
---
3. DROCON X708W
DROCON lands on the second spot since it comes with many interesting selfie-related features like altitude hold mode for maintaining the altitude and an HD camera that can take amazing aerial photos.
This drone is simple to control and you can use your phone as a screen. It's a great selfie drone for beginners and the DROCON customer service staff is super helpful.
You can place the phone in the special dock in the remote controller which is a feature that I personally enjoyed. I've crashed it a few times and it's still flying and it comes with 4 spare blades.
The battery lasts about 10 minutes, which hasn't been a problem (but might be for you). Plus, there was a coupon inside for a free battery.
However, you won't be able to enjoy the experience for a long time because this drone has a short flight time of 7 minutes.
Pros
Live video direct to your device
headless mode and one-key return
In-app control through the iOS or Android app
360 degrees 3D flip mode
---
4. YUNEEC Breeze Flying Camera
If you are looking for the perfect selfie, let a YUNEEC drone help you out.
This drone comes with a 4K Ultra High Definition camera that can take amazing pictures as well as record videos.
It has several automated flight modes which include Follow Me, Pilot, and Selfie.
You can fly this drone indoors or outdoors due to its small size.
One of the best things about it is its 12-minute flight time. It also has an operating range of 50 meters.
You can use a smartphone app to see everything the drone is taking photos of.
Pros
Photo quality is really good
Controls are smooth
12 minute flight time
Great first drone to use to learn to fly for photo/video work
Cons
Video quality can be shaky
More expensive than most selfie drones on this list
---
5. Air Selfie
Explore the world of perfect selfies with this mini Air Selfie portable flying camera.
It is lightweight, compact, and fits in your pocket. Also, it comes with a few flight modes to help you get used to having control of the device. The auto-fly mode turns the drone into your stalker to follow you anywhere.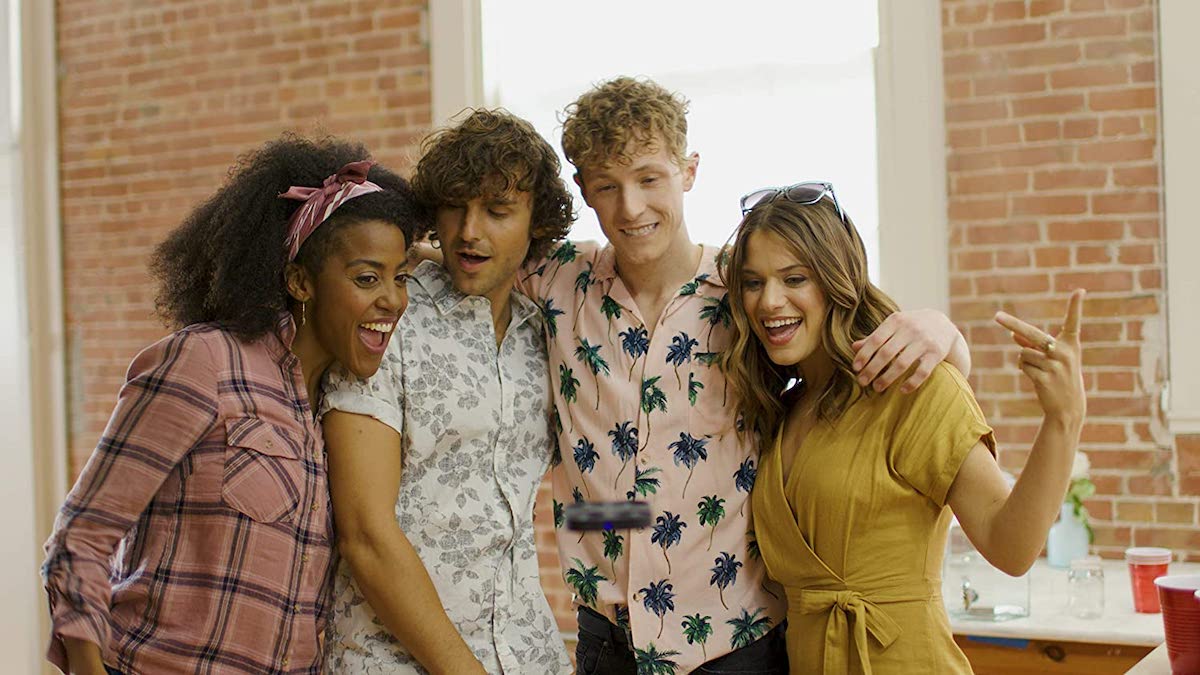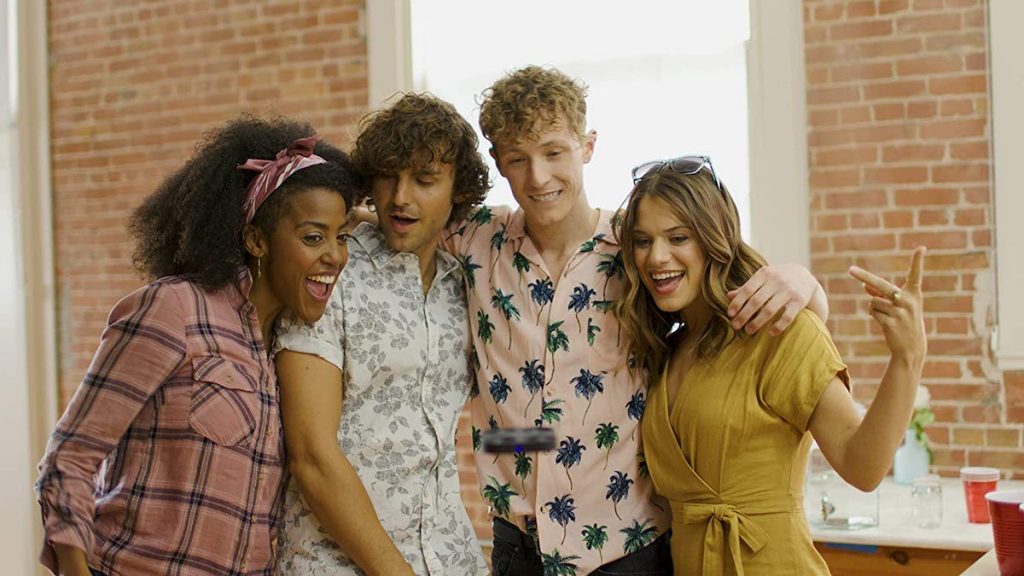 The 12 MP camera will offer great selfies and videos.
Overall, it is a fun and easy to use for beginners. It can take great quality pictures in well lit aeras and in pretty intuitive and easy to use. Enjoy this small drone for up to 15 minutes on a single charge which is amazing for its size.
Pros
Easy to use right out of the box
Compact size
Auto-fly makes it easy to take selfie pictures in seconds
Cons
Not HD quality video/pictures
Not as many features for a selfie drone compared to others
---
Frequently Asked Questions:
Are drones under this budget ideal for learning?
Yes. In fact, when flying a drone for the first time it's best to pick a low-cost product that is lightweight, safe, has a steady hover and is aimed at beginners.
Most of the selfie drones on this list are very lightweight, therefore you won't because any damage when you hit or crash.
Can I fly indoor and outdoor?
It depends. There are drones which can be flown both indoor and outdoor, while others are specific to one type of flying only.
When discussing each we will mention if they can be flown indoor, outdoor or both.
Are these drones safe for children?
Most the selfie drones within the under $100 category are great for children because they are lightweight and don't have much power.
A great drone for a kid must have a protective frame around the propellers and the motor, a steady hover, a responsive control and a plastic frame. We will point out the ones which are best for kids.
Do I have to register my drone with FAA?
If you live in the US, FAA registration is required to any unmanned aircraft for recreational and commercial use if it weighs more than 0.55lbs (250 grams).
The Bottom Line on the Best Selfie Drones
Taking selfies is one of the trendy past times right now. However, when you do it with a drone, you can move the drone around to find the right angle for the best shot and to make sure that all your friends fit in the picture. Most selfie drones are small and foldable, so you can take them with your whenever you travel.
All of them are easy to use and they come with a remote control or a special app for your smartphone. One of the most common problems with small drones is their low battery life. However, for a few minutes of fun, these devices are pretty worth it.
Up Next:
How to Get Money Right Now
No credit check
Albert Instant Cash
They don't believe in charging overdraft fees. Rather, they offer to lend up to $250 to their customers in order to help them cover their expenses. This service does not come with any late fees, interest rates, or credit checks.