Here is our Westin Resort and Spa Cancun review.
Are you planning on visiting Cancun, Mexico and thinking about staying at the Westin Resort and Spa Cancun?
My girlfriend and I visited Cancun this summer for my 29th birthday. In this article, I will share our 7-day experience staying at the Westin Resort and Spa Cancun, then you can decide if it is the right hotel for your vacation.
Booking a room
My girlfriend and I wanted to get a good deal on flights and a hotel so I did the bulk of the research and planning. After all, I wanted my 29th birthday to be memorable.
I find some good tickets from Washington, D.C. to Cancun on United Airlines and booked them.
Next was the hotel…
We knew we wanted to stay in the Hotel Zone but a lot of the decent looking hotels were going for $200-$300+.
The Westin had a price of around $120-130 per night and we jumped on it. You should know that the Westin is at the very southern end of the Hotel Zone, so if you wanted to get downtown you'll have to take a taxi or public transportation.
Checking in
Before arriving at Cancun, Mexico ensure that you have transportation made in advance to get to the Westin Resort and Spa Cancun. After thorough online reviews, I decided not to rent a car in Cancun. I read some odd stories about high credit card payments on hold, weird stories about cops stopping rental cars, and other things that steered me clear.
I used USA Transfers to pick us up from the Cancun airport and dropped us off at the hotel. They also picked us up from the hotel and dropped us off at the airport at the end of our 7- day stay.
I would recommend them as the whole process was pleasant, speedy, and efficient. Our flight time got changed and with one call they changed the pick-up time with no hassle at all, took 2 minutes tops.
Once we arrived at the Westin, we were greeted and taken to the front desk. We did all the standard check-in procedures. I asked to see if there were any free upgrades available but there weren't any. There also isn't any complimentary breakfast available, you would have to pay for it at one of the restaurants within the resort.
We were then taken to our room by our talkative doormen who was very helpful. Once at our room, our vacation began.
Westin Resort and Spa amenities
You can't have a great vacation at a resort without any fun amenities to use!
Thankfully, this hotel has quite a few to choose from:
The pool
The pool or should I say pools at the Westin Resort and Spa Cancun are legitimate. There are actually 5 different pools within the resort and you best believe we used them all.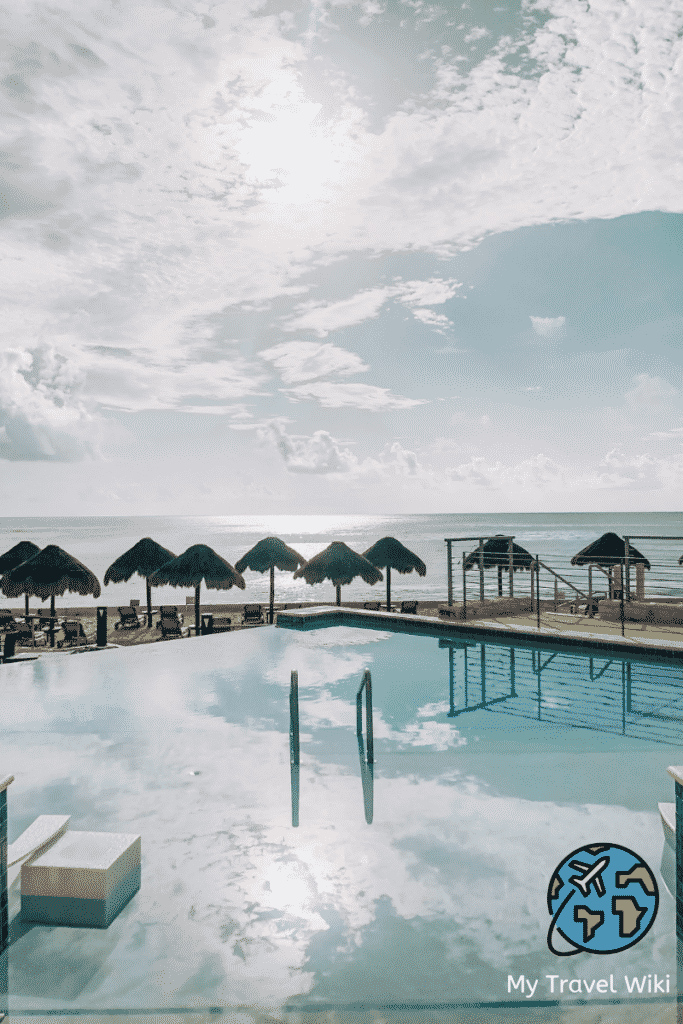 The main pool has a poolside bar which was convenient.
There was also a pool around the back of the Hotel which you can see in the video below. This pool had one of those Flow Rider machines nearby and costs around $35.00 per hour. I did use it and it was really exhilarating!
The spa
We also opted to have a spa day for my birthday. The prices varied but it was pretty expensive. We both got a couples massage which you can get indoor or inside the spa area.
The massage was decent, and then you can spend the rest of the day using the indoor jacuzzi, steam room, and sauna. The staff was pleasant and communicative the entire time.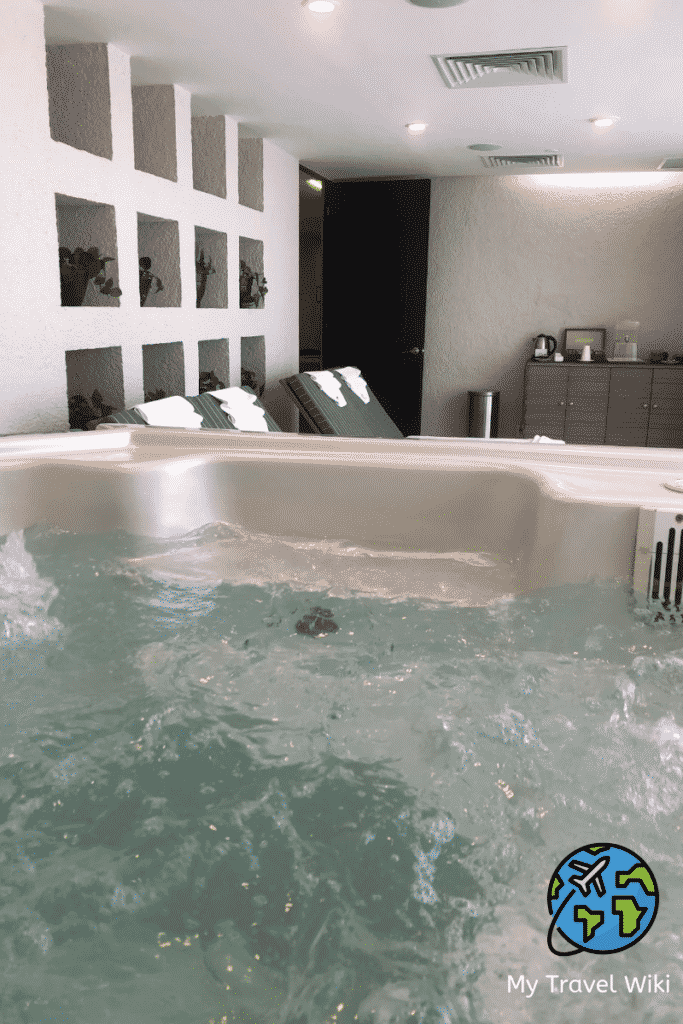 The gym
We're big on fitness and visited the gym at least 2 or 3 times during our stay. The fitness studio had enough to get a complete workout in.
Different activities
There is a huge board in front of the main pool that has different activities around the resort, such as feeding the iguanas, volleyball games, a run on the beach, or bartending classes!
We wanted to do one of these activities and opted for feeding the iguanas!
The room
Expect your room to be standard, nothing special. The renovations were mostly done on the hotel itself. However, you get what you pay for and if you wanted a nicer room, opt for another hotel.
The staff
The staff was phenomenal and very friendly. Almost all of the staff members I encountered spoke some English and were very accommodating. A+ on staff friendliness!
The location
The location is decent. It is at the very bottom of the hotel zone but everything you need is at the resort. If you wanted to do other activities while in Cancun (who doesn't) you can still take public transportation to get around which is easy. You can learn if you want to rent a car in our post here and other activities to do during your stay here.
Westin Resort and Spa Cancun review summary
This is a great hotel option for first-timers to Cancun. I hope you learned in our Westin Resort and Spa Cancun review summary that it is friendly-staffed, reasonably priced and great amenities.
If you are looking for a more quiet and more family-friendly resort, this is a great choice. It's not in the middle of the hotel zone, so it's more private and feels like your own resort at times.
It's definitely worth staying here.
What more could you ask for?
Want to Make Extra Money Now?
KashKick: Want to make an extra $500 this month? KashKick rewards you for downloading apps, playing games, testing offers, and more. Over 2M+ users get paid daily.
Arrived: If you want a simple way to earn extra cash on the side from your phone, look no further than the best real estate platform that pays you passive income.
Survey Junkie: Need a $5 gift card daily? Survey Junkie pays users in cash or free e-gift cards. The amount you earn depends on the number and length of surveys you qualify for and complete.